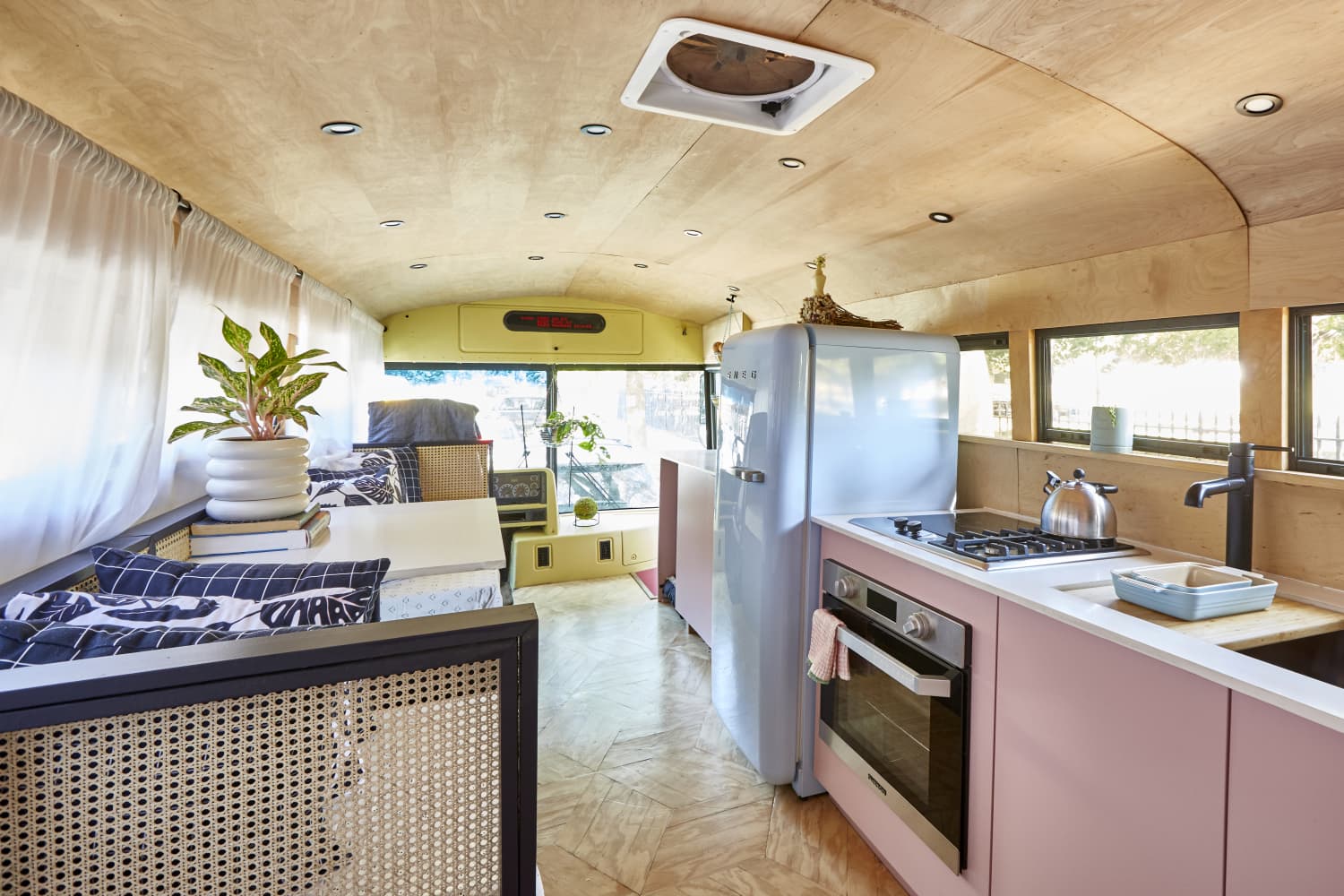 We independently select these products—if you buy from one of our links, we may earn a commission.
Name: Talia, Andy, our tiny human, and our little doggo, Scarlett
Location: Home is wherever we park it! We photographed our Apartment Therapy tour outside of a park in Brooklyn where we were living, and now we're on St. Simons Island in Georgia!
Size: 280 square feet
Type of Home: A school bus we converted to our home — otherwise known as a skoolie!
Years lived in: 1 year, owned
Though they claim not to have had any previous home design experience, Talia and Andy converted this old school bus, a 40' Thomas HDX, into a gorgeous home on wheels all on their own. "We actually purchased our home via an eBay auction, sight unseen," Talia explains. "We had always been talking about living 'tiny' but it seemed impossible! Two months into the pandemic, we took the leap and haven't looked back! We converted this bus 100 percent on our own. It has been an amazing journey. We're even ready to begin converting buses for others so they can enjoy this adventure as well!"
You can see more of this creative couple's home-on-wheels life on their bus Instagram account, The Bicoastal Bus, as well Talia's YouTube. Talia and Andy also run a custom-crafted LED neon sign business out of the bus called Love Lights, which you can also follow on Instagram at @shoplovelights.
Apartment Therapy Survey:
My Style: Our home feels a lot like Palm Springs and Miami had a baby!
Inspiration: All of our previous homes were rentals that were bland and did not age well. Since this was our first home that we've owned, we wanted to make it bright like our personalities and timeless as well. We were inspired by Scandinavian minimalist designs, especially in our kitchen!
Favorite Element: The favorite element of our home is our big, gorgeous wet bath that has a skylight in it! The lighting is absolutely amazing and the space is huge!
Biggest Challenge: In our home, there are literally no square angles or level surfaces. Incorporating a whole house in 280 square feet when we have no design experience tested our absolute ability to bend so we don't break. It was worth it in the end.
Proudest DIY: Tiling the bathroom walls and floors with no tiling experience! The penny tile floor in the bathroom was a challenge — we used the improper grout initially and had to scrape in between thousands of penny tiles to remove the grout and replace it with the proper type. Then, we didn't love the color, so I had to re-scrape every single tile again and replace! We've had no problems since and we are in LOVE with how it looks.
Biggest Indulgence: The biggest cost of our bus was the system for our solar power. It cost $8,000 (so $2,000 less than our bus itself) and [is] probably our biggest regret. We purchased it as a kit and it was completely unnecessary (and overpriced)! We could have pieced it out for so much less ourselves! Our Smeg fridge WOULD have been the biggest indulgence but I bought it secondhand for $800!
Is there something unique about your home or the way you use it? We can completely live off grid forever as long as there is sun! We are completely mobile — and have been traveling in the house since June 2021 all around the country!
What are your favorite products you have bought for your home and why?
Please describe any helpful, inspiring, brilliant, or just plain useful small space maximizing and/or organizing tips you have: Build upwards in your space to make the most of it. Build in storage where you can and keep a catch-all bin around a small space so that at the end of the day you can just put it away and empty it rather than let it sit everywhere cluttering your small space! Use outdoors when available!
Finally, what's your absolute best home secret or decorating advice? Don't be afraid to be different! Do what feels good to you and don't put yourself in a box! Thrift and secondhand stores have some amazing pieces for decor! Remember to have fun!
This house tour's responses were edited for length and clarity.