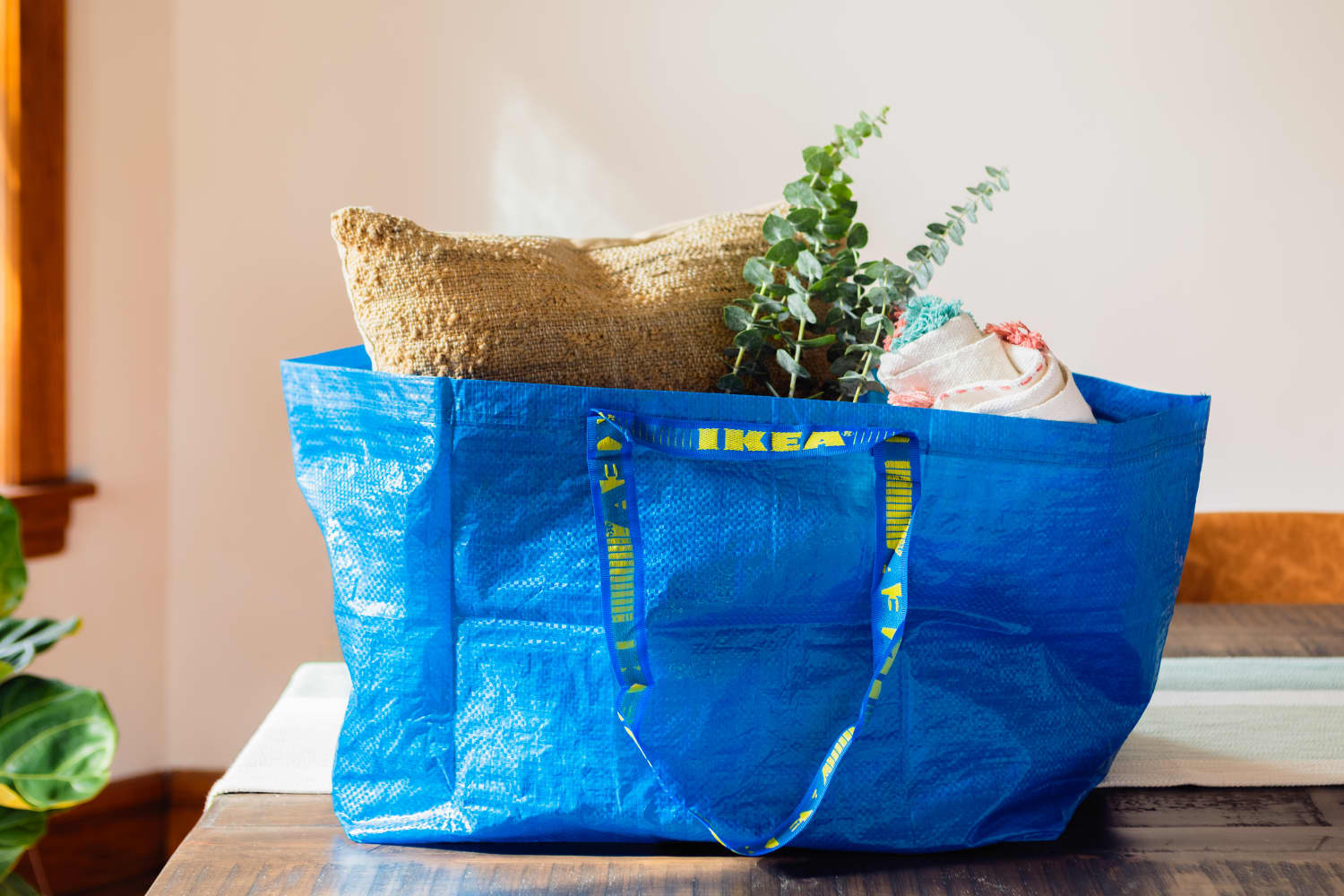 We independently select these products—if you buy from one of our links, we may earn a commission.
IKEA may no longer be publishing its iconic catalog, but peek into its "new" section and you'll find all the latest releases. The page is filled with gorgeous stuff, everything from sculptural pendant lamps to cottage core bedding — but as a DIYer, I have an eye out for the products that will be the most hackable. Here, my five picks for the best hack-worthy new IKEA products for 2022, plus ideas for how to make them your own.
The IDANAS wardrobe joins IKEA's already impressive closet lineup. What makes IDANAS unique is that it is the closest standalone wardrobe in height to the taller version of their popular PAX line (PAX closet system comes in either 79 ⅛" or 92 ⅞" high; IDANAS is 83 ⅛"). The IDANAS also has bi-fold doors to save floor space and finished legs. It's a great option if you're looking for a furniture piece instead of a full closet system.
Hack it: One of the many beautiful things about IKEA closets is that there are already a ton of different DIY ideas that can be applied to the IDANAS. Sarah and Kevin Reid-Morris of Readmore House made their PAX wardrobe blend right into their Victorian home with era-appropriate trim and moulding. Take a cue from the Reid-Morrises or incorporate different textures — like beadboard or cane webbing — and colors that suit your own home.
BERGSVIKEN Black Marble Effect Door
BERGSVIKEN offers a realistic marble effect in black or beige as a door option in the BESTA line. Yes, it's a door — but lay it flat and now it's a faux marble tabletop.
Hack it: BERGSVIKEN's three sizes lend themselves to all kinds of table DIYs. Grab individual desk legs from IKEA or upcycle an existing desk like Mia of Beautiful Inspiring Creative Life, who used a KULLABERG desk as a base for her faux marble desktop. The smallest BERGSVIKEN would be perfect for a side table while the largest could work for a vanity top.
YTTERVÅG Four-Poster Bed Frame
YTTERVAG is IKEA's first poster bed, and comes in a queen or king size and light brown or black wood. The clean lines already make it look like it comes from a high-end showroom, but that doesn't mean there aren't ways to elevate it further.
Hack it: Boutique designers have been showcasing their takes on hanging, cushioned headboards. Studio McGee recently used a white linen cushion against an oak frame for soft contrast while Amber Lewis's Rhys bed utilizes buttery leather. Hanging, cushioned headboards add practical comfort while letting the wood of the bed frame set off a textile moment. You can create your own from scratch like Geneva of Collective Gen, or add loops to existing cushions and attach them to YTTERVAG's headboard posts.
GUNNLAUG Sound Absorbing Curtain
When was the last time you got excited about curtains? IKEA's new GUNNLAUG curtains have a unique composition and weave that makes them able to absorb 50 to 100 percent more medium-high sound frequencies than other fabrics with similar quality and weight. That means these are the perfect curtains for anyone trying to catch more sleep or those who want to create the acoustically perfect movie room. The only downside is its limited style options, since these curtains come in just solid white or solid gray.
Hack it: GUNNLAUG's white and gray options are good DIY bases. Alisa of A Glass of Bovino made her standard IKEA curtains look completely custom with Greek key trim. Add your own trim to the sides or bottom or try one of these other curtain makeover ideas.
HÅVERUD Table with Storage Ladder
According to the designer, the HÅVERUD began with the goal of making a flexible dining table that gives people more room for activities in a small space. They envisioned the unique, integrated ladder becoming a hub for different functions in a home. This is a piece that was literally made to be hacked with different storage solutions.
Hack it: DIY a hanging canvas organizer like The Merrythought's Caitlin to hold gardening tools and turn your HÅVERUD into a potting zone — or use one to hold patterns as the HÅVERUD becomes a sewing station. Whatever you use the HÅVERUD for, there are endless ways to hack it for your workspace needs.