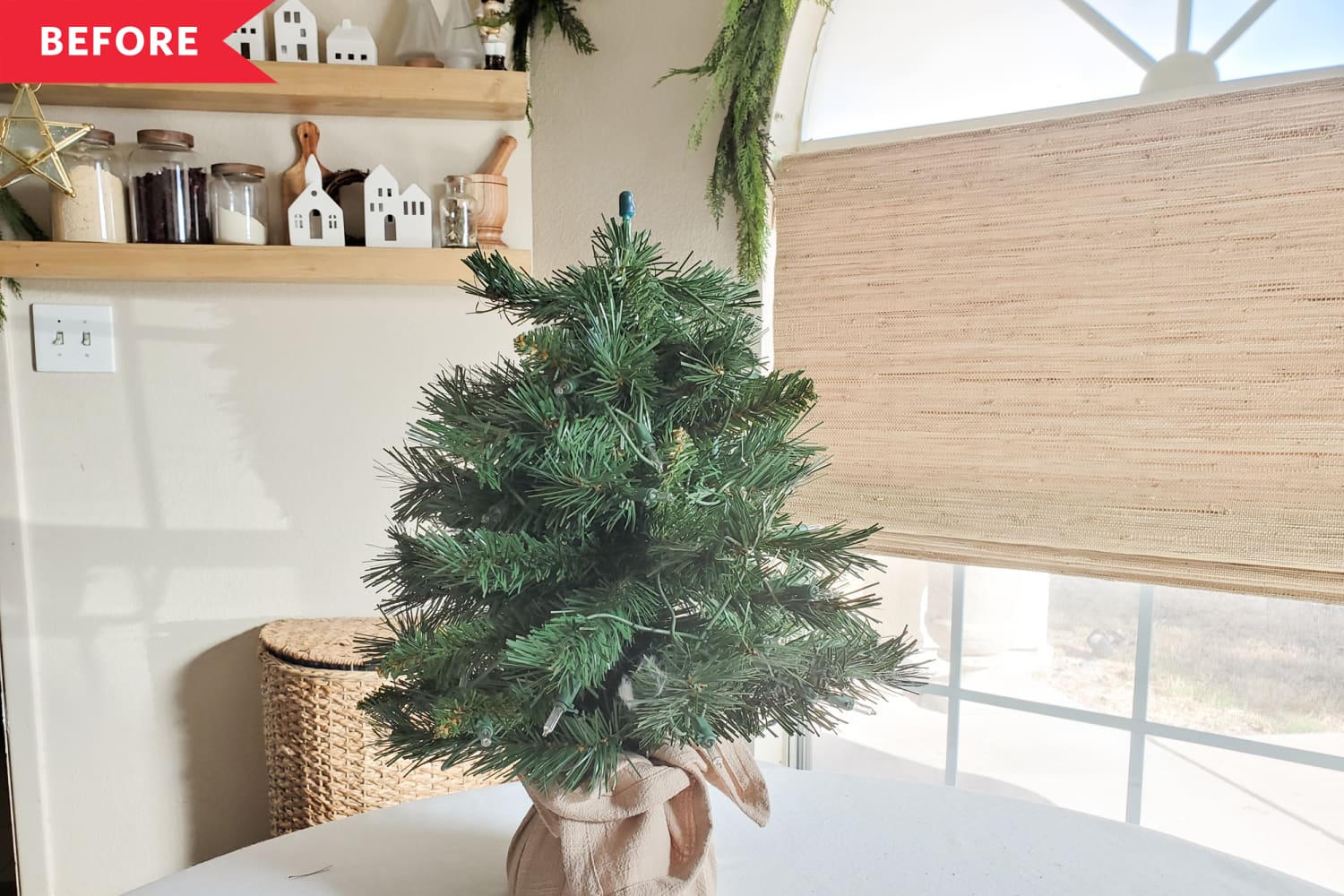 Looking to bring just a little Christmas cheer to your home? There are plenty of great options out there for decorating small spaces for the holidays — wreaths, garlands, candles, and more — but the classic pick is the tabletop Christmas tree. Unlike the full-size kind, these mini varieties can easily tuck into a drawer once the season's over; they also need only a single square foot of space to display.
And the best part of all? A mini Christmas tree is positively budget-friendly. Not only can you grab a reusable one for around $30, but you can also decorate it cheaply, too, since you don't have much surface area to worry about. How cheaply? Well, these three DIYers did it for under $15 each, with fabulous results.
Read on to see how Sarahli Wilcox, Jessie Ruane, and Gbeke Omosebi made over this basic Christmas tree in three totally different styles using just $15 or less.
The Super Cozy Christmas Tree
Sarahli Wilcox (@hauz.and.co on Instagram and TikTok) is all about neutral tones, natural textures, and boho style in her own home, and she wanted to bring a little of that vibe to her mini Christmas tree, too.
"I had a mini beanie/bobble hat DIY go viral last year and I thought this would be great to recreate again this year," Wilcox says. To go with her mini hats, she decided on (what else?) mini sweaters.
To create her mini bobble hats, Wilcox used cardboard tubes, yarn, and cotton balls. She cut her toilet paper tube into half-inch sections, and cut her yarn into 8-inch pieces. Then, Wilcox tied the yarn around the tube using an easy lark's head knot until the entire tube was covered. She then pushed all the yarn pieces to the inside of the tube, pulling them out the other end, and tucked a cotton ball into the bottom. Finally, Wilcox tied another piece of yarn around the yarn ends — just above where the cotton ball hits — to create the hat shape. She trimmed the ends to create a pompom top. (To see this process in action, check out Wilcox's TikTok tutorial.)
"The hardest is probably fluffing and trimming the top of that hat for maximum cuteness and fluffiness," Wilcox says. "It takes me a good 10 minutes for me to get the perfect roundness."
For the sweaters, Wilcox used air-dry clay. She cut out the general shape with a cookie cutter, then drew on sweater designs with a toothpick while the clay was still pliable. Then, once dry, she painted on cozy sweater designs.
The final result: The snuggliest looking Christmas tree you've probably ever seen, made mostly with materials that Wilcox already had at home. "What I like the best about this tree DIY is that most of these supplies are common household items, so you don't need to buy a lot," Wilcox says. In fact, the only things she did buy were the yarn and the air-dry clay.
Plus, she adds, even if you don't want to add these ornaments to a tree, they're great for adding to gifts throughout the winter season. "Once you do have these items, you can make a lot of it with the supplies," she says. "It's perfect for gifting and repurposing into a garland, too."
Wilcox's Budget Breakdown:
The Funky Thrifted Christmas Tree
Jessie Ruane (aka @JessieFinds on Instagram and TikTok) is no stranger to thrifting, with much of her apartment's decor found secondhand. Combined with her seriously skilled mural painting, it makes for a cool, eclectic space that feels completely unique.
As for her own Christmas tree, Ruane takes a similar approach. "I have a combo of some Target ornaments, thrifted ornaments, and a growing collection of personal ornaments," she says. "But I don't typically try to make it a totally cohesive look. I like the 'chaotic' type of tree over the curated ones."
For her mini Christmas tree, Ruane knew she wanted to incorporate some thrifting. "I knew I wanted to thrift at least some of the decor, so I went on the hunt for earrings," she says. "I thought they would look so cute on a tiny tree. I had no idea I would strike GOLD and find the cutest Christmas earrings!"
The Christmas-themed earrings, along with a couple thrifted necklaces — all from various thrift stores — were enough to decorate her entire tree. The earrings made for easy (nearly instant) decor: All Ruane had to do was hang them on the tree by their hooks.
The faux pearl necklace yielded even more ornaments, since Ruana was able to take it apart and use wire to create multiple smaller cluster ornaments as well as a star-shaped topper. "Making the pearl star was way easier in my head, but it turned out ok," Ruana says.
And the best part, Ruane jokes, is that "the ornaments double as earrings to all my Holiday parties!"
Ruane's Budget Breakdown:
The Quirky and Colorful Tree
While Gbeke Omosebi of Simplicity for Designs has a home that leans more minimal in its styling, she breaks out the bold color for her kids' small Christmas tree every year. (She also decorates a main one that's more in line with the rest of her home's decor, featuring lots of neutrals with brass touches.)
For her mini tree, Omosebi decided to follow her kids' lead and make a tree full of vibrant color and decorated with nods to her family's favorite activities, which are decorating their Christmas trees and making gingerbread houses.
To decorate her tree, Omosebi wanted to create three different elements: faux gingerbread houses, mini Christmas tree-shaped ornaments, and a bold new tree base.
For the gingerbread houses, Omosebi glued popsicle sticks together to create the base, then added a triangle of popsicle sticks on top to form the roof. Once dry, she painted the house brown, and added a colorful door cut from cardstock. Framing it with twine and adding a bead "doorknob" gives it some depth. Finally, Omosebi added beads to the roofline to resemble gumdrops, and glued on a little picket fence made from popsicle sticks, too.
The trees were much simpler. For these, Omosebi glued three popsicle sticks together to form a triangle, adding more sticks over top to fill out the base. Then, she attached a small stick to the bottom to serve as the trunk. Lastly, Omosebi glued on colorful pompoms to fill in each of the tree outlines.
A colorful Christmas tree needs an equally colorful base, and Omosebi used a quick hack to make hers. Gluing felt around a bowl makes for a sculptural tree stand in a snap.
Omosebi's final tree is a cheerful addition to her home, and makes for a fun family activity, too. "The popsicle ornaments are fun to create with your kids for Christmas," she says. For these ornaments, creativity is your only limit.
Omosebi's Budget Breakdown: