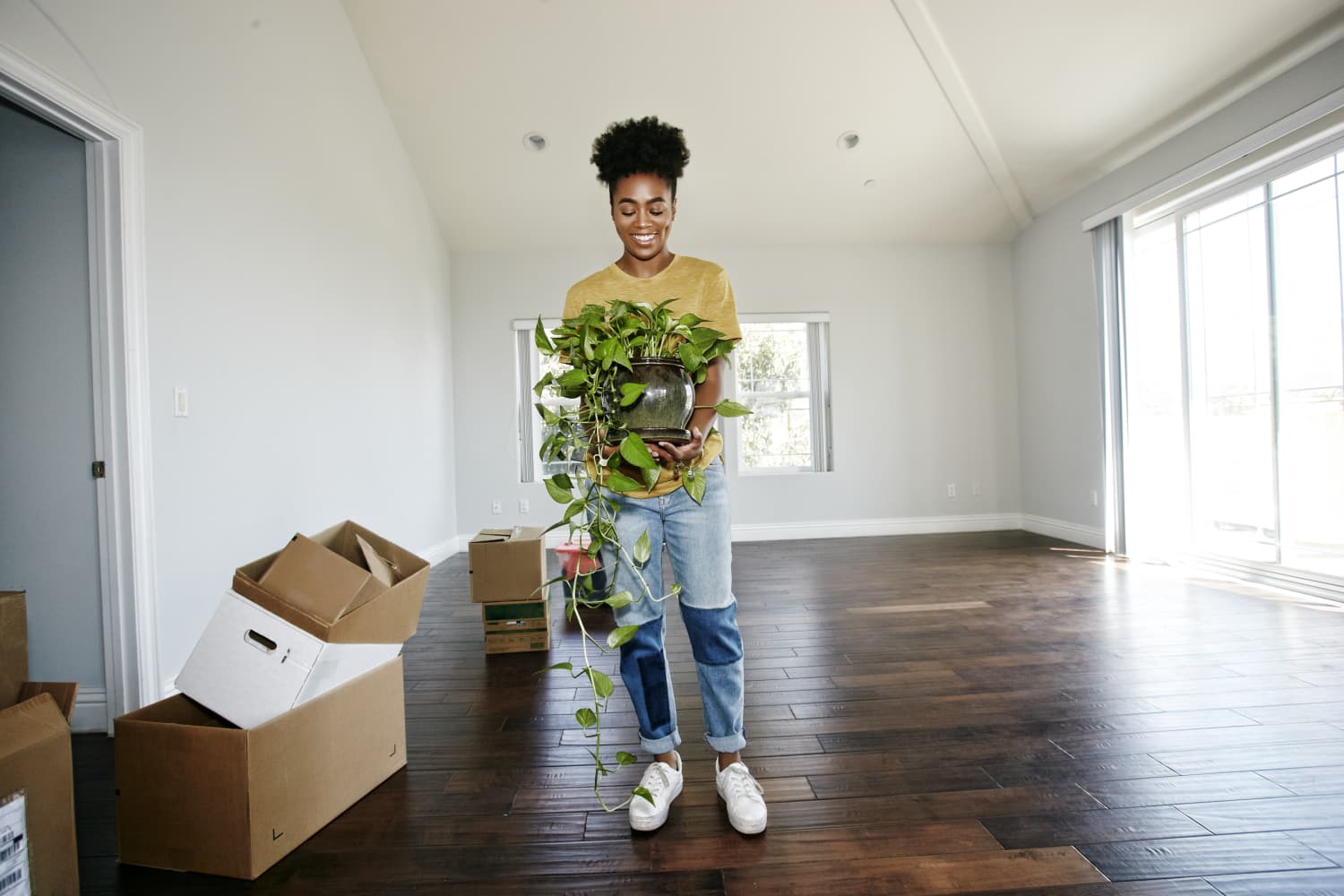 When you walk into an empty room, what do you notice? Maybe it's high ceilings, incredible natural light, or stunning original hardwood. The best DIYers have a gift not only for seeing those things, but for spotting the potential to turn a blank canvas into a perfectly designed space.
That could mean envisioning expansive built-ins or beams in an otherwise simple room, or it could mean looking at the quirks in a home and realizing that rather than obstacles to overcome, they're actually design elements to embrace.
Want to improve your own ability to bring an empty space to life? This is how six DIY and design experts spot potential.
1. Imagine the day-to-day flow.
Whether they're working on their own home or tackling projects for others, Danielle Kyle and her husband, Jeron, the duo behind Danielle Kyle Design and Kyle Build, always look first to functionality in a space. A great space is only as good as the life that occurs inside its walls. "What really matters is thinking about living inside the space," Kyle says. "We ask ourselves questions like where we want to be sitting with our morning cup of coffee and where friends would gather for a great conversation."
Only then do they turn their attention to the Instagram-worthy details. "We look at each space from different angles until we are able to identify the room's aesthetic and structural strengths. Picture windows, unique built-ins, and existing arches are all an immediate plus, but they should work with what the home already has to offer," she says.
2. Keep an eye out for architectural features to show off.
Stephanie Watkins of Casa Watkins Living, a globally inspired blog and Instagram account, creates incredibly lush, bohemian spaces, so she always looks for architectural features to turn into beautifully styled vignettes. Great natural light and surprising spots are key.
Watkins says, "Though I believe any space can be turned into a beautiful creation, I'm a big fan of big windows/French doors for great plant life, plus some sort of architectural feature which could be a bump-out, archway, or a nook. These types of details make great potential for an interesting feature in a space."
3. Visualize the potential without furniture to cloud judgment.
For Kera Jeffers, blogger and interior designer at Haute House Love, an empty space is actually an incredible opportunity to visualize the true potential of a room. Some people need to see furniture to envision a room as functional, but she welcomes the opportunity to let her imagination fill in the void.
When she looks at any empty space, that's when she can go wild with design and DIY ideas. "For my crazy design brain I can always see the most potential in an empty space because there aren't any furnishings to cloud judgment. For me seeing the potential has less to do with specific elements and more to do with being able to exercise the part of the brain that can dream big."
4. Look at wall and window space as a blank canvas.
Megan Duncan of The Minted Vintage loves to add DIY detail to add character and charm to her new-build home, so she looks for opportunities in an empty space while treating it like a blank canvas. A plain room is just waiting for trim, molding, and other built-in additions to spruce it up.
Duncan says, "When looking for potential in an empty space, I look at where a built-in cabinet or shelves can be added for storage and styling or a wall treatment like board and batten can be installed. Next, I envision how to dress windows up with custom trim. Even small windows will look bigger with a little extra detail."
When her DIY dreams get even more ambitious, she looks up to see whether there's room to add ceiling features that can help make a space feel more intimate and unique. "I love to add wood elements throughout a space, so features like cased openings and ceiling height are next on my list. Wrapping an opening with trim work and installing faux beams on the ceiling can really make a space feel extra cozy."
5. Embrace the quirks and locale as design elements.
Designer Sarah Glenn is on her third home full of DIY renovations and she's an expert at looking for unique and quirky elements to embrace rather than hide. In her current home, she saw a chance to take a dormered ceiling — an element some might shy away from — and turn it into a cozy treehouse for her son's nursery.
Reflecting on the project, Glenn says, "I love to look for something quirky to highlight in a space, especially in a way that connects the room to the sense of place around it. My son's nursery has 7-and-a-half-foot ceilings and a dormer looking out over a canopy of trees in our backyard. The space has a natural coziness to it and reminds me of a treehouse. I embraced that feeling by painting the room a dark hunter green, layering in shades of blue through textiles and art, and incorporating natural materials with a vintage wool rug, leather rocking chair, and an antique pine dresser."
6. Recognize the unique characteristics.
Erin Spain, a DIY blogger with a knack for turning basic rooms into bright, styled spaces, knows that there doesn't need to be anything grand or fancy to complete an impressive makeover. Good, unique bones can be as simple as well-placed windows or classic molding.
"Sometimes it's the scale of the space or architectural details like molding; sometimes it's the layout or the amount of natural light it gets," Spain says. "Each space is unique, so I try to envision what it could become based on whatever assets it might already possess."