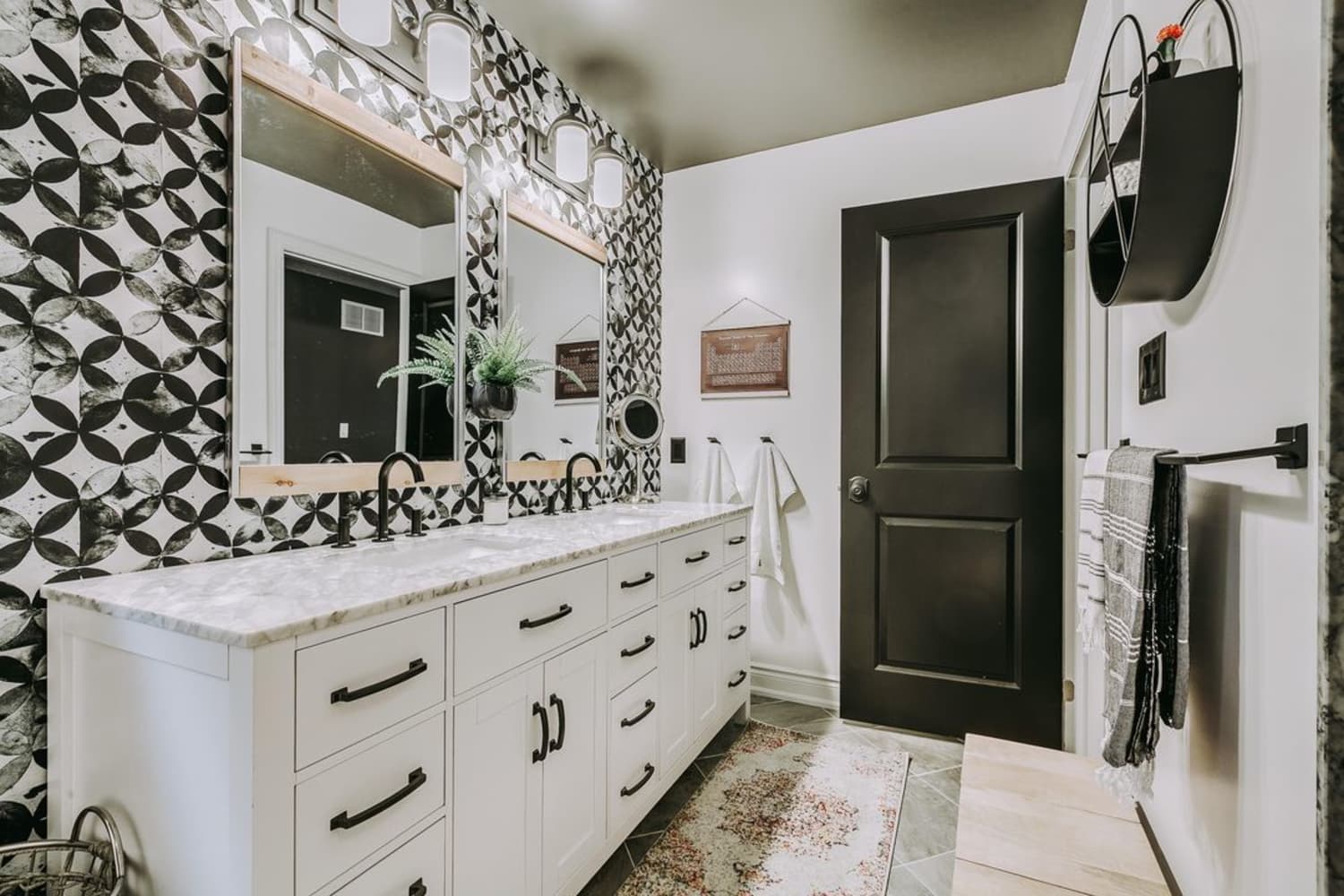 It's easy to get drawn in by the charm of do-it-yourself projects. You'll roll up your sleeves, snap those before photos, grab a hammer, and get to work on your own masterpiece. The advantages seem endless. You'll save money! Your project will be totally customized and all your own! You'll channel the get-it-done, self-sufficient attitude of your ancestors!
But as DIY blogger Michele Savage of Uncluttered House tells Apartment Therapy, "DIY life isn't always as glamorous as it appears on social media." Those time-lapse videos of sparkling projects that look straight out of a magazine and TikToks promising IKEA hacks that come together in minutes? They aren't always the whole truth.
As someone who's the proud owner of a bathroom that's been partially peel-and-stick wallpapered for months, I can vouch that some "easy" home projects are trickier than they sound — and even the experts agree.
We talked to DIYers and home bloggers about the projects they've taken on and quickly realized were more than they bargained for. Yes, these DIYs may turn out beautifully in the end, but don't say we didn't warn you when you're knee-deep in tile and grout or stuck with your head under a sink wondering why on earth you thought do-it-yourself plumbing was a good idea.
Just keep in mind, as Joelle Fréchette from The Farmhouse Dream says, "DIY takes time and guts. It sometimes takes trial and error, but the result at the end is always rewarding!"
While it may seem pretty manageable, tiling a bathroom or kitchen is a DIY project typically reserved for the most ambitious home renovators. The measuring, the cutting ceramic or stone, the laying tile and grout — it's a project where the lists of supplies and steps both run a mile long.
When it's done well, this is a project that can save you major money and give you an incredible sense of accomplishment. However, it can be time-consuming, labor-intensive, and physically exhausting.
Leslie Davis, an interior decorator and blogger, took on a large-scale tiling project in her bathroom. While she was by no means a beginner, installing 12-by-24-inch tile in a 150-square-foot bathroom tested her abilities, particularly when it came to ensuring the job didn't look DIY. She says, "I am a perfectionist when it comes to any project, but tile work demands perfectionism."
Her project went far beyond simply laying tile and grout. "I invested in a sophisticated leveling system and laid the tile over a heated flooring system. While I never felt like I needed to quit, it took much longer and was more physically demanding than I imagined. The end result was worth the care and time, but I'm not sure it was worth the problems I now have with one of my knees."
Peel-and-Stick Wallpaper
The allure of peel-and-stick wallpaper is that it just sounds so doable. It's so easy to get caught up in the eye-catching patterns and colors, and, before you know it, you're (literally) wrapped up in sticky large sheets of bold floral vinyl. That's probably why it was the most frequently mentioned "harder than it looks" DIY project when we polled the DIY experts.
Of course, the finished product can look absolutely incredible, and it's not an impossible project. It takes few supplies — just the wallpaper, a ladder, an X-Acto knife, and a squeegee — but tons of patience.
Kelsey Mansingh and her husband, Ryan, the couple behind Newbuild Newlyweds, say peel-and-stick wallpaper is always harder than it seems, yet they did it five times in their last home. So, what's the issue? "Most homes do not have totally square/even walls, and that makes applying the wallpaper/lining it up perfectly straight nearly impossible," Mansingh says. However, when it comes to bang for your buck, it's worth it. "It always ends up turning out well, and it makes such an impact for minimal cost, but the process is almost always a nightmare!"
Mansingh quips, "We always joke: If your marriage lasts through applying peel-and-stick wallpaper, you can make it through anything."
Christine DelSantro, a New Jersey-based DIY blogger, used peel-and-stick wallpaper for a big impact in a small space, but that doesn't mean it was a small effort. "I fell in love with this design from WallPops and decided to go for it on our bathroom floors. It was a pretty easy install except for around the toilet and a corner. It took a lot of patience and a few good cuts with the razor blade, but we were able to do it."
Small home design expert Katrina Blair Sullivan learned the hard way that just because a DIY went smoothly once doesn't mean it will go smoothly again. She had installed peel-and-stick wallpaper once previously, but didn't realize that not all wallpapers are made the same — and installation can vary wildly in terms of process and difficulty. "I was installing a very detailed pattern and each roll of wallpaper butted up to each other, meaning there were zero overlaps and getting the pattern to line up in every section wasn't fun! Once I got into a rhythm and put a podcast on, the project got easier. In the end, the project turned out so well!"
Adding trim or molding to walls, doors, and windows is like putting that last piece of jewelry on. It's the thing you didn't know you were missing until you see it in action and think, "Ah, yes, that's what we needed to finish this space!"
In theory, they aren't difficult DIY projects, but between careful wood cuts, measured alignment, and assessing the material you're actually attaching the trim to, there are lots of considerations at play.
Montana Ehrnschwender, the DIY expert behind Honing Home, went for a project with a big impact. She opted to add character to flat panel doors, but she learned that when you're dealing with DIY in an older home, you can't always predict what you'll encounter and how your DIY plans will react. What works in one place may not work in another, and you won't know until you're in the thick of it.
"Our home was built in the '50s and every door in our home is a hollow flat panel door. I wanted to add a bit of character to them as we renovated each room in our home. I found accent trim and decided to add boxes to each door to add something special," Ehrnschwender says.
"My first attempt was successful because I was securing the trim to a solid door. My second attempt had to be redone a few times because I didn't use adhesive and the nails didn't secure to anything." Through trial and error, she realized construction adhesive was necessary before placing the panels. While the added effort was worth it for the stunning result, it's a step she didn't anticipate and then had to account for on additional doors.
A painted floor is one of those home projects that can dazzle you as soon as you walk into a room. It's instantly noticeable and sets the stage for the entire space. It's perhaps an even bigger statement than wallpaper or art because it's still somewhat unexpected.
But painting a floor is not like painting a wall. When you're painting a wall, the canvas is straightforward. It's most likely drywall or plaster. Floors, on the other hand, can present a myriad of options, all of which require a different approach.
Fréchette, from The Farmhouse Dream, attempted to paint her tile floor and realized that it wasn't going to be as simple as grabbing a brush and a roller. "At first, it looked like a quick, simple project, but it turned out to be much more complicated. I tried three types of tape and two types of paint before finding the right fit for our floors, but when I finally got everything I needed, there was no going back."
The result was worth it, however. She says, "I painted over our old entryway tiles, and after six days of hard work it was done. And a year after, I still love it."
If you've successfully plunged a clogged toilet or stopped a sink from dripping, you might think you're ready to tackle a bigger bathroom plumbing project. But before you grab a wrench, the experts want you to know that it might not be the simple cost-saving endeavor you think it will.
If you're lucky, a one-for-one faucet replacement might end up fairly straightforward, but things will get much more complicated if you're hoping to turn one sink into two, for example.
Savage, of Uncluttered House, figured her basic plumbing skills would be enough to install a second sink in her bathroom vanity. The reality, in her own words? "Not even close!"
She says, "Removing parts of the wall to reconfigure plumbing lines and drains was not for the faint of heart. We almost threw in the towel a few times and called in a pro when one of our new drains started leaking profusely."
The best quality you'll find in someone eager to tackle DIY home projects is a never-quit attitude. "My husband and DIY partner in crime spent hours with his head inside that beautiful vanity and equally as many hours watching YouTube videos and speaking to our local Home Depot plumbing specialist. We were finally able to locate the mistake we made, fix it, and our en suite bathroom came together beautifully. Not a leak to be found!"
While she may not be attempting advanced-level plumbing again anytime soon, she says, "Our best advice is never give up, do your research, and be nice to your hardware store specialists."