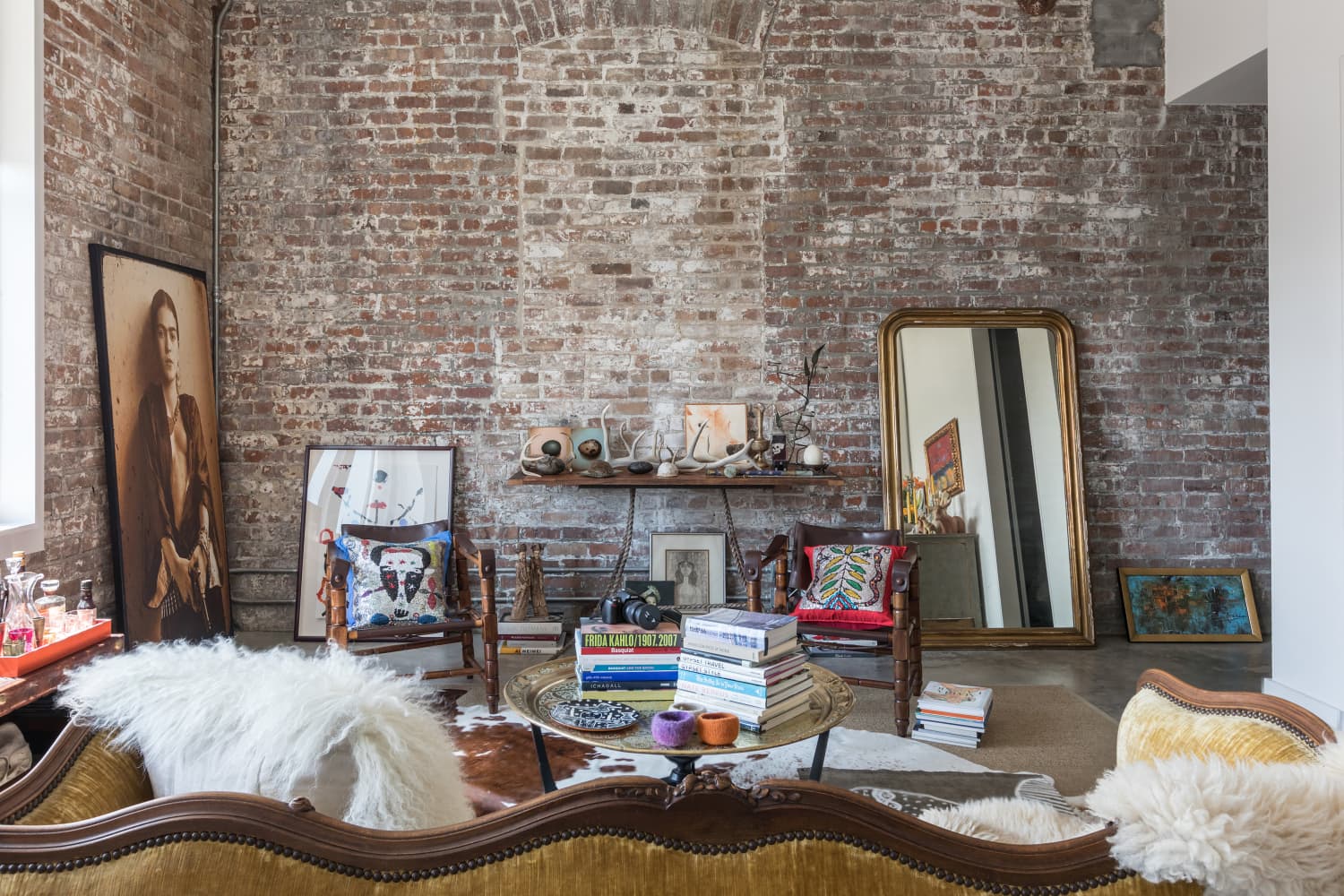 We independently select these products—if you buy from one of our links, we may earn a commission.
Almost every Instagram-worthy apartment has a giant mirror leaning effortlessly against a wall, ready to reflect your outfit of the day at a moment's notice. Have you ever saved one of those giant mirrors as a "someday" purchase? Then you probably know that these luxe-looking mirrors often come with luxe price tags.
"I love sharing my creations, in the hopes it will make someone else's life a little brighter," Ashcraft tells Apartment Therapy. "This mirror is no exception. We've all coveted those gorgeous, huge mirrors but balked at the price tag. This was a simple idea that I knew others could take and make their own."
She starts by sizing oriented strand board (OSB), a material similar to particle board, to make it a few inches larger than the mirror. Construction adhesive is then used to attach the mirror to the OSB. After at least 48 hours of curing in a dry, cool place, a wood frame is then glued and drilled to the OSB, which surrounds the mirror. And that's it. That's all it takes to hack a mirror that could run you hundreds upon hundreds of dollars.
For those eager to dive in and tackle this giant mirror hack, keep in mind that when working with such a huge piece of glass, you'll definitely need a second set of hands. Ashcraft says, "In addition to this mirror being delicate, it's very heavy. We glued the board and the mirror on the floor to make sure it was on an even, flat surface. It also takes two people to slowly lower the glass onto the OSB."
One critical step in this hack involves safety. Given the weight of the mirror, it needs to be secured to a wall. Additionally, Ashcraft says, "If I could do it again, I would add mirror clips to the edges. It's an extra safety measure to make sure the mirror doesn't fall if it pulls away from the OSB. I've had this mirror for a month and so far the integrity is amazing. However, we did use two tubes of construction adhesive in addition to letting it cure for about a week before applying the framing." When dealing with a 15-square-foot slab of glass, you can never be too careful.
So what could you see next on Ashcraft's TikTok? As an avid DIYer, she's always cooking up new projects. She says, "Some of my other favorite DIYs have to do with wood 'cookies.' There is a sawmill in town where you can get wood slices called cookies. Since they are leftovers, the owners often let us take them free of cost. I've made a hanging side table, a live edge headboard, and a clock with the wood slices. I'd love to create a coffee table with a tree trunk — I'm still on the hunt for the right piece for this project!"