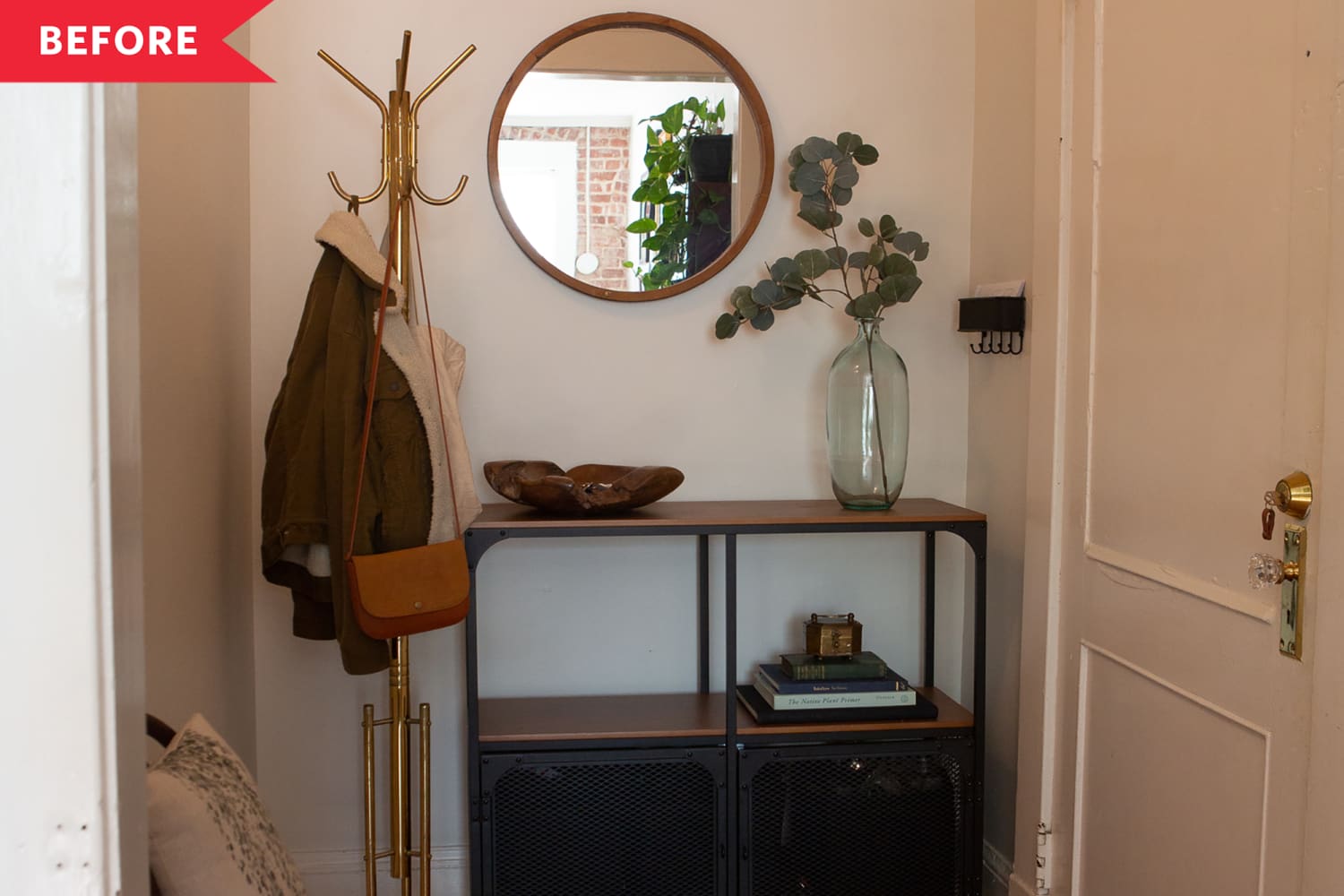 We independently select these products—if you buy from one of our links, we may earn a commission.
September is Transformation Month at Apartment Therapy! That means we're sharing stories about home transformations — from big renovations to tiny tweaks — all month. Head over here to see them all!
Name: Abigail Sherrod Sykes, husband Casey Sykes, and fish, Feeshy
Location: Midtown Atlanta, Georgia
Size: 500 square feet
Type of Home: Apartment
Years lived in: 2 years, renting
My husband, Casey, and I live in a 500-square-foot apartment in a 1917 condo building on the edge of historic midtown Atlanta. We fell in love with this unit the moment we saw it on Craigslist — yeah, Craigslist — and were so excited when the landlord accepted our application (above a few others!). The original over-grouted exposed brick walls in the living room, bathroom, and kitchen, tall ceilings, huge windows, original clawfoot tub, beautiful doorways, balcony, and the fact that it was on a breezy street within walking distance of two parks all really drew us in.
The landlord also renovated about a decade ago, adding some warm butcher block countertops, vintage-style faucets, pretty tiled backsplash, and great cottage-y (it's a word) IKEA cabinets. Plus, it has a dishwasher — what more could we need? Well, actually… the space had wonderful bones, but it hadn't been touched structurally or cosmetically in the decade since the landlord last renovated. So, there was quite a bit of work to do. We have spent a lot of time here (vis-a-vis 2020), so crafting it into a space that has truly felt like us has not only been a huge joy, but a therapeutic creative outlet over the past two years.
Apartment Therapy Survey:
My Style: So, my husband would describe me as straight out of "Little Women," and, well, honestly, I think that is a great way to describe me — my taste, aesthetic, and preferred lifestyle. All of this greatly influences the style of our home. I love nature, music, and simplicity. I value gentleness, connection, and hospitality. The former inspire: the natural tones with lots of neutrals, greens, and some pops of subtle color; our selected artwork — like a lot of landscapes and nature prints; the emotions the music I love evoke how I want to feel in our space; traditional elements interrupted by MCM pieces of furniture to introduce very simple, clean lines; and lots of plants! Can't miss the plants. The latter is reflected in: again, the colors that are gentle on the eyes and which feel soothing; the setup of our living room to invite conversation; warmth in tone and texture, from plenty of soft pillows and blankets, the scent of the space, warm lightbulbs (2700K), and fresh flowers. I want this space to feel like the idea of home. All of that said, if you pressed me to put a label on it, I'd probably call my style Modern Cottage or Modern Traditional.
Inspiration: I draw inspiration from so many avenues, but I'll break it up into three primary categories. Space-wise, my main inspiration probably comes from Cotswold cottages. Their idyllic livability and simplicity and how they seem to have organically sprung from nature truly feel like home to me in a way few other styles do.
Person-wise, my grandmother, Stella, who is an interior designer, has always inspired me with the stunning spaces she meticulously crafts; my mother, Gail, who always kept our home beautiful but very livable growing up; and my sister, Olivia, who was the first person I saw in my young adult life create spaces that felt fresh, interesting, and inspiring, and she made me want to do the same. Designer-wise, Amber Lewis and Lauren Leiss' use of neutral tones, natural textures, and livable spaces are some of my main inspirations. On the other side, I adore Heidi Cailler's use of color, pattern, and how she makes traditional-leaning design feel very fresh and cozy.
Favorite Element: I can't lie, as I look around, I see so many elements of our home that I adore but I would probably have to say our balcony tops them all. Though we've made this apartment our little haven in the city, I'm a nature girl at heart, so any chance to be outside, I'll take it. Being able to eat, read, and garden in our own space outside makes all the difference!
Biggest Challenge: The biggest challenge concerning our apartment, aside from convincing our landlord to let us paint, has probably been the size. Not to say we don't adore the size! My husband and I actually have a weird affinity for small spaces — we were looking at buying a tiny house before we found this apartment. However, small spaces definitely pose challenges, particularly in the way of storage.
Living in a 500-square-foot apartment with one closet has forced us to be as minimal as possible in our belongings, get so organized that we have a specific spot for everything we own, and get creative with storage solutions. We try to create storage space wherever possible: under the couch, the skirted armchair, credenza in the kitchen, under the bed, etc.
We also try to utilize all the space we have, and we have a lot of vertical space. After reading "The Little Book of Living Small" by Laura Fenton, my husband had the great idea to convert our entryway into an office! It was during the pandemic, and we wanted as much workspace as possible, so the underutilized entryway perfectly fit the bill. In order to get the best bang for our buck, we created "built-in" bookshelves to take advantage of the ceiling's height.
Proudest DIY: Definitely our proudest DIY is the "built-in" office desk. Once Casey decided to transform the entryway into an office, I got planning. I put together a mood board, I drew up my first real measured out design, and started ordering materials. We knew we wanted a dark, moody color to create visual contrast and the illusion of depth in that room, and I was greatly inspired by Jenni Yolo's (@ispydiy) office space. We ended up using "Black Evergreen" by Behr, a dark blue green. The bottom cabinets are builder grade oak kitchen wall cabinets from Lowe's, and the desktop is two pieces of edge-glued pine board glued together and cut to size; this was a great affordable alternative to buying one large piece of solid wood or butcher block. I stained the desktop a deep brown and finished it with a warm amber shellac. Next came the shelving unit. Thankfully, my dad has a workshop and helped us do the work. Let's be honest, he did the woodwork, and we watched.
After the shelves were built, partially assembled, and painted, we were able to get them home and in-place. Thank goodness, I hadn't screwed up the measurements! The shelves fit like a glove. The best part? They are completely renter friendly! While the whole unit looks built-in, they are not connected to the wall or ceiling at any point (but, don't worry, they're not going anywhere). That is my longwinded way of saying that we made this office all with our own two (six) hands! This makeover really whetted my appetite for DIY, and I can't wait to one day live in a space that we own where I can do this in every room.
Biggest Indulgence: I get most everything secondhand, but after a bedbug fiasco a few years ago, I now only get home soft goods (blankets, rugs, bedding, etc.) new. I just recently purchased new bedding from Quince, their Double Edge Embroidery Duvet Cover. While it's really not expensive in the way of linen bedding, it was more than I've personally ever spent on bedding before, so it felt indulgent. And it was definitely worth it! The quality feels amazing. Wrinkles fall out of it, it's very soft to the touch, doesn't collect lint, the white is a really good white (there are definitely bad whites), it has ties in the corners for the insert, and it just is all around a beautiful addition to our bedroom.
What's your absolute best home secret or decorating advice? For one, fill your home with things that you love. It's easy to want to stay up to date with what's in or fit into a specific style, but your home should be a reflection of you, and while I love finding inspiration from designers, Pinterest, Instagram, etc., our home has become a true reflection of me and my husband by finding pieces that one or both of us has said, "wow, now that I love." Forget about your home looking like that of designer X or influencer Y; find pieces that make your heart sing, and when you put them all together, you'll have a space that is truly yours.
With that said, we always want to value our relationships — with each other, our friends, our family, our community — highly over "things." Decide what your "home values" are and let the "things" serve that goal. We personally want to have a home that is a haven, both for us and for everyone else that enters. I pick colors that are calming so that we and others might feel at peace; I choose textures that are inviting and soft so that others might feel welcome; and I look for influences that are down to earth so others know that this space is made to be lived in. We find that our home feels like so much more than just a pretty space for this reason.
Okay, and one practical tip: If you want to find great stuff thrifting, go often and BE. PICKY. Don't just buy it because it's cheap; buy it because you really love it.
Thanks Abigail and Casey!
This house tour's responses were edited for length and clarity.