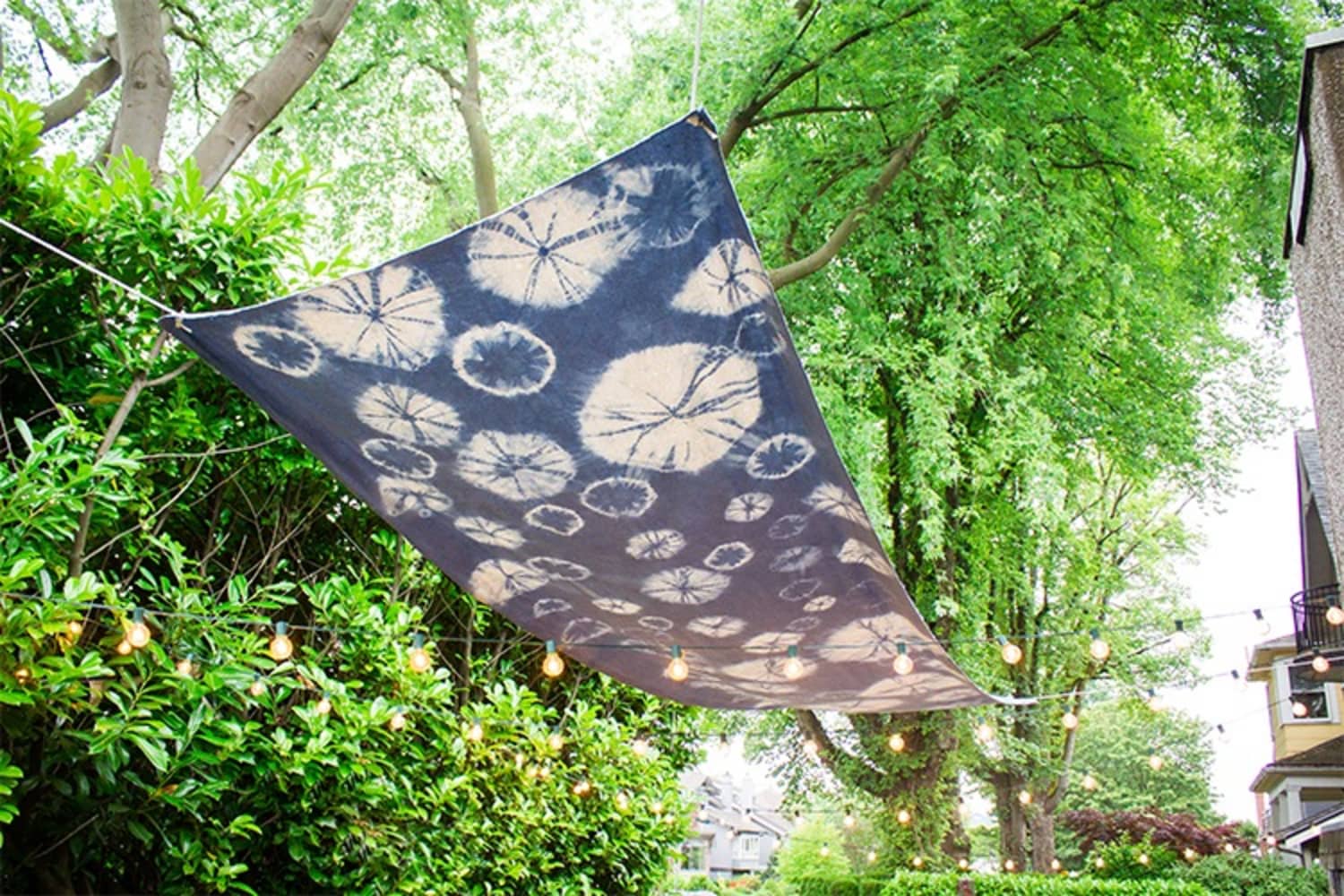 This summer may be taking on a blink-and-you'll-miss-it quality right now, but rest assured: There's still plenty of time to tackle your list of warm weather DIYs and to-dos and enjoy them once you're done. Even better news? There are lots of smart ways to save time, money, and effort in the process, if you take a few pointers from the DIY pros. Here, 10 hacks expert-level DIYers have test-driven so you don't have to. (Once you're done with the hard work, you can use your extra time to kick back with a cocktail.)
1. Use tape to make spray painting easier.
Paint is an easy and budget-friendly way to freshen up almost anything around your home or yard — address numbers, hardware, furniture, candlesticks… almost anything can take on a whole new look with a fresh coat.
For small pieces, DIYer Andrew Guevara has a trick for keeping them in place (and not having them stick to the surface you're spray painting on). Guevara recommends using masking tape when spray painting small pieces; just place them on a strip of tape, sticky side up, then so you can hold them in place while painting. That way, they won't stick to the surface you're painting on — an annoyance that can also cause rough, imperfect edges where you have to tear the project off the cardboard or paper underneath.
2. Give your patio the bistro vibe with removable poles.
Want the "bistro" look but don't have a tree to string lights from? Jo-Anna from blog A Pretty Life in the Suburbs suggests using stainless steel screw-eye rings and treated lumber poles to secure the lights on your patio. For extra support, you can screw the poles into your deck if you have one; you can also use buckets filled with concrete to secure the poles for a truly removable hack. (Though chances are, you'll love these lights enough to leave them year-round.)
3. Save time painting spindles on balconies, decks, and staircases.
Before you spend hours repainting the spindles on your deck or outdoor area, Emma from DIY With Emma has a time-saving hack you'll thank yourself for later. Emma suggests ditching the paintbrush and wearing a form-fitting glove (like a latex glove) topped with an old sock. Dip the sock in the paint and use your hand as the paintbrush around the spindles. Your hand will stay clean, and the job will be done in a flash.
4. Revive old furniture cushions with a pro-level tool.
If your patio furniture's cushions are starting to look dingy, use this quick fix dreamed up by Jess from the blog Mom4Real. Rent, borrow, or buy a pressure washer, and use it to clean the cushions. "I really thought that the strength of the pressure washer would be too much, but it worked perfectly," she says. "So, all I really needed was water. No soap, no scrubbing, and no money lost."
5. Organize your tools and gardening supplies with a pegboard.
Summer projects can be complicated, and with lots of moving parts, your workstation can get overwhelmed. To add extra functionality to your space without spending a ton of money, take a cue from Jessica Welling, who used a pegboard to organize her desk space. The hack works just as well for a garage or covered patio to hold hand tools, DIY supplies, or garden gear. Add a table underneath, and you have an instant workstation with all the tools you need at your fingertips.
6. Help your work table last longer (and protect your projects).
Replacing the top of your workbench can prolong its life and keep your space looking clean. To do so, James, Martine, and Oscar of The Knot Specialists recommend purchasing a one-eighth-thick hardboard from a hardware store for around $10. It can be cut down to size with a utility knife and swapped out once it's time for a new one. Another tip? They also advise fellow DIYers to pre-drill holes using a countersink bit, so that the screws sit below the surface and won't scratch your projects.
7. Stop your hose from ruining your plants.
If you've been embracing your green thumb this summer and have been giving your hose a workout, you know how easy it is to accidentally steamroll your plants with the heavy rubber line. Brenda from The Garden Girl has a tip to keep your plants safe from getting, ahem, hoselined: Place wooden stakes just outside your garden beds to catch your hose and prolong the life of your backyard oasis.
8. Hack a sun shade for your patio.
Summer sun got you down? Before you splurge on an umbrella or sunshade, consider this $20 DIY shibori shade sail made by Tijana from A Plentiful Life. Using a canvas drop cloth from the paint aisle, blue dye, and rocks and sticks from her yard, she created this striking design that was easy to hang with rivets and rope. "I had so much fun creating this piece for our yard and it turned out to be a real showstopper," Tijana says. "Whenever I was in the yard, people would stop and ask about it."
9. Give your stenciled concrete patio a pro finish.
If you want to take on the trend of stenciled concrete, use this trick from Madison Bess at The Blushing Bungalow to make sure it turns out right. She created a backyard oasis with an eye-catching stenciled concrete patio starting with the correct primer to keep the paint fresh and chip-free. Once it's time for the stencil, ditch the rollers and paintbrushes and dab on a coat with a sponge brush for crisp lines. Then, clean up the lines with a craft brush. "If the pattern is big enough, you can take a craft brush and clean up the edges of the design freehand," she says. "This will make your design go from DIY to 'Is that real tile?!'" Last thing: Don't forget to seal the surface to protect all your hard work.
10. Use a smart trick to fake shade for plants.
Stacie Abdallah from Stacie's Spaces has tackled raised beds, container gardening, hydroponic gardening, and greenhouse gardening — but it wasn't always easy. "As a new gardener, I failed to consider the light requirements that different plants have, and my first garden was proof of that mistake," Abdallah says. Finding the right light for plants to thrive makes a big difference, and sometimes it requires creative workarounds. Stacie's tip? Observe how the sun hits your yard and house throughout the day since some plants prefer morning to afternoon sun.
But Abdallah's got a smart workaround, too. "There are times when I want to plant something in a location that may not be the best for it in terms of light," she said. "For example, if a plant requires part sun or shade, I will try to plant it under the canopy of another plant so that it gets the shade it requires and I get to have the plant where I want it." We promise not to give away the secret to your plants.