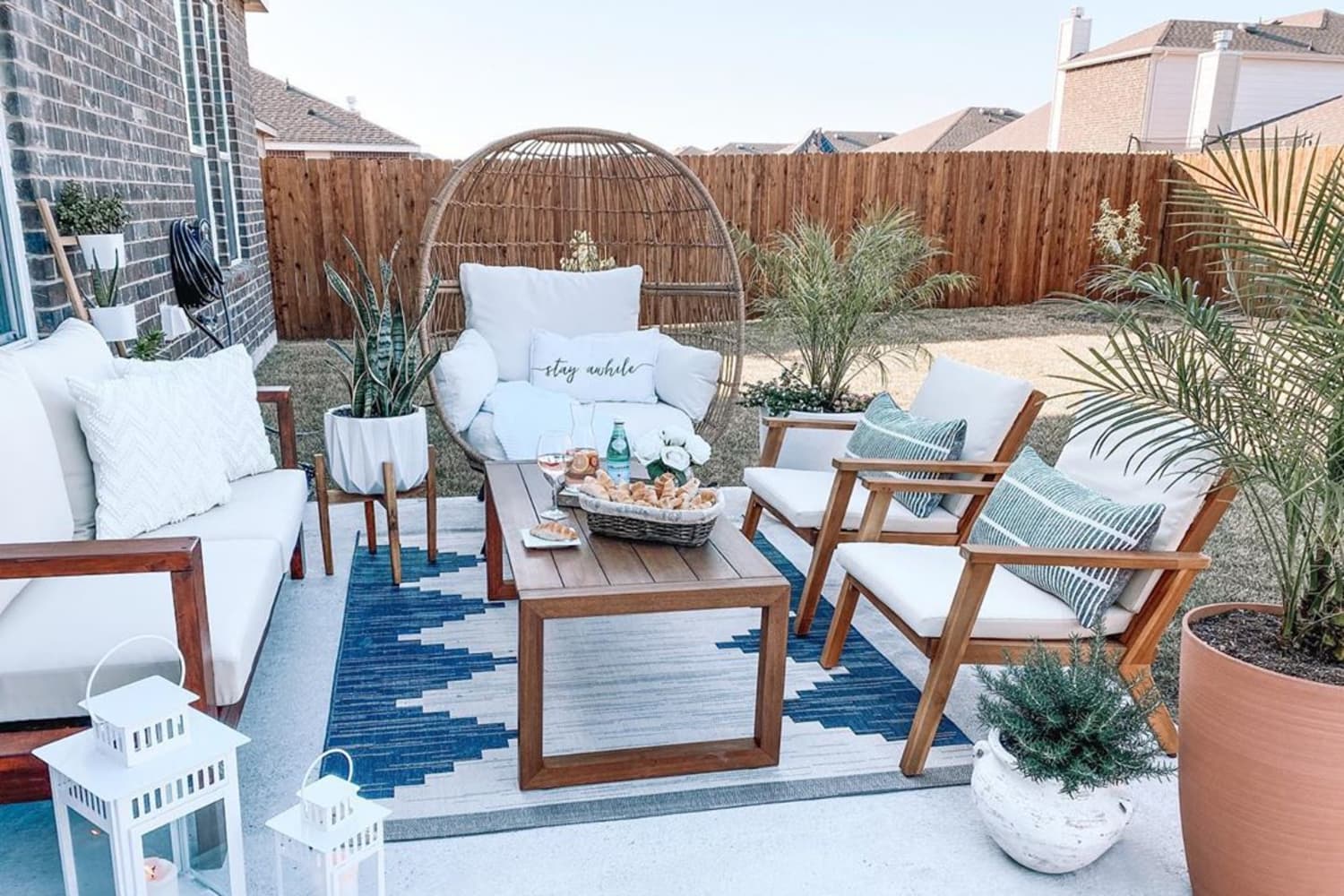 If your patio has seen better days, there's no better time to give it a good refresh. And once you've livened up your patio furniture, you may want to take a look at your patio's plant life, whether that means a vertical garden or sticking with traditional pots and raised beds.
Looking to eat what you grow on your patio? Climbing vine vegetables like tomatoes and beans work well, as do bulb and root vegetables like onions and radishes, and leafy greens like cabbage. And container-friendly herbs are always an option.
To keep your garden budget down, ask friends for cuttings, purchase packets of seeds for cheap, and even check out community pages on social media to find free or discounted options. And you can turn old palettes, troughs, and buckets into planters for your plants, vegetables, and container garden herbs.
But fair warning: Once your patio garden is all in place, you'll never want to spend time elsewhere.
Between the AstroTurf and potted plants, this Venice, California patio has been turned into a jungle oasis. Potted plants work great in smaller spaces.
2. Minimal and Green Patio Garden
Ashley of @east_shore_home jazzed up her patio garden with lush greenery and a wooden trellis, which serves as a form of privacy and a place for her plants to thrive. Plus, who wouldn't want to chill out in a hot tub in the presence of their plants?
3. Coastal-Inspired Patio Garden
In drier climates, a coastal-inspired patio with a few select hearty plants boosts the relaxation factor on sweltering days. As seen on Meliha Omic's patio, adding planters around your space cuts down on extra maintenance that comes with larger gardens and raised beds and just allows you to chill.
4. Artsy Patio Garden Idea
Being short on space doesn't mean you can't add a little plant life to your patio, as proven by Tovah Fine. Her space utilizes hanging planters and different levels to incorporate as many plants as possible. The colorful, artistic accents are a nice touch too.
Believe it or not, the greenery wall on this patio is actually fake. The potted plants are all natural though, and we love the rental-friendly makeover the patio got.
6. Outdoor Living Room Patio
Bringing the indoors out is easy, as seen on David's patio. Surround your outdoor furniture with plants for a welcoming feel.
8. Climbing Vines and Planters
The gorgeous climbing vines and planters make Irene's patio extra dreamy.
9. Chic and Streamlined Patio Garden
If you value lawn space, but have a smaller patio, planter boxes and a select few patches of greenery and Mexican beach stones can boost the garden feeling. This space from Amber Freda Garden Design is a perfect example of how to blend chic city life with suburbia's comforts.
10. Faux Window and Decorative Grasses
Between the plants and furniture chosen, this patio feels like a whimsical secret garden.
11. Patio Garden Inspired by the Tropics
12. Cascading Vines and Raised Patio
Sara Gasbarra's modern patio is surrounded with cascading zinnias, red rubin basil, and a lush cucumber vine. Your greenery doesn't have to actually reside on the patio.
Additional reporting by Carolin Lehmann