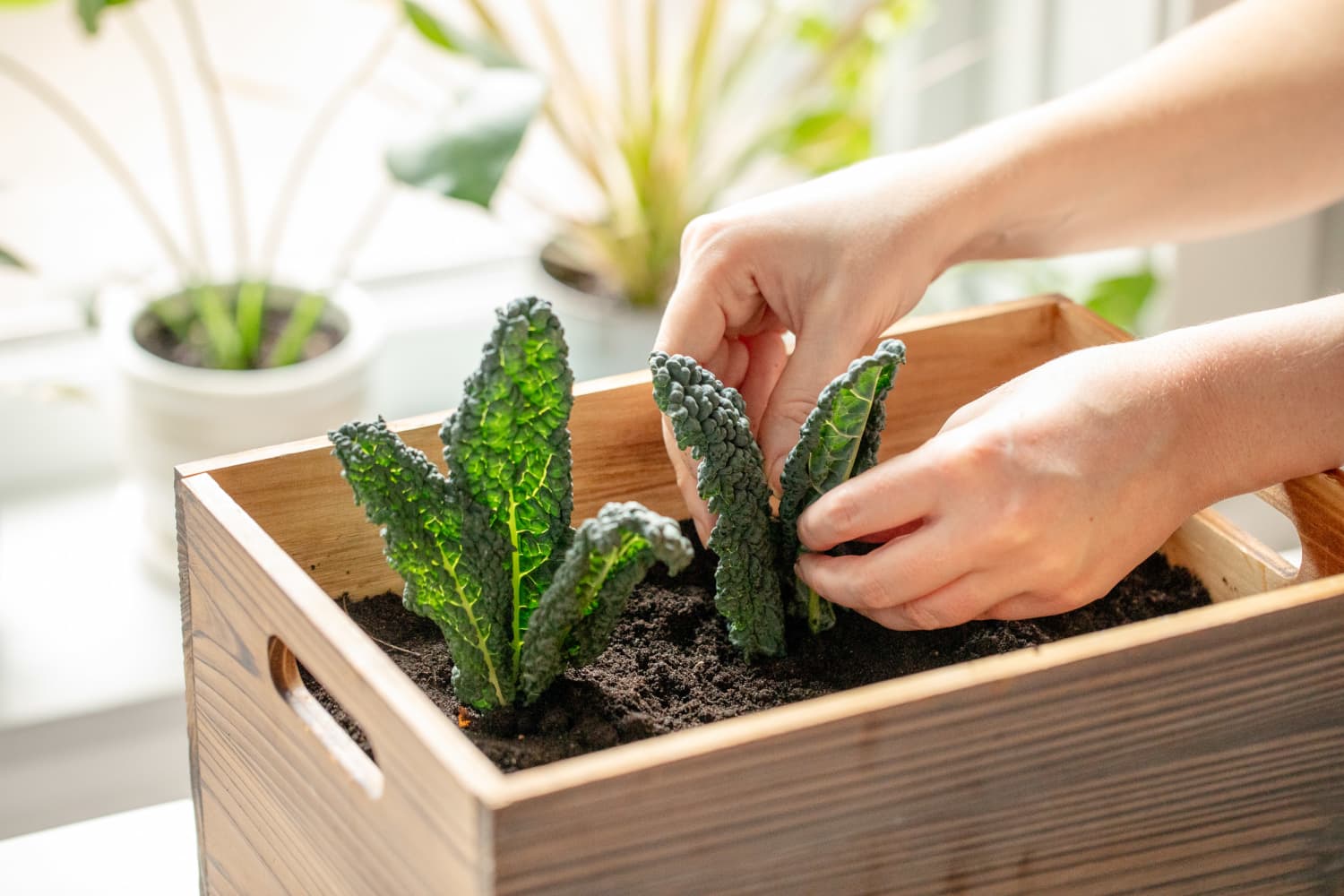 And in order to achieve exactly the houseplant style you have in mind, you can go the DIY route. In fact, we've planted 10 ideas below for fun-to-make markers. You probably already have the supplies you need for several of them.
A quick heads-up: Note that any specific plants mentioned in this story or any others may be toxic to pets or humans. "Toxic" plants can induce symptoms that range from mild (upset stomach) to severe (possible death). If you have a cat, dog, or kid, make sure you research the plants ahead of time on a reputable site like ASPCA.org, PetPoisonHelpline.org, Poison.org, or by calling your vet or pediatrician.
Playing with wire is the perfect opportunity to get punny. "I remember walking round a garden center and seeing some plant markers that were (arguably) a little boring and thought, 'I can do something like this but funny,'" says Lauren Lakey, who sells her plant markers in her shop, In Other Words Designs. "If you've got any thin garden wire laying around and some pliers, you can have a go at creating your own. Try printing off a template to help you form the words."
From the materials to the crafting, Alma García's plant marker DIY is impressively doable. All that's required is a package of popsicle sticks, white chalkboard spray paint, and a Sharpie. First, García says, spray paint all the markers, let them dry, and then freehand herb names. "This makes it more personal and beautiful," she says. "My inspo came from my little DIY garden that I created during quarantine. It is so therapeutic to grow your own herbs and hand-make your own items. I decided to make these and add my personal handwriting to the markers and received so many compliments."
Break out a woodburning pen.
If you have a set of letter stampers, you can put them to work to make some polished IDers. "With the right tools, your herb garden will shine with these dainty, vintage silverware herb markers," says Courtney Vettel. "To create, flatten your spoons, stamp your letters, and don't forget to outline your lettering in black marker to make them really pop!"
"I really just wanted to create some colorful plant markers for my vegetable beds that would be easy to see and that I could reuse each year," says Alison Edwards. "First, I searched at our local river for pebbles that reminded me of the shape of the vegetable, and then I hand drew the illustrations using porcelain pens, added detail with gel pens, and finally sealed them with a spray varnish."
Paint on paint stir sticks.
If you've got stir sticks left over from another DIY project, you can turn them into plant markers using paint and a Sharpie paint marker. "I used paint stir sticks that I buy in bulk," says Tahnee Phan. "I chose to go with black acrylic paint, but I can see them being very cute in a variety of bright colors to pop in the garden, like purple for eggplant, red for tomatoes, orange for carrots, etc."
Update your wooden spoons.
Upcycling has never looked so good. "I love color, and I love any opportunity to find a new use for household items," says Beth Kingston. "These DIY garden markers were not only fun to make, they added a little pop of color to my vegetable garden in those first few weeks where you're anxiously waiting to see if anything's actually going to grow!" Get the step-by-step instructions on her blog, The Kingston Home.
This stenciling project is pretty — and pretty fast. "I wanted to create colorful and inexpensive plant markers using supplies I already had on hand," says Mark LaFerney. "I love how quick and easy this project is. I really love an easy and affordable DIY. Plus, they look great and can be customized to match any home decor."
Doodle on popsicle sticks.
If you want to show off some artistic flair, consider paint markers for your plant markers, like Maggie Nale did when she designed these stunners. "I love to draw and hand-lettering, and [had] been itching to use my new paint markers, [so] I decided to make my own plant markers," says Nale. "My go-to inspiration is looking through Pinterest. I search for plant photos and lettering ideas. I found these large popsicle sticks at Lowe's at the paint section. I sanded it, and used Uni-posca paint markers to draw and hand-letter. Then I added Mod Podge."
Michaila Joy is a pro ceramicist, so she whips up these houseplant markers using porcelain clay. "I first roll out a slab of clay and let it air-dry a bit," explains Joy. "I then draw out the plant marker [on] paper, cut it out, and use it as a guideline to cut out the markers on the clay with an X-Acto knife… I let it dry out completely, and then fire it in the kiln. Once it's bisque fired, I stamp on the plant puns and dip them in clear glaze. They're fired once more, and then they're ready to use." But get this: If you want to simplify at home, Joy says you can easily use polymer clay to shape these, which only requires baking in the oven.
Apartment Therapy's Styling with Plants vertical was written and edited independently by the Apartment Therapy editorial team and generously underwritten by Greendigs.