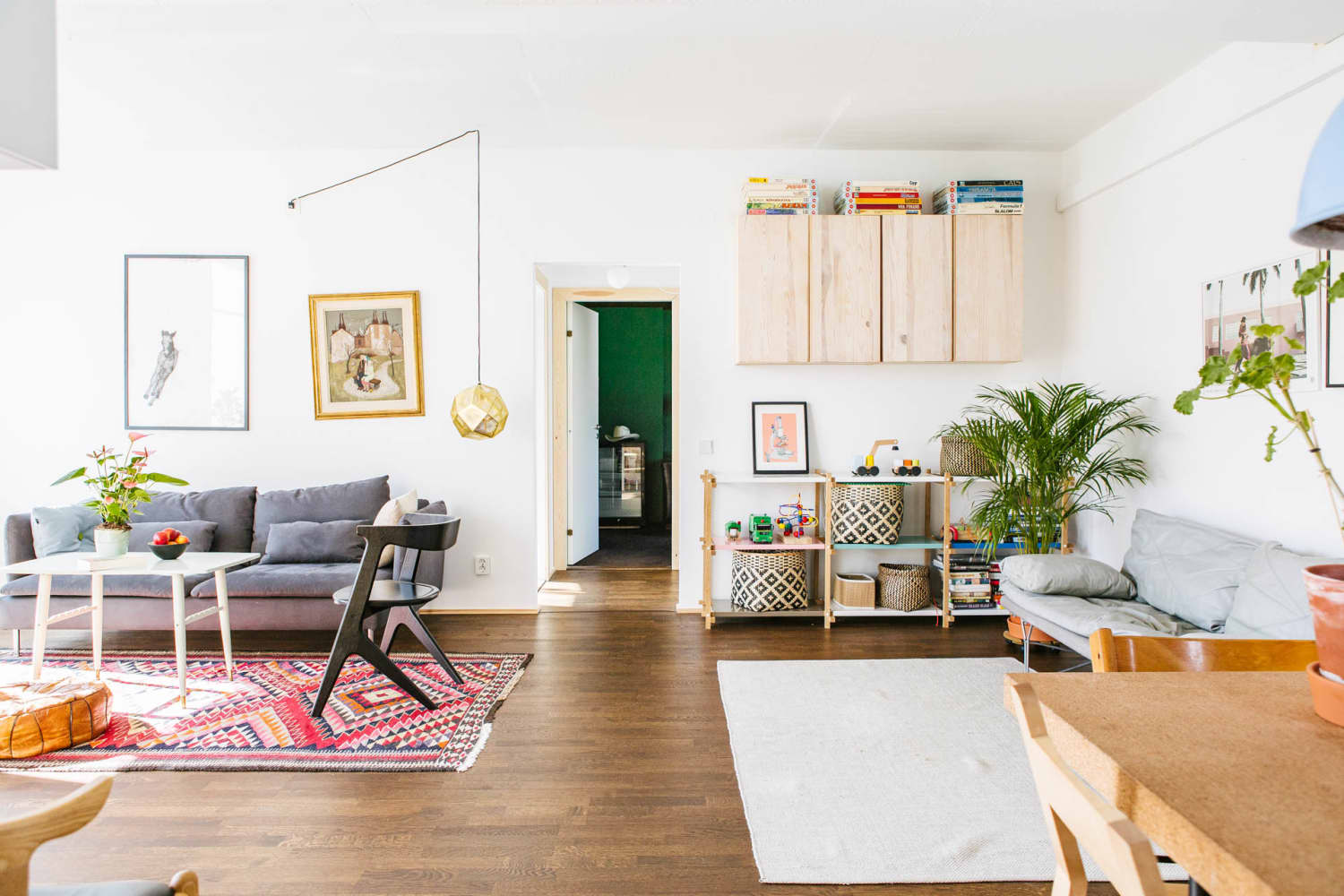 We independently select these products—if you buy from one of our links, we may earn a commission.
Each fall and winter, I love looking ahead to the design trends that will make waves in the coming year. Right now, I'm all about figuring out what lighting styles will shine in 2022. I spoke with seven designers who each weighed in on the lighting trends you can expect to see in the next few months.
If you're an avid secondhand shopper like I am — or if you love a good DIY — you're in luck! Many of these trends are available on the vintage market or have a do it yourself aspect as well. Get ready to be obsessed with some of these bright, on trend lighting ideas now and going into the new year.
Neutral lovers, this one is for you, particularly if you're drawn to pieces with a bit of an antique look. "I'm predicting that we're going to see alabaster light fixtures everywhere," designer Heather DiSabella states. "They come in beautiful organic shapes that aren't achievable with traditional light fixture materials, which can really set off your space. They also provide that soft, warm light that everyone is craving these days."
Designer Cameron Jones foresees consumers going the secondhand route when it comes to lighting. "Due to rise in demand and prices thanks to COVID-19, more and more people are turning to vintage because of the uniqueness, affordability, and timely access," she explains.
Embracing yesterday's styles and finishes is the name of the game here. "With the rise in popularity of fabric shades with patterns and colors, I think we are going to see more vintage lighting options or new fixtures with a throwback feel as well as found pieces turned into lamps and cool fixtures," Jones adds.
Designer Cynthia Vallance expressed similar sentiments, "I see old antique lighting fixtures making a comeback with an updated look through a fabulous treatment," she adds. "I love having a story to tell about pieces I curate, and hopefully, we'll see a trend in this type of lighting next year. "
Designer Nishi Donovan believes 2022 will be a time to go bold with lighting choices. "Because of the pandemic and a sensationalized hyper-focus on the spaces we come into contact with every day, unique lighting pieces are something to look out for," she noted. "Lighting that's larger-than-life and possesses that custom, handmade appeal are some of the pieces I gravitate toward and believe will be big in 2022." In particular, she thinks pieces featuring plaster, champagne brass, gunmetal, and matte finishes will take center stage.
Designer Nicole Reid agrees. "Statement lighting will be big in 2022, as we are seeing a shift toward more sculptural lighting, the use of mixed materials, and more abstract shapes," she notes. "People are craving individuality in their homes through unique lighting, art, and bolder colors."
Lamp bases aren't the only things getting sculptural. Malleable LEDs are actually being used to make what looks like illuminated drawings, doodles, and scribbles as well. Think of this as an artsier, fresher, and even more flexible way of doing neon word or pictorial lights, and what's great is these fixtures can be incorporated into you wall decor or used freestanding as well.
Over on Instagram and on her own blog, Small/Cool 2021 designer Liz Kamarul shared how she added literal dimension to one of her signature wall murals in her own living room with a winding LED neon rope light, the squiggle shape of which was created as she hung it. This is a potential DIY you could take on to customize your wall decor even more while adding extra function, too, since these pieces do provide a little extra illumination.
Artists and makers are iterating on this concept as well. Early next year, Title of Work, artist and designer Jonathan Meizler's brand, will be releasing a debut collection of lighting fixtures. The first set of offerings includes frames made of black and white painted wood that feature inset, continuous LED light representations of drawings by Meizler himself (as shown above). The collection will also offer industrial, architectural pieces in which solid concrete bases are complemented by steel or brass channel lights with inset LED lights, showing that sculptural lighting can, indeed, take many forms.
Nordic-inspired finishes and shapes
Bring on the hygge vibes! According to designer Anita Williams, Nordic style will be majorly on-trend next year. "The minimalistic vibes of Nordic-inspired designs are showing up big in 2022 in table lamps and suspended light fixtures," she explained. "Look for sculptural lighting options featuring brass finishes with opal white globes or optic clear globes, which can create either a warm glow or a more playful atmosphere."
Go ahead and work those walls with your lighting, Williams also advises. "I'm already seeing the trend of wall lamps showing up in areas such as kitchens, highlighting tasks over a sink, or emitting a gentle wash of light in hallways over a gallery wall," she comments. Anywhere you need to save floor space — whether that's a bedroom, bathroom, or living room — consider a wall sconce for that area, too.
She offers this tip for those looking to hop on board with this trend and want to go the DIY route without getting involved with wiring, particularly for renters: "Opt for battery-operated wall lights, as they create warm and intimate moments in our homes," Williams says. "This is ever important with the growing desire for privacy in our spaces."
Trading recessed lighting for stylish flush mounts
Designer Kelly Hurliman is already a proponent of saying goodbye to recessed lighting when possible and swapping in some kind of a flush-mount fixture, as seen in this image of pendant lamps overhead from Rejuvenation. "I'm a big fan of swapping out can lighting for small flush-mounts," she notes. "A great lighting plan with minimal recessed lighting feels much more custom and polished!"