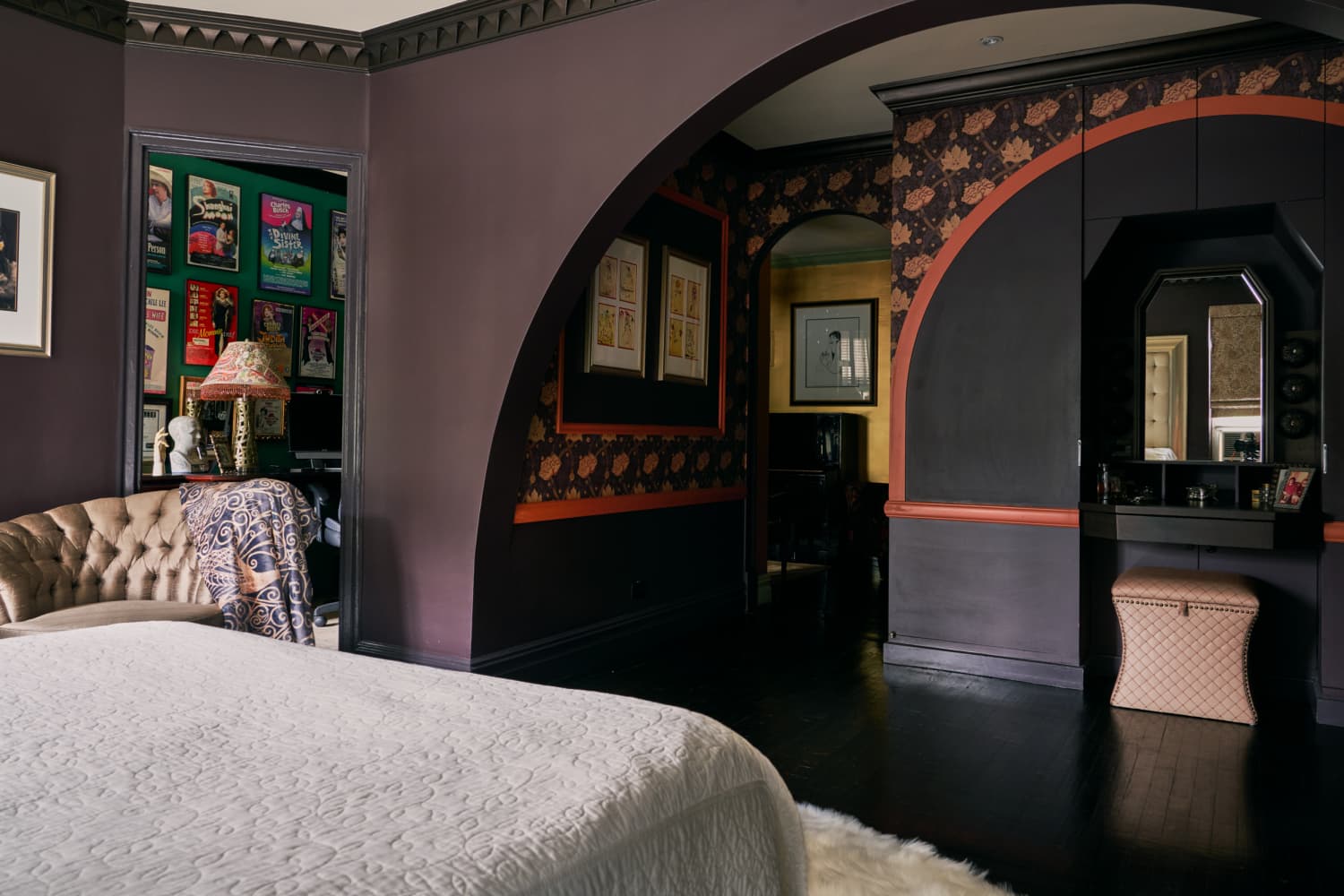 Gallery walls aren't going anywhere, and, frankly, I'm not surprised. Sourcing unique pieces can be fun, especially if you like the thrill of the hunt, and there are plenty of tips and tricks for hanging art to make bare walls feel like a reflection of your personality. Truly, no two gallery walls ever really look the same, but sometimes, you see an art hanging idea so unique that it just stops you in your tracks. That was the case for me when I was scrolling through pictures of Charles Busch's apartment. His home showcased a new, cool way to display framed art that could make your gallery wall — or any wall in your home — a bit more interesting, and it's a relatively cheap and easy idea to execute.
Busch is a playwright, actor, director, novelist, and drag legend. So it tracks that his apartment in New York City's West Village is stylish, full of character, and, of course, art. "Every few years, when I'm experiencing writer's block and unable to get my real work done, I find myself turning to crafts," Busch says. His best pieces of advice when it comes to decorating? Don't be afraid of making bold design choices.
One such choice he made in his home is using picture frame molding to level up his artwork displays. In the hallway outside of his bedroom, your eye might first go to the funky patterned floral wall paper. What's even more eye-catching though is the bright orange molding around the gold-framed print he's hung. He's essentially framed a frame — without extra glass but with a fairly wide black mat as a border — to make the wall look even fuller and fancier than before.
It's hard to tell whether he fashioned the frame out of picture molding himself, since his space looks like it does have lots of custom trimwork. Of course, you can go the DIY route to create this kind of trim to set off a special piece of art or a few pictures in your gallery wall. If you want a low-cost, renter-friendly way to recreate this look though, all you have to do is buy a large, inexpensive picture frame or piece of framed art from a thrift or craft store that's significantly bigger than the artwork that's going to be your focal point. Then, remove the glass, backing, and art from the larger frame, so that there's nothing left but the frame itself. Choose your method of mounting it to the wall (nails or command strips are probably the best renter solutions), then hang your framed focal artwork inside of it. Considering adding a "mat" the way Busch did for even more drama (you could paint one or use contact paper).
Hanging art in your home is a great way to showcase your personal style and tell the story of your life. "I'm pleased that my apartment can be viewed as a complete expression of my personality," Busch says. "After a study of each room, you would know just about everything important about me." This double-framing technique is a unique way to emphasis the artwork and photos you love most.