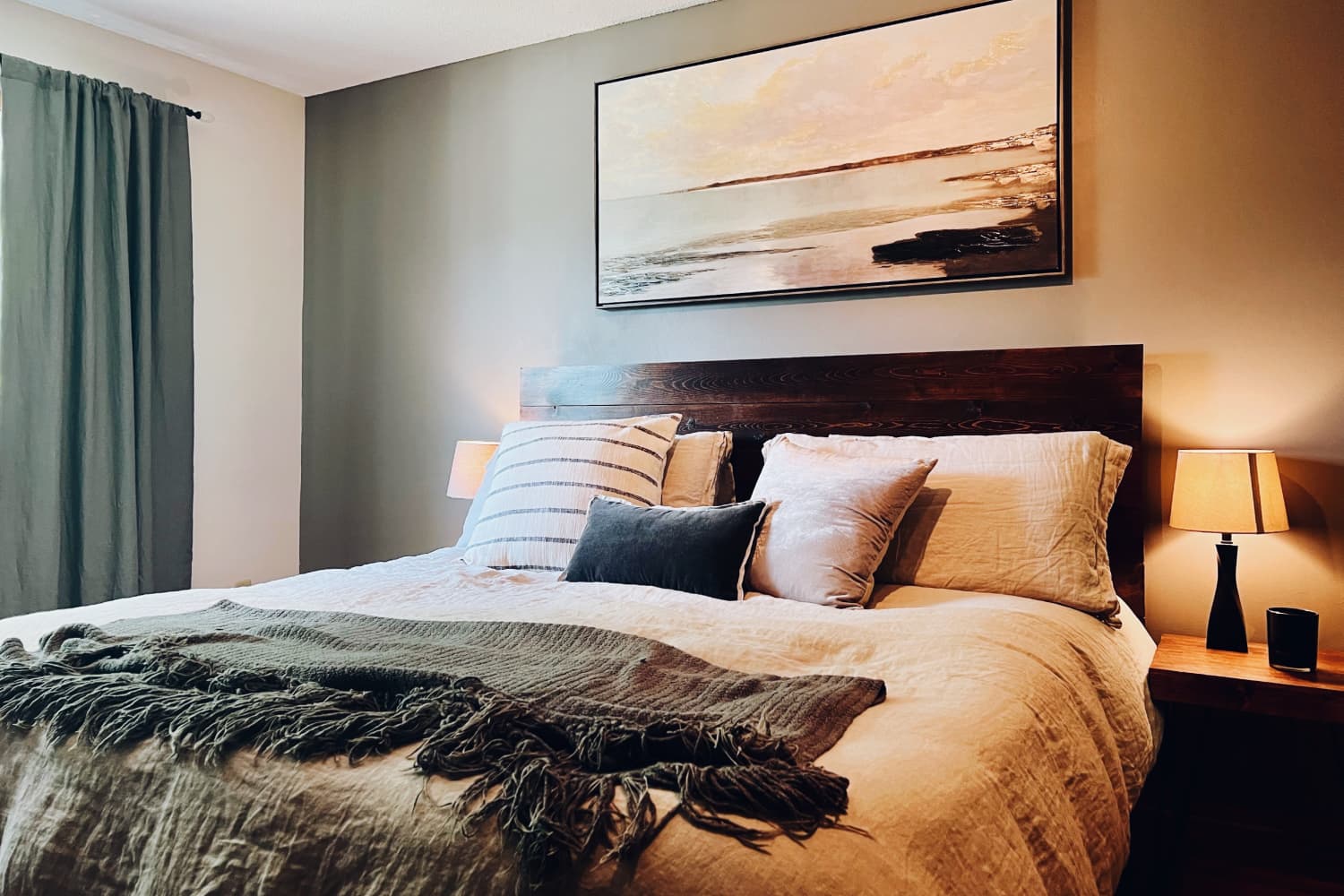 We independently select these products—if you buy from one of our links, we may earn a commission. All prices were accurate at the time of publishing.
Am I the only one who still remembers flipping through their very first PB Teen catalog? I was 14 and had just started to develop my own sense of style when it arrived in the mail. I walked in the back door as I silently questioned my Abercrombie miniskirt — was it really me? — and suddenly saw the catalog on the kitchen island. I tucked it under my arm, brought it straight up to my room, and spent the afternoon circling every item I loved.
It wasn't long before my dad, who's always had a keen understanding of my need for solitude while never missing an opportunity to check in at the perfect time, knocked on my door. I showed him all the pieces of an elegant white bedroom furniture set I was swooning over: a wrought iron bed frame with just enough flair, a sophisticated bedside table, and a desk with a vanity that had the most perfect oval mirror. The set was styled with a flat rug in the catalog, but I preferred the texture of a plush shag option on another page. Did I forget to mention curtains? My bedroom had blinds, so I never needed curtains. The sheer ones in the back of the catalog were whimsical, beautiful, and much chicer than blinds.
As our conversation continued, my dad decided to give me the ultimate gift: the opportunity to create the bedroom of my dreams. We began with a budget and a color palette, and after a few months, we created a special haven together that I coveted for years — with pieces from that very catalog among other personal touches we still own and love to this day (I've since repainted both the bedside table and vanity desk; the latter lives at my parents' place, and I never miss an opportunity to see it and reminisce whenever I'm visiting).
My dad has always been a compassionate leader — someone whose wisdom seems like it's always been part of his DNA. Everyone he's ever met, known, or been close to respects him not only for who he is but how he's impacted their life. Despite his inherent wisdom, he's also someone who, like me, is always curious and learning — and we learned a lot throughout those few months of redecorating. From selecting furniture for my first studio apartment to styling the bedroom I now share with my fiancé (Spoiler alert: It's far from done!), my father and I learned five important decorating lessons in making over my childhood bedroom together, and these things have helped me immensely with every decorating project I've tackled since. In honor of Father's Day, I'm sharing them here so maybe they can help you, too.
Start with a color palette.
Color is everything. It has the power to set the entire mood of a space — and in my case, it also served as a guide for achieving a cohesive bedroom environment. I knew I'd be spending a lot of time studying, reading, and reflecting within my childhood bedroom's four walls, so one of the first steps we took was to select a paint color that felt peaceful and serene, yet fresh and soothing. I opted for a muted mint green hue that's still just as comforting in my old bedroom today (as pictured here) as the day that we painted it. Find your own version of mint by thinking about what color you'd truly like to be enveloped in as you rest and reset. I still prefer green, but have gone a little darker and more sophisticated in my current bedroom (as pictured at the top of this story and below).
You can't have everything. Like any self-entitled teen, this was hard for me to accept throughout the process, and I often had to remind myself how grateful I was for this gift and experience with my dad. As an adult who's now living on her own dime, I've become much more logical and know that sticking to a budget's critical to any successful room makeover. Be realistic with what you can spend responsibly, save more than you think you'll need for must-have big-ticket items (for me, this was the vanity desk), and plan ahead to feel organized and secure throughout the process.
Select one item to anchor your space.
This was and still is my bed — but your anchor item will depend on your space and how it's configured. For example, when I moved into my first studio apartment post-college, I had about 350 square feet to work with, so my bed had to be the focal point of the layout. When I moved into the condo I now share with my fiancé, one of the first rooms I started to redecorate was our bedroom, and that process, too, began with our bed. While it is still very much a work in progress, my current bed's linen down comforter and matching shams are a major improvement from our previous mismatched sheets and blankets (shown here). The bed is a natural choice to take center stage in any bedroom, but you can apply this advice to any room really. Choose one item that's going to really shine and fill in around it with a cast of supporting pieces.
Yes, PB Teen was the place for furniture, but my dad and I also did our research and scouted out other smaller, local shops for items like throw pillows, lamps, and artwork. As much as I love a good catalog room, these more disparate elements made the finished space feel even more special and personal once complete. I still follow this approach for finding things like frames, textiles, and wall decor. If you aren't sure where to start, Etsy is a wonderful place to find unique treasures from talented independent artists. You can also browse local flea markets and thrift shops for one-of-a-kind pieces, or pick things up on your travels.
Real life isn't a 30 minute HGTV episode. From painting and shopping to assembling, finding art and photography for your walls, and enhancing your space through personal touches, accessories, and more, a room makeover can (and should!) be a never-ending process. The best spaces aren't created overnight. To me, that is the beauty of design — it's an ongoing process that evolves with us over time — just like me and my dad, our relationship, and memories.