Why settle for a blah beige bathroom when you can easily add a pop of color (or several) to your setup? If you're unsure how to transform your bathroom into a luxe-looking setup, I've got you covered. Check out the 20 vibrant bathrooms below and get ready to be inspired by these bright ideas. Whether you go full-on saturation or make just a subtle splash, getting ready each morning will be way more fun — I promise!
1. Rainbow stripe backsplash
Why introduce just one pop of color when you can incorporate practically all of the colors of the rainbow into your bathroom? Blogger Nicole Q-Schmitz painted these festive stripes on the sink wall herself, and they really take her vanity area to the next level. She even added coordinating rainbow box molding elsewhere in the bathroom, too!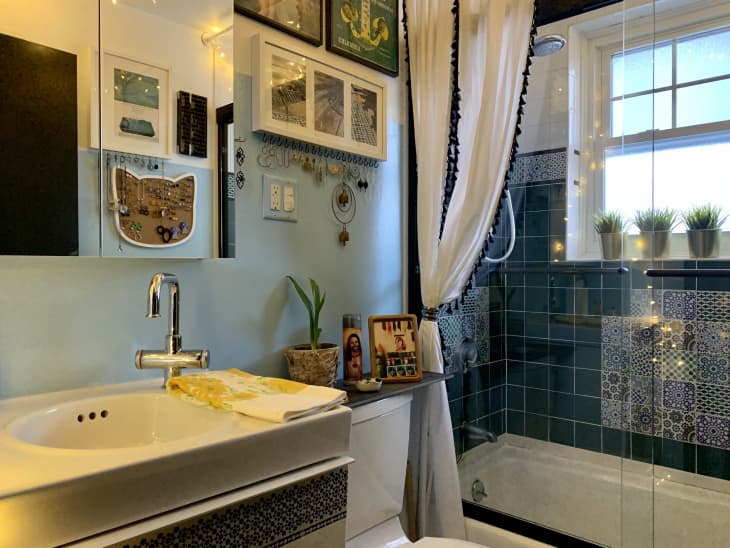 2. Moroccan-inspired magic
There's no need to call in a pro to rethink your tile situation. The bathroom in this Massachusetts home received a colorful upgrade in the form of stick-on tiles. Paired with embellished fabrics and favorite plant babies, these temporary flourishes now evoke memories of a special trip taken to Morocco and enliven the space in a way plain white tiles never could.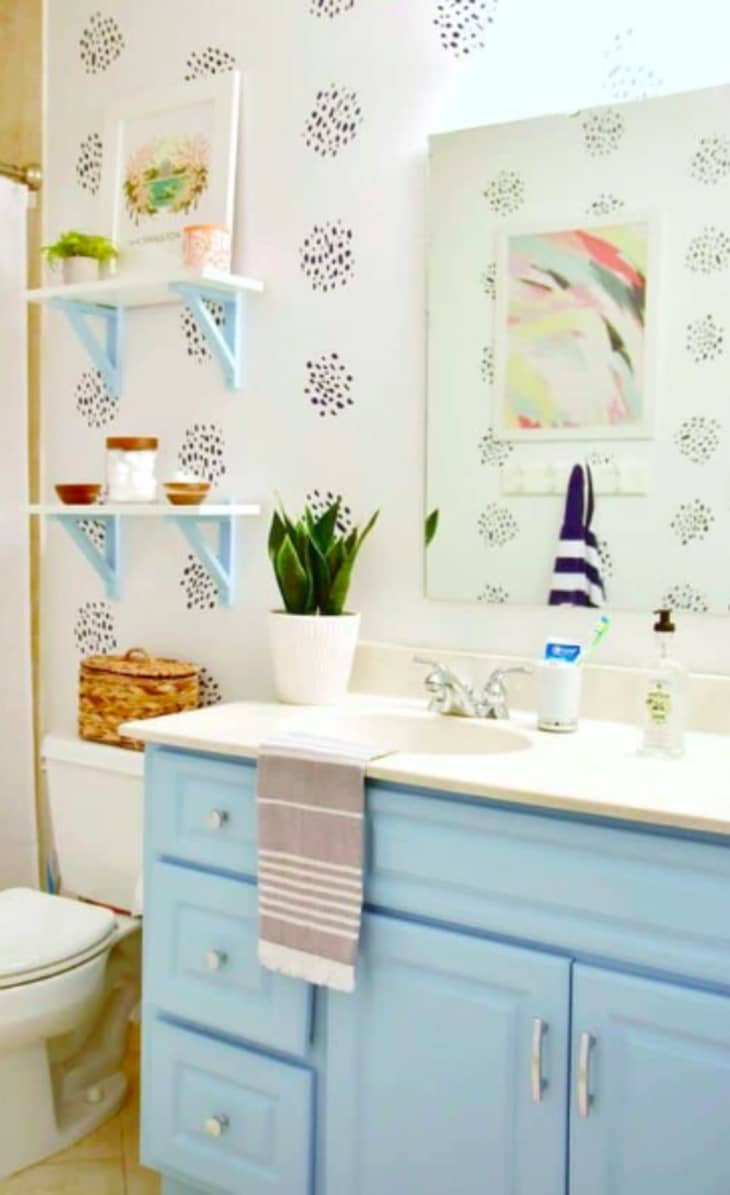 14. Budget-friendly bliss
Blogger Kate Dryer of Kate Decorates barely spent over $100 on her kids' Jack & Jill bathroom makeover, which is a majorly impressive feat considering she painted the vanity, installed wall shelves, purchased new accessories, and much more. The completed space is soothing and kid-friendly without leaning too young, and I'd say that's because the powder blue she chose feels so serene and tranquil. It doesn't hurt that she repeated it throughout the room either, so the space really feels cohesive.