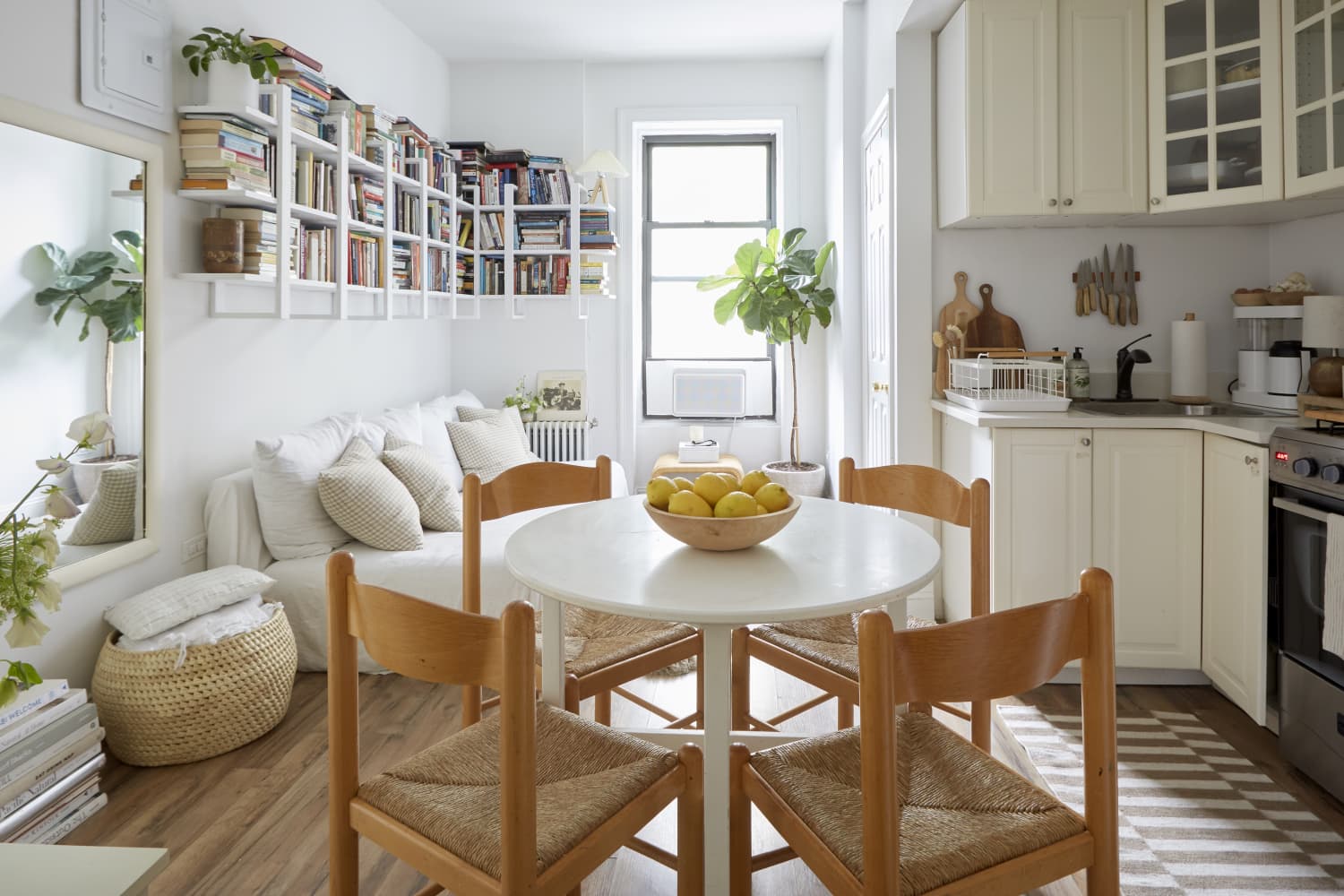 We independently select these products—if you buy from one of our links, we may earn a commission. All prices were accurate at the time of publishing.
Name: Heather, Michael, Lennon (4 years), Georgie (2.5 years), and James (15 months)
Location: Upper West Side — Manhattan, NYC
Size: 600 square feet
Type of Home: Apartment
Years Lived In: 9 months, renting
Six hundred square feet of living space is small even for just one person. But for a couple and their three kids who are doing so both stylishly and functionally? Now that's impressive. But that's just what Heather and Michael are accomplishing with their three young daughters after moving from California to New York recently. "We found our apartment while we were still living in California, prior to moving to New York City," writes Heather. "We did a virtual tour of the space, fell in love from afar, and the rest is history!
Despite so many people living in so little space, their home doesn't feel too crowded or busy at all, thanks to both architectural elements the apartment provides and decor and storage ideas the couple implemented. "Our favorite thing about the apartment is definitely the view of Central Park. Looking out the window and seeing wide open space and lots of trees makes the small space feel so much bigger — almost like we have a yard (*almost*)! We live in a corner unit which has given us some additional windows and lots of natural light — a very close second favorite feature about the space." Along with embracing all the natural light (and enhancing it with a few well-placed mirrors), the couple also stuck to a neutral and light color palette, which helps make the place feel serene and airy. And they used vertical space wisely to free up floor space, like the living room's sleek wall-mounted shelving, and the primary bedroom's petite wall-mounted work space.
Apartment Therapy Survey:
My Style: Cozy, thoughtful, not fussy, somewhere between minimal and collected.
Inspiration: I find a lot of inspiration from interior design books and Pinterest (I could look at photos of beautiful interiors for hours!). I love and appreciate so many different styles and I find that my inspiration is always changing and shifting, which is usually reflected in our home in some way. Definitely inspired by nature as well — natural textures, materials, and colors are some of my favorite design elements.
Favorite Element: Most definitely the corner window in the girls' room. It has a little perch — just big enough to sit on — and it makes for the loveliest little window seat. They get tons of natural light in their room and have a wonderful view of the park that we love to enjoy from the corner window.
Biggest Challenge: Finding a way to create a functional and beautiful 600-square-foot space for a family of five was no simple task! We had to be very intentional about the choices we made when it came to furniture, storage, and "stuff" in general. We majorly pared down when we moved here and kind of started over in a sense — we wanted to make sure all the big furniture items were just the right size, in hopes that it would make the space feel bigger and to make the most of every square inch, all while maintaining some negative space as well and not filling every single inch of every room with stuff.
We're constantly editing our things since even bringing in a couple of new things can affect how the space feels. Minimalism in this sense has been key for us to not feel like we're bursting at the seams!
Proudest DIY: I've been painting a lot the past few months, and I had a lot of fun creating some original pieces for our home (one in the living room, one in our room above the desk). I really enjoyed getting to create unique paintings that I felt complement the rooms and make them feel unique and collected.
Biggest Indulgence: Our Serena & Lily sconces in our bedroom — 100 percent worth it! I love them so much and feel like they make such a lovely statement while still feeling really simple. They bring so much to the space.
What are your favorite products you have bought for your home and why?
Please describe any helpful, inspiring, brilliant, or just plain useful small space maximizing and/or organizing tips you have: Utilize the walls and go up when it comes to storage (think hanging wall baskets, shelves, stackable storage crates, etc.), hang a large mirror to make a small space feel bigger, and tidy up often! Also, bring in multipurpose items where you can — we use a big stack of books as a side table in the living room, use the small wicker bench as a footrest and an extra seat, etc.
Finally, what's your absolute best home secret or decorating advice? Be patient when it comes to decorating! If you're at all second guessing a purchase for your home, wait. When the right thing comes along, you'll know.
Thanks Heather and family!