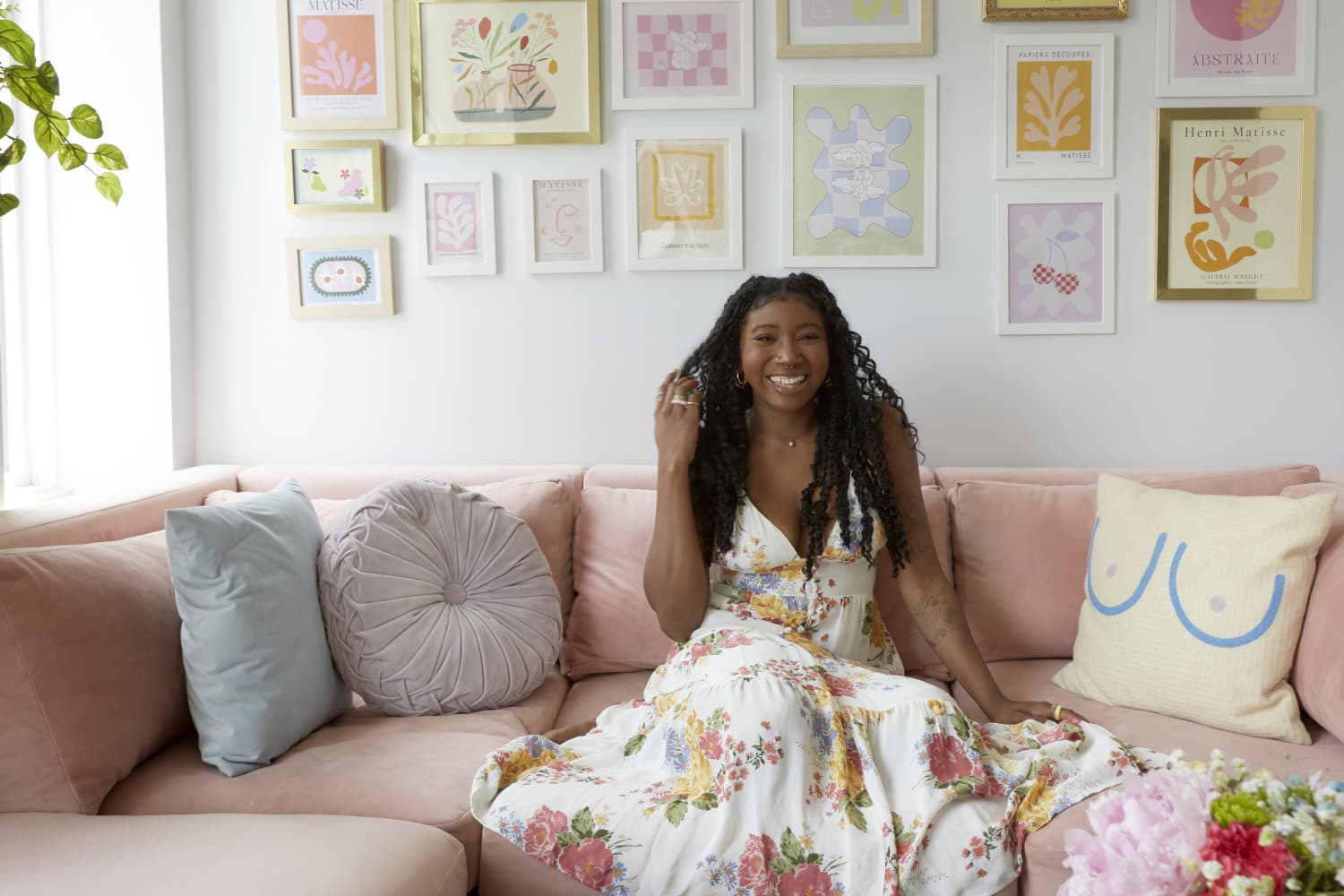 We independently select these products—if you buy from one of our links, we may earn a commission. All prices were accurate at the time of publishing.
Name: Briana Guin and two roommates
Location: Bushwick, NYC
Size: 635 square feet
Type of Home: Three-bedroom, one-bathroom apartment
Years lived in: 1 year, renting
"I had just moved back into the city after being home in Alabama for over a year during the pandemic, and I was in a race to find a new place since I was staying with friends in the meantime," begins Briana Guin, who is an experiential designer at Condé Nast's in-house creative agency. "I had looked at two other apartments before this one, but as soon as I was going to put down my deposit, someone else always beat me to it. I feel like I lost those for a reason though, because when I came for a tour of this apartment, I fell in love with it in a way I hadn't with the others, since it had mostly everything I wanted and needed in a home! I didn't want to lose this one like the others so I immediately put down a deposit, and when I was approved I cried the happiest of tears because after a year of being depressed and feeling stagnant at home in Alabama, I finally felt like I was truly back to both my old self and my home!"
Briana says that one of the biggest selling points to this apartment wasn't just the space, but the neighborhood's proximity to fun bars, restaurants, shopping, and more. "Not to mention it's super close to the L train, so it's easy for me to get in and out of the city if I'm going to see friends or going into the office!" exclaims Briana. "It's pretty dangerous though that I'm now walking distance to Friends NYC, which is one of my favorite stores in all of New York! I purposefully leave through a specific exit when getting off the L train so that I won't pass by it and be tempted, because I'm a sucker for cute little home decor pieces like candles, vases, and glassware, and they have all of it and it's always extremely cute! So if I walk in, I will for sure walk out with something I love, but don't always need."
Apartment Therapy Survey:
My Style: I think I'd describe my personal decorating style as Danish pastel with hints of Parisienne and neoclassical elements if that makes any sense at all! I love whimsical shapes, romantic accents, soft pastel colors, and rounded corners. I then love to have accent and decor pieces that pull from neoclassical architecture and art, like columns, busts, and cherubs. I will also always love a light wood tone and brass or gold mixed in with those softer colors.
Inspiration: Pinterest is definitely my go-to for inspo, but I also look to art, film, and television. I'll use them and discover a layout that I really like, a palette that I wouldn't have necessarily thought of, or pieces of furniture or art that I admire and will then set out to find or create pieces inspired by it. Wes Anderson is for sure a big source of inspiration, from the palette to the aesthetic of his films!
Favorite Element: I have a lot of favorites about this apartment, but I'd have to say my top three things are my pink velvet sectional, my washer and dryer in-unit (which if you live in New York you know how big of a deal that is), and my amazing giant open window in the living room. I love making myself a matcha latte or a tea and sitting on my comfortable pink sofa and looking out the window people watching.
Biggest Challenge: The biggest challenge of this apartment was honestly making sure that the majority of the pieces I wanted to include would fit. One of my coping mechanisms when I was back home the previous year (especially when I was furloughed), was breaking out SketchUp and playing around with designing my dream apartment, meaning that I would source furniture, art, and decorations, and then model it out in SketchUp to see how all the pieces worked together. I basically had my apartment designed before I even found a place. So, before I moved in, there were other tenants living in the unit, and they didn't move out until the day before I moved in, so I wasn't able to go in and measure the space out like I wanted to in true interior designer fashion. I had to make it count and measure the most important parts during my two tours (and had to measure around their current furniture) and then hope the rest fit.
Thankfully, because of my job, I'm pretty good at eyeing out what can and can't fit, so I was able to use the pictures I took and the few measurements I had to make a decision and order my bigger pieces like the sofa, T.V. stand, and rug and they all fit! Yay! And looking back, I probably could've just waited until I moved in to measure and get all the pieces. I was just so eager and excited to finally be back in my own place and decorate it how I dreamed as soon as possible so I could be done with it and officially get back to living my life in the city, that I let my excitement get the better of me. Plus I had two roommates who were moving in and I didn't want to ask them to be without those important pieces for too long!
Proudest DIY: So I am a victim of having extremely expensive taste, and I work every day to fight against the impulse and have learned to pick and choose my battles! One of the ways I have combatted against this is getting really into DIYing a cheaper alternative when I can.
I really wanted one of those tile cube tables that was all over TikTok and Pinterest, but I didn't wanna pay over $600 for one. Then, I saw a tutorial about how to make one on YouTube and just went for it! It took me three days to make, and it's a little crooked in certain parts, but I'm still so proud of it, and I think it came out pretty good for my first attempt! And I think I ended up only spending $150 on it. My next DIY is one of those squiggly/wavy mirrors because I don't feel like paying over $2,000 for a mirror.
Honorable mention to me recreating a majority of the art in my apartment on Illustrator and printing it myself to save money, as well as putting up my pink tile backsplash in the kitchen on my own, which is a product I got off Amazon and really transformed the space!
Biggest Indulgence: So I mentioned that I have no problem DIY-ing expensive items like the tile table and the squiggle mirror I'm in the process of making. But there are some things that I can't make on my own, and I can't find a cheaper quality alternative. So my biggest indulgence was by far my Cold Picnic rug, because I knew that was the rug that would make me the happiest and I couldn't find one I loved as much as that one! I've wanted one since college, and because I had been good and practical with everything else in my apartment, I let myself get one and I'm so happy I did because I think it ties the whole living room together. It's also extremely plush and comfortable to sit and lay on, which is the icing on the cake.
Is there something unique about your home or the way you use it? I doubt this is truly unique to just my space, especially being in New York, but I love how without realizing it, our coffee table and rug in the living room have become this cool multipurpose area centered around gathering. Whenever we have roommate dinners, we all sit on the rug around the coffee table and eat together and watch a movie or TV show. When we have guests, of course people sit on the sofa, but we'll have just as many people lounging on the rug or sitting around the coffee table. There are even times where when we're working from home, none of us are even on the sofa, with two of us using the coffee table as an impromptu desk while the other is laying out with their laptop sitting in the sun like a cat. I really love when random objects take on this whole other wholesome meaning and purpose!
What are your favorite products you have bought for your home and why? I've mentioned it before, but my pink sectional is one of my favorite pieces because it's a pretty pink sofa for one, but also because of how comfortable it is! It was incredibly important to me that the sofa I chose was just as comfortable to lounge on and easy to clean as it was cute, because what's the point of having an aesthetic staple piece of furniture like a sofa if it's unbearable to sit on or too tedious to take care of?
I'm also in love with my pink Stagg EKG electric kettle! I'd had my eye on it for years but couldn't justify paying all that money for it. Then my family surprised me with it for Christmas before I moved back to New York, and it ended up being one of the first things I had in my apartment. My roommates and I use it literally every day and it just brings me so much joy. So at least my family knows they got their money's worth!
Please describe any helpful, inspiring, brilliant, or just plain useful small space maximizing and/or organizing tips you have: I've recently gotten really into cute pastel-colored storage crates! I'm a sucker for anything that's practical but also aesthetically pleasing and those for sure satisfy both of those requirements. They're not only a pretty decoration that can stay out in the open, but the fact that they can hold a lot and can stack allows me the opportunity to store things vertically so it doesn't take up more space than necessary in an apartment where every bit of storage counts.
Finally, what's your absolute best home secret or decorating advice? My best piece of advice is pretty cliché, but it's to just do whatever makes you happy in your home. I'm sure there are a lot of people that would never have a pink sofa in their house, and that's okay, but it makes me happy every single day to get out of bed and just live and exist in my space, because I took the time and designed it with thought and care. I mean, you have to have a sofa, plates, pans, and toaster anyway, so why not have the version of that functional thing that also brings you joy? And for me, that joy happens to come from having all of those things in pink. Plus, because I only own pieces that I love, I actually want to use them all the time, which means that I end up cooking at home more or making myself that daily cup of tea or matcha at home with my pink kettle. Basically, I just get every bit of use out of these pieces!