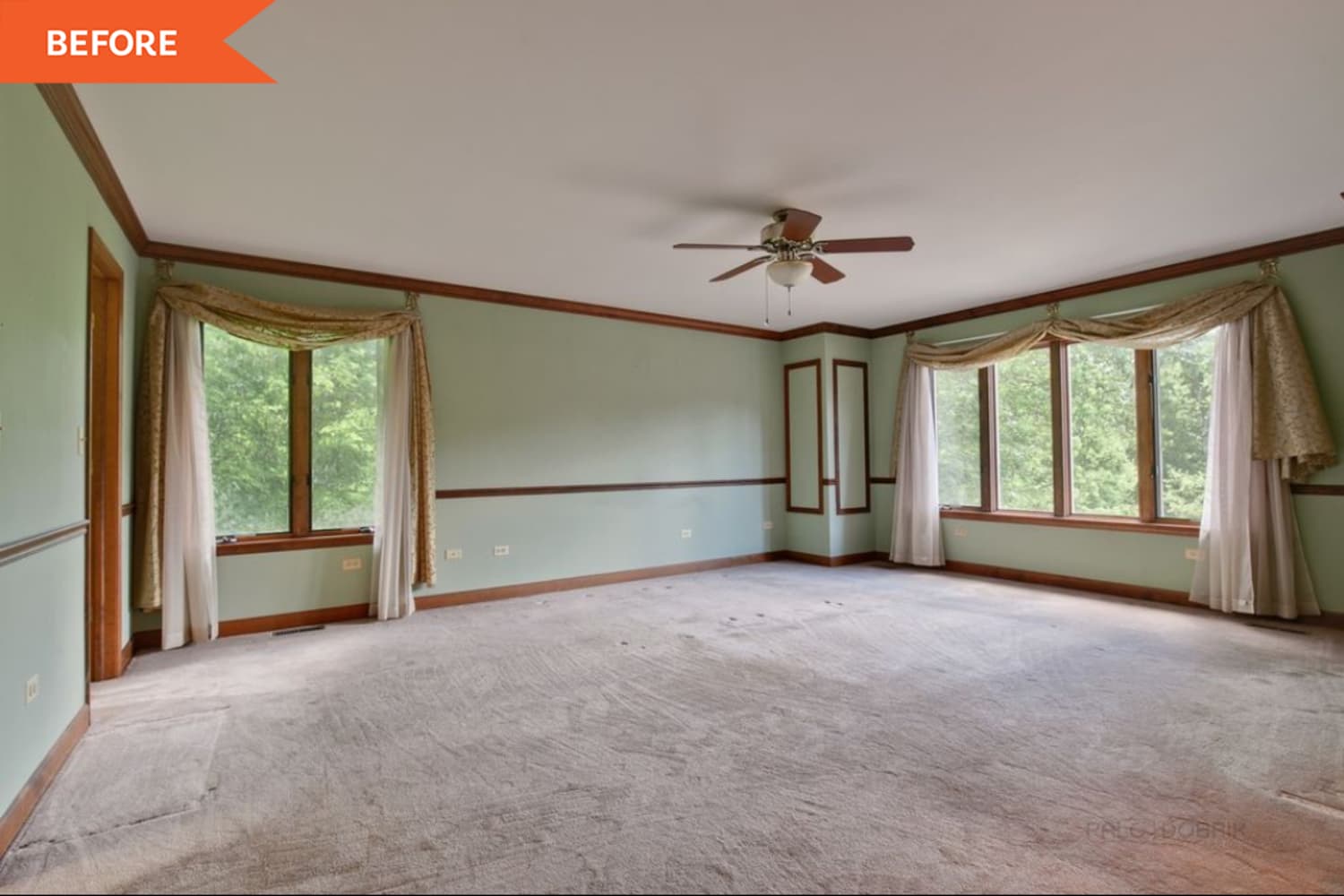 February is Bedroom Month on Apartment Therapy! We're sharing stories all month about bedrooms — from how to decorate them, to the fascinating history of them, and so much more. Head over here to see them all!
Sometimes you luck out when buying a house and find one that's been well cared for and is in perfect shape — turn-key, even! Other times, you get what Jordan Graft (@thewillowandhound) and her husband Dylan got: a bit of a fixer-upper that's been sitting empty for a long, long time, with no updates to speak of.
"We were warned that all the carpeting was original from 1992," Jordan says. "It was in bad shape, very stained and crunchy. The carpet pad underneath had disintegrated so it took awhile to remove."
In the bedroom, everything else seemed untouched, too. "Everything in the room, in fact, was original," Jordan says. "Even the curtains, which were covered in a thick layer of dust. The space was just sorely in need of a refresh, a good cleaning, and some love."
But even though they could see that the house needed a ton of work — on functional aspects as well as aesthetic — Jordan and Dylan weren't swayed. "It had been neglected for a long time," Jordan says. "We love ugly houses, though! Makeovers and renovations are a passion and hobby my husband and I share, and we saw the potential for how pretty this place could be."
The makeover of the bedroom started with the floors. Jordan and Dylan removed the old carpet, pad, and staples, then laid new laminate flooring (a durable option for the couple and their three dogs). After that, Jordan and Dylan removed the old wall moulding — a chair rail and a few stray picture frame-style pieces — before installing board-and-batten wainscoting painted white for a timeless look.
Jordan struggled with what color to paint the walls above. "I really wanted the color to be right, so that we could enjoy our room and feel relaxed there," she says. "It needed something soft but a bit warm." Finally, she and her husband decided on a shade of dusty pink that felt just right.
One aspect of the redo ended up being a pleasant surprise: On one wall, shown above, there was a small gun safe that the couple didn't need. They'd originally planned to wall over it, but as Jordan was taking the interior of the safe apart, she says, "I realized that it's a really nice amount of space!" Rather than letting it go to waste, they decided to repurpose it. "We ended up transforming it into a linen closet instead, and I'm so glad!" Jordan says.
The rest of the room came together with a mix of vintage-looking touches, like the glass chandelier (from Amazon) and the statement-making wood bed. Sheer curtains on the windows feel much brighter and breezier than the heavy old drapes, giving the room a softer vibe. The total cost for the redo: About $2,200.
"I love that we have a nice clean space with a bit of character," Jordan says of the new bedroom. "The pink hue actually works with a lot of different colors, the gun safe transformation has been very useful storage, and the light fixture gives it just enough of that 'show stopper' moment."
But the best part, for Jordan, is knowing that she and Dylan made the room themselves. "We put our own work into every inch of this room and that fact makes me enjoy the space even more!" she says.
Inspired? Submit your own project here.