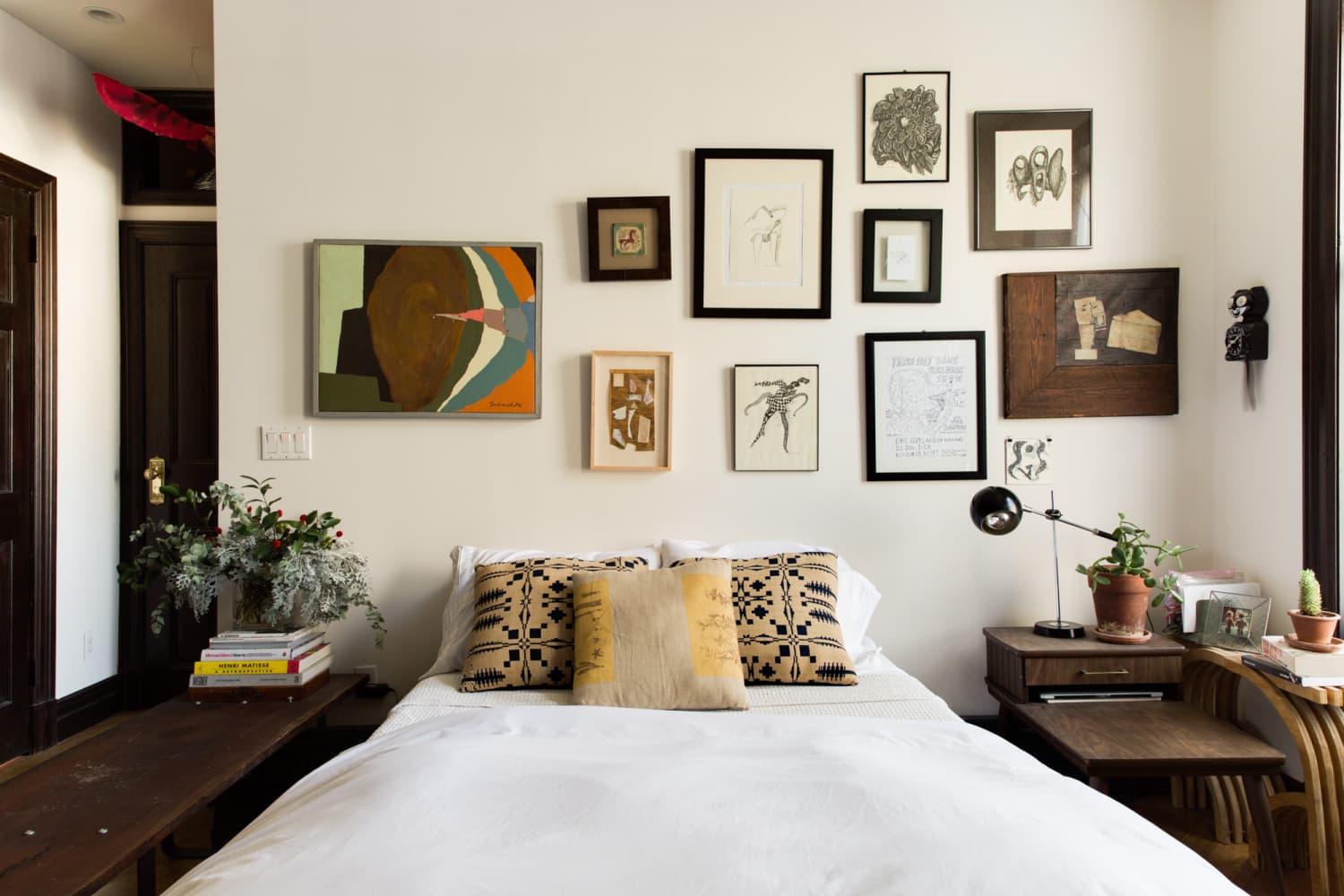 February is Bedroom Month on Apartment Therapy! We're sharing stories all month about bedrooms — from how to decorate them, to the fascinating history of them, and so much more. Head over here to see them all!
Bedrooms — they're sleeping havens and safe places. From vibrant colors to punchy florals and everything in between, people have found creative ways to inject a dose of personality into their sleep spaces. Over the past century though, the bedroom has undergone some major changes, evolving from simply a place to snooze into a place to hang out, too.
Taking a trip down memory lane, it's apparent that some of styling strategies from the past are ready for a reboot (or maybe are already resurfacing again). I talked to three pros on their favorite bedroom trends from the past century that they'd love to see fully come back, and paired each with a modern interpretation of that trend. Maybe you'll be inspired to makeover your own bedroom by something you see here.
In the Roaring '20s, many Americans had extra money to spend, and they took full advantage of it, opting for all things glitzy and glamorous. "People were feeling flush and began to adorn their bedrooms in more than a straightforward fashion," says interior designer Jean Liu. "They [incorporated] lavish materials, such as using [silk or satin] drapes against the bed wall — and an entire century later, we're still all for making bedrooms feel like jewel boxes."
The Art Deco era is a favorite of West Elm visual merchandiser and interior designer Rhys Duggan, too. According to Duggan, this period was a time before built-in bedroom storage really existed. "So there were specific furniture pieces for the bedroom, such as dressers, vanities, and benches," he says. People got creative with these furnishings and went the jewel tone route here, too. Think: rich colors, ornate patterns, and brass finishings. Full of punchy prints and bold house, today's maximalist bedrooms show the start of a renewed love for the jewel box look, and hopefully, we'll be seeing even more saturation soon.
Clean lines and cream tones
In the latter half of the Art Deco period, a focus on sleek forms and smooth lines became popular. French designer Jean Michel Frank was best known for this refined style, and his minimalist interiors were decorated with sumptuous but more subtle materials. "[He] was the master [of this look], and his tonal rooms with cerused oak, vellum, and creams are very much the inspiration for current design," says interiors expert and design historian Christiane Lemieux. "A master 'ensemblier,' he drew from the past and made his designs modern."
For Lemieux, this style is worth revisiting today for its timeless appeal. Earthy wood tones and clean lines certainly fit the bill for a soothing, grounding sleep space.
Mid-century-inspired bunkbeds
Bunk beds might cause unwanted flashbacks to dorm rooms and sibling fights for some, but that wasn't always the case. In the mid-century era, bunk beds took on a more high-style aesthetic and were often featured in playful colors on TV shows like "The Brady Bunch." Says Liu, "Bunk rooms used to be a utilitarian way to sleep children in a small space, but now it's become a fun focal point of a kids' playroom."
Bunks can read as sophisticated as well; it all comes down to the bedding you choose. So if you have a guest room that needs to sleep larger groups or full families, bunk beds just might be a trend for you to pursue.
Let's get it out of the way: '60s and '70s interior design can be polarizing! While some might want to leave all the grooviness in the past, certain aspects are worth savoring. "I can't say I would wish back all the floral prints, polyester, and matching everything of the 1960s and '70s," admits Duggan. "However, I can appreciate the adventurous use of color in the bedroom during this time. Bedrooms don't have to be beige, and it's interesting to see how style and fashion influenced bedroom interiors during this period."
Whether you're coating your walls in a fresh hue or making a statement with your bedding, plenty of ways of incorporating color into your space exist, even if you're not ready to commit to color explosions reminiscent of these decades just yet.
An even more radical approach to design was carried into the '80s with the Memphis Design movement. This style was inspired by pop art, with an emphasis on eye-catching and unique forms. Perhaps the most iconic image of the style is the "ring bed" designed by Japan-based Masanori Umeda. "Part bed, part boxing ring, it was symbolic of the times and prescient about the future of the bedroom," says Lemieux.
A boxing ring bed probably won't become a widespread trend any time soon, but the style it evokes certainly can. Graphic elements like wall stripes, neon colors, and playful headboards are '80s characteristics that would add a whole lot of fun to bedrooms if they made a full comeback altogether or as individual elements.
Minimalist beds and bedding
In a reaction to the loud and bold design of the decade before it, '90s sleep spaces pared everything back with a new brand of minimalism, a style Duggan feels people could use now. "There's a great need for our bedrooms to be relaxing sanctuaries that we retreat to after a day at the (home) office and switch off from the world and tech," he says. "The neutral minimal style of the 1990s is ready for a comeback to help us declutter and achieve a calming space."
As for his suggestions to get this look? "Think light timbers, neutral bedding, natural rugs, fabric lamp shades, and potted plants," he says.
It feels weird to call anything from the 2010s a throwback style, but we're in a new decade. Looking back at this time period, a more relaxed, artfully wrinkled look took over the bedroom. "Catalogs and design magazines showed a lived-in, messy bed compared to the perfect matchy-matchy hotel styling," says Duggan. "This layered look was more about cozy comfort and quality [bedding] such as cotton, Belgian linen, and chunky throws."
Lemieux can attest to this and sees the theme carrying on in the zeitgeist for a while. "People are no longer interested in fussy, over-styled and very formal bedrooms," she says. "These beds tend to have complicated pillowscapes, which are also not a feature anymore. Like fashion, bedrooms are more comfortable, easy, and cozy."