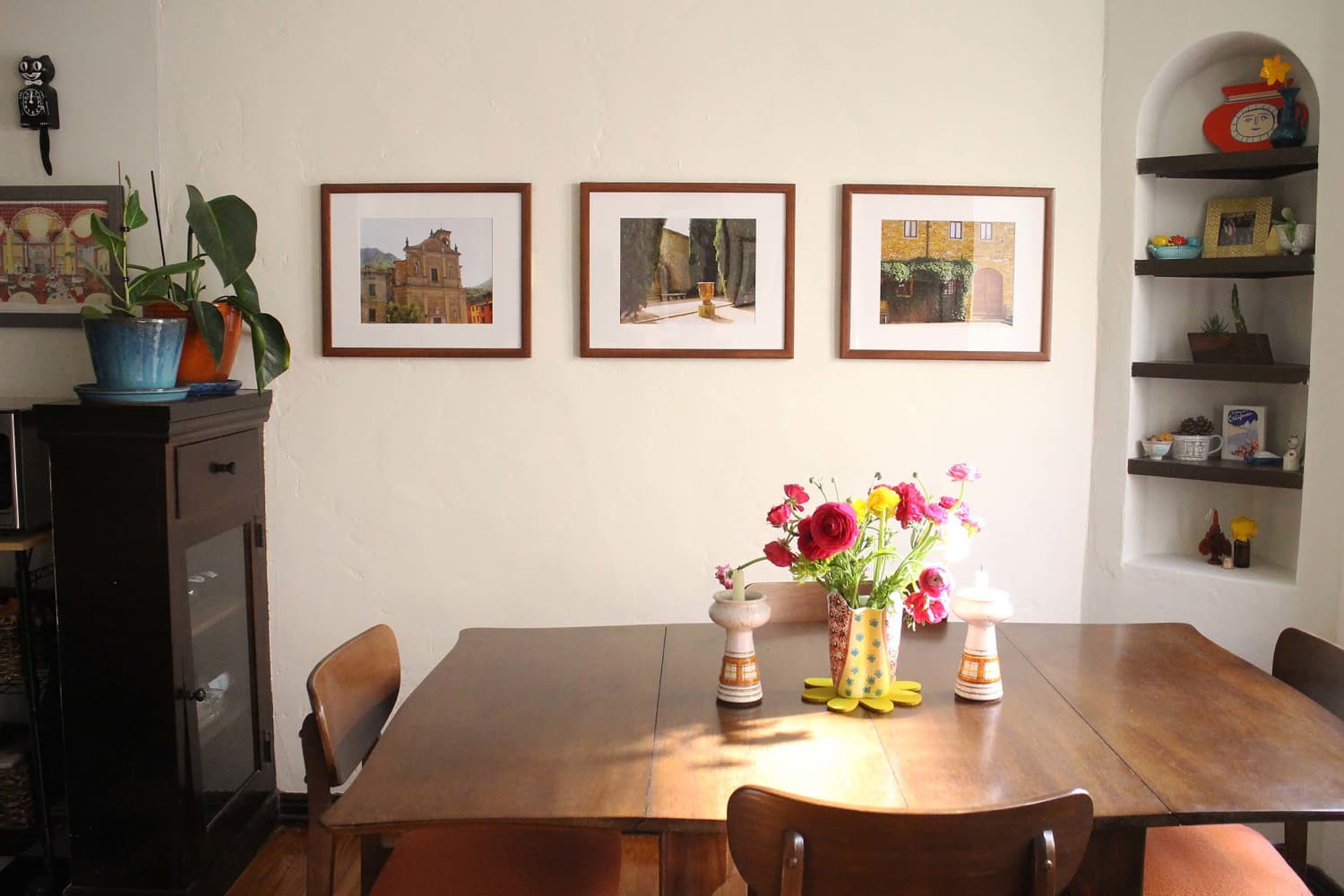 Name: Rebecca Sales
Location: Los Angeles, California
Type of home: Studio apartment
Size: 650 square feet
Years lived in: 1 year, renting
Tell us a little (or a lot) about your home and the people who live there: The apartment is from 1929 and retains historical details like the crown molding and arched doorways and has quirky surprises like a fold-out ironing board and Kelvinator icebox.
I work with textiles, so it was inspiring to create a color scheme and play with prints and textures. The custom Jacobean floral curtains work in harmony with the graphic fringed rug without feeling too matchy. Decorating the apartment also required ingenuity, such as using decorative window film to disguise the unsightly view across from me. Additionally, rather than hide the particular orchid bathroom tile, it set the tone, and my mom sewed a lavish shower curtain and other accoutrements to bring it all together using vintage fabric. I love the fact that my apartment celebrates rather than conceals its historical charm.
I use dressing as a way to reflect my mood, and the same goes for my surroundings. I like to use a lot of color and highlight little trinkets like postcards from my favorite restaurants in NYC or tiny watercolors I've painted while traveling. Friends comment that my apartment feels like me, and I couldn't be happier with that sentiment.
Describe your home's style in 5 words or less: Cozy, Whimsical, Transportive, Eclectic, Colorful
What is your favorite room and why? Being a studio, it is technically all one room, but the layout separates the space well. That being said, the dining area is my favorite room. I love cooking, eating, and hosting, so it always has a comforting glow about it even if it's just me at the table. The first piece I found was a mid-century Keller dining table, and I was drawn to its delicate curved edges and versatile drop leaf construction. It fits the space perfectly without being too imposing. I also replaced an outdated light fixture with a pendant light that adds lightness and warmth.
Vintage Italian pieces like candlesticks from the '60s and a playful vase add character and a touch of craft. To add to the spirit of wanderlust, I've framed pictures that I took while traveling and created a mini jungle using plants on top of the dividers leading to the kitchen.
What's the last thing you bought (or found!) for your home? I traveled to Italy this past September and found these amazing pressed flower cards by an artist Angela Raveggi. I finally had them mounted and framed to add to the gallery wall above my desk. I love the sentimental value this holds and the way that anything can be framed and turned into an art piece.
Any advice for creating a home you love? Enlist help! Sometimes having a second eye is crucial and can offer you important feedback even if you don't always want to hear it. Create a focus and central mood so it doesn't feel too disjointed. It's exciting to have numerous ideas, but you want it to tell a coherent story. Stick to your personal style so that it maintains your aesthetic. Use resources like Etsy, Offer Up, and Chairish to find one-of-a-kind pieces, sometimes for a steal!
This submission's responses and photos were edited for length/size and clarity.