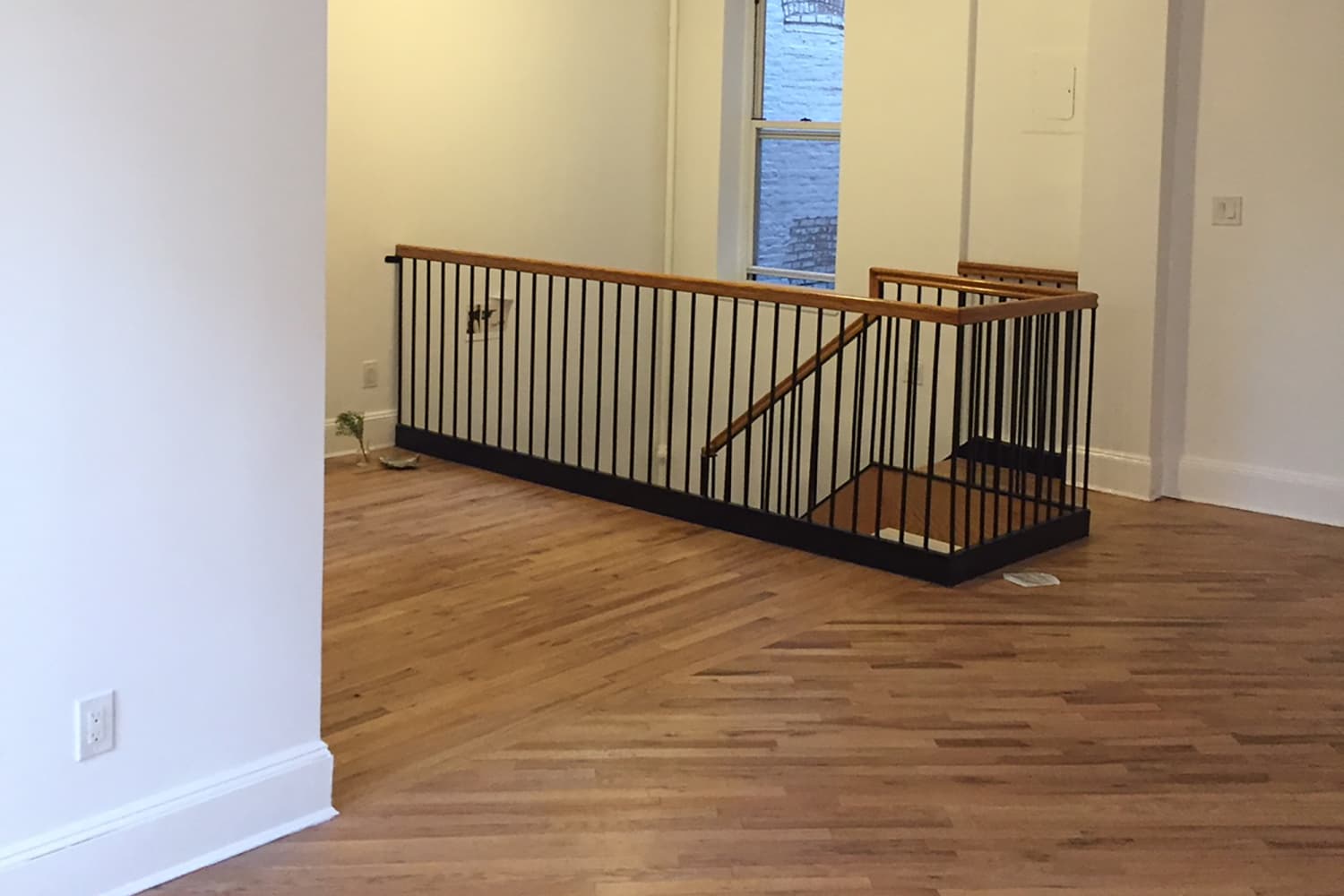 We independently select these products—if you buy from one of our links, we may earn a commission.
Name: Zontee Hou, Hadrien Pollino, and our horde of plants
Location: Prospect Heights, Brooklyn
Size: 1,200 square feet
Years lived in: 1.5 years (plus renovated for six months), owned
In 2019, my husband and I started looking for an apartment to buy in NYC. We weren't afraid of renovation and we wanted more space — enough for visiting family to come for extended stays. His family is in France and Australia; I have family across the U.S. and Canada, as well as Taiwan. Our two finalist apartments were both dated fixer-uppers with lots of potential, and working with an architect really helped us figure out what was possible and what would work best for our needs. Because I had a professional relationship with the firm Lynn Gaffney Architect, I asked principal architect Lynn Gaffney to look at a few floor plans for us to understand the potential for renovation.
This particular apartment had been combined from two apartments by the previous owners about 25 years ago, and it showed. The dishwasher and stove were straight out of the 1980s. The guest room had a weird "shelf" above the closet.
Our renovation plans focused on two areas: (a) my husband and I are passionate about art and have many pieces we wanted to display, so bringing light into the apartment and making the space a showcase for art was important to us; (b) we entertain a lot — love to cook and have people over — so a great flow was also essential. Our architect helped us identify three big changes to the space. First, we moved a wall of closets in the den (which only has one small window that faces the back alley) and replaced it with a glass/metal wall to bring light deeper into the apartment from the street-side windows of the office/guest room. Second, we also reoriented the kitchen/dining/living room and opened up a wall between the kitchen and living area to create a dining area and more storage. Third, we rebuilt the staircase to create a visual core that connects the downstairs and upstairs spaces; we also reoriented the staircase landing to improve feng shui.
Work was supposed to start in March 2020 — I originally had high hopes to be done in time for Thanksgiving — but you know what happened: COVID-19 hit. Work finally started at the end of July 2020 and the process took until January 2021. Because the renovation occurred during the lockdown, we had to make some compromises in terms of available appliances. Plus, slowdowns with the Department of Buildings, etc., definitely lengthened our renovation process. However, it also meant that we had places to stay for free during the renovation, since some of our friends opted to temporarily move elsewhere during lockdown — so, upside! Over the course of 2021, we furnished the apartment bit by bit with a mix of new and vintage pieces, and we (finally!) hosted Thanksgiving this year with 12 (fully vaccinated) people. It's truly a space that we love and that we feel reflects our lifestyle and our tastes.
Apartment Therapy Survey:
My Style: Contemporary eclectic. We like clean lines, but we also have lots of vintage and mid-century modern pieces that are mixed in to give the space more texture.
Inspiration: Art galleries. My husband would have preferred all white walls and gallery-reveal baseboards, but I have an aversion to white and it's an older building, so we compromised on a pale gray and a mix of baseboards. The idea of art galleries informed both the art rails that are throughout the apartment, as well as the track lighting our architect designed to echo the room shape and light the art.
We were also inspired by Japanese courtyard houses. I was born in Taiwan, where there are a lot of Japanese houses from the occupation, and we love the idea of screen doors (like the slider between our den and office) and vertical lines.
Favorite Element: The kitchen island! It was designed to accommodate the structural columns and water pipes, and our architect Lynn Gaffney designed shelves (for cookbooks below and glassware above) to make the space functional and attractive. We also painted both columns in chalkboard paint to make it a space for everything from menus to poetry to Pictionary.
Biggest Challenge: We loved the bold design changes our architect proposed — but we needed to stick to a budget. So we both got very involved with researching resources for everything from the kitchen cabinets and the lighting to the glass wall and the appliances to make sure that we selected options that would look great, function well, and also kept us within our means. We did run into structural issues that added to the cost, but by being thriftier in other areas, we were able to stay on track.
Proudest DIY: Hadrien installed art rails throughout the apartment so that we can easily switch out the pieces on display. We also worked with a company that makes radiator covers to design and build the primary bedroom headboard. It does cover our radiator, and it acts as a deep shelf that provides space for our books, clock, etc., since our bed sits inside the window niche and there isn't space for side tables. They sent the pieces which you assemble with just a screwdriver. I then added the cane webbing and wood trim myself to make it match our style.
Biggest Indulgence: Custom cabinetry in the kitchen/dining room that includes a small wine fridge. We considered IKEA cabinets with custom fronts to save money, but because of the limited space and some structural risers we needed to work around, I wanted cabinets that would maximize every inch. To afford custom cabinets, we ordered from Tuscan Hills (through Costco), which were reasonably priced and very high-quality. They even built a cabinet that hides the risers, while giving us extra storage for salt, pepper, and other small items.
Best Advice: If you're looking to renovate, working with an experienced professional right from the start can help you envision the possibilities of the space and make the most of awkward layouts. This apartment had an awkward flow, but it had a great location and lots of space. Our architect Lynn had fantastic ideas for how to make each space as functional as possible, with light, storage, and thoughtful design details. (Hello, cabinets on the staircase landing!) Her kitchen design and the redesigned downstairs glass wall truly make the most of our apartment's assets. She also referred us to Garry Wishart of Interior Contracting Corp., our general contractor, who did a fantastic job with bringing the project to life.
Thanks, Zontee and Hadrien!
This house tour's responses were edited for length and clarity.