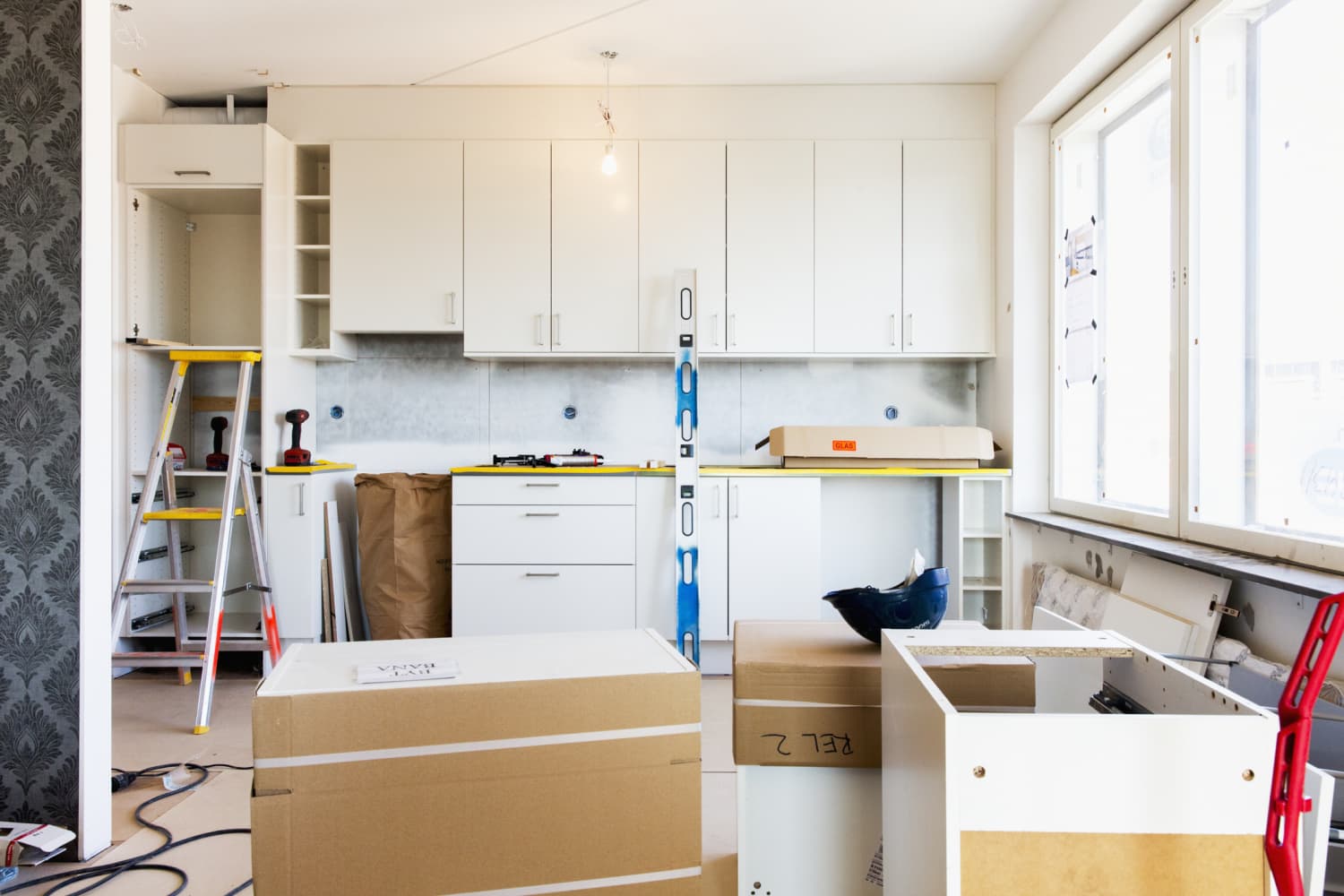 I entered the world of budget-friendly kitchen remodels this past year when I purchased a home with a closed-off kitchen and the hallmark of early '90s cabinetry: heavily grained, honey oak cabinets with country cottage detail. It became clear we were going to have to think outside the box to bring it into the 21st century without spending full kitchen remodel money.
Our general contractor came up with a brilliant, money-saving idea. He realized that an inconveniently placed peninsula matched up almost exactly to an awkwardly empty wall and suggested swinging the peninsula around to create an open U-shaped layout. It was a simple and relatively inexpensive change that took more elbow grease than cold hard cash — plus, it didn't involve new cabinetry, new countertops, or changing any appliance lines.
Determined to figure out where else I could save, I talked to contractors, home improvement experts, and DIY aficionados for more outside-the-box ideas to save money (and time) on a kitchen renovation. Here, their 10 best tips.
1. First and foremost: Keep your existing layout.
Keeping the layout you have currently will always save the biggest chunk of change. ​​Mallory Micetich, home care expert at Angi, says, "One of the most expensive things you can do during any remodeling project is change the layout of the space, which often requires moving things like plumbing, HVAC, and electric." Instead, limit the number of contractors involved by keeping the layout and using design and materials to give the space a new life.
2. Work with the cabinetry you already have.
So many kitchen renos rely on ripping out old, dated cabinets and installing sparkling new modern cabinetry. That also comes with a significant price tag. Jen Stark, the founder of Happy DIY Home, recommends refreshing your cabinets rather than replacing them. Paint is the obvious option, but you can also reface them or replace the doors and drawer fronts — both great options if you're more interested in a natural wood tone than a painted finish. "Refacing your cabinets will add a new veneer to help match your new decor," Stark says, and a simple tone swap can help once-dated wood cabinets look totally fresh.
3. If you're working with a contractor, use their contacts.
"Established contractors have relationships with suppliers and subcontractors, so it's worthwhile to see if they can get any good deals for you," Micetich says. If you're drooling over a marble countertop, but it's not in the cards with your budget, ask your contractor for ideas. They may know sources for remnants or other under-the-radar affordable options.
"Contractors have the expertise to know where you can save money and where you should skip the budget option," Micetich says, as was the case with my peninsula fix. "They are the experts, and you can benefit from their knowledge."
Cabinetry is expensive, so here's an idea: Don't replace cabinets with more cabinetry. Instead, opt for much more affordable open shelving. For a fraction of what you would pay for cabinetry, you can get gorgeous open shelving to display all of your favorite dishware and pottery.
Replacing your hardware can be a budget-friendly solution. Other times, you may fall in love with a pull that's $15 apiece — and that adds up. That's when Kathy Stracke, owner and color consultant for Five Star Painting, a Neighborly company, suggests going the unconventional route: "Try painting your hardware instead of replacing it."
Stracke says spray paint is a solid solution for hardware since there are special formulations that adhere to metal. "Try brushed nickel, black matte, or satin brass finish for a more contemporary, fresh and modern look," she says.
Adding an island can get pricey. Andre Kazimierski, CEO of Improovy, has a workaround: converting an old table or cart. He recommends adding castors to a table you already have or, even better, hunt down a thrifted one. "This gives you the elevated look of an island in your kitchen while adding an extra level of functionality and mobility," he says.
7. Utilize reclaimed wood.
Thomas Jepsen, founder of Passion Plans, recommends starting with budget-friendly materials like reclaimed wood for shelving and other wood projects. "Craigslist is a great place to start looking for reclaimed wood," Jepsen says. "Alternatively, most cities have reclaimed lumber dealers." Not only does it cost less than new materials, it also adds charm that you can't recreate with the brand-new stuff.
8. Source dented appliances.
You may not have damaged or secondhand kitchen appliances on your radar, but you should. "We saved $400 on our kitchen remodel by getting a fridge that had a tiny dent in it," says Jepsen. You can hunt down these steals at discount appliance stores or ask traditional stores if they have an as-is section. Often, the imperfection isn't noticeable to the average eye. Jepsen notes, "The dent is facing the pantry in our kitchen, so we couldn't even see it if we wanted to."
9. Renovate only the island.
An island can steal the spotlight in a kitchen, which means you can sometimes get away with only renovating this center-stage piece if you already have one. "Change the counter to a butcher block and paint the island a different color than the rest of your cabinetry," suggests Thumbtack home expert David Steckel. "Add new pendant lights and you've quickly updated the aesthetic of the entire kitchen."
10. Upgrade the lighting.
Changing out just the lighting (or light bulbs!) is a quick upgrade. Dan Wiener, founder and lead interior designer for Homedude, recommends upgrading lighting beyond traditional overhead kitchen lighting and instead choosing a statement-making chandelier. Swapping in a light fixture where one already exists is a doable DIY (with precautions), though bringing in a professional will run you a few hundred dollars.
Even if you don't change the lighting, just changing the bulbs can make an impact. "Use light bulbs that are a bright white to help your kitchen look bright and clean," advises Wiener.
Additionally, adding inexpensive under-cabinet lighting using battery-powered puck lights can give your kitchen a glowy, cozy, high-end look — all without bringing in an electrician.