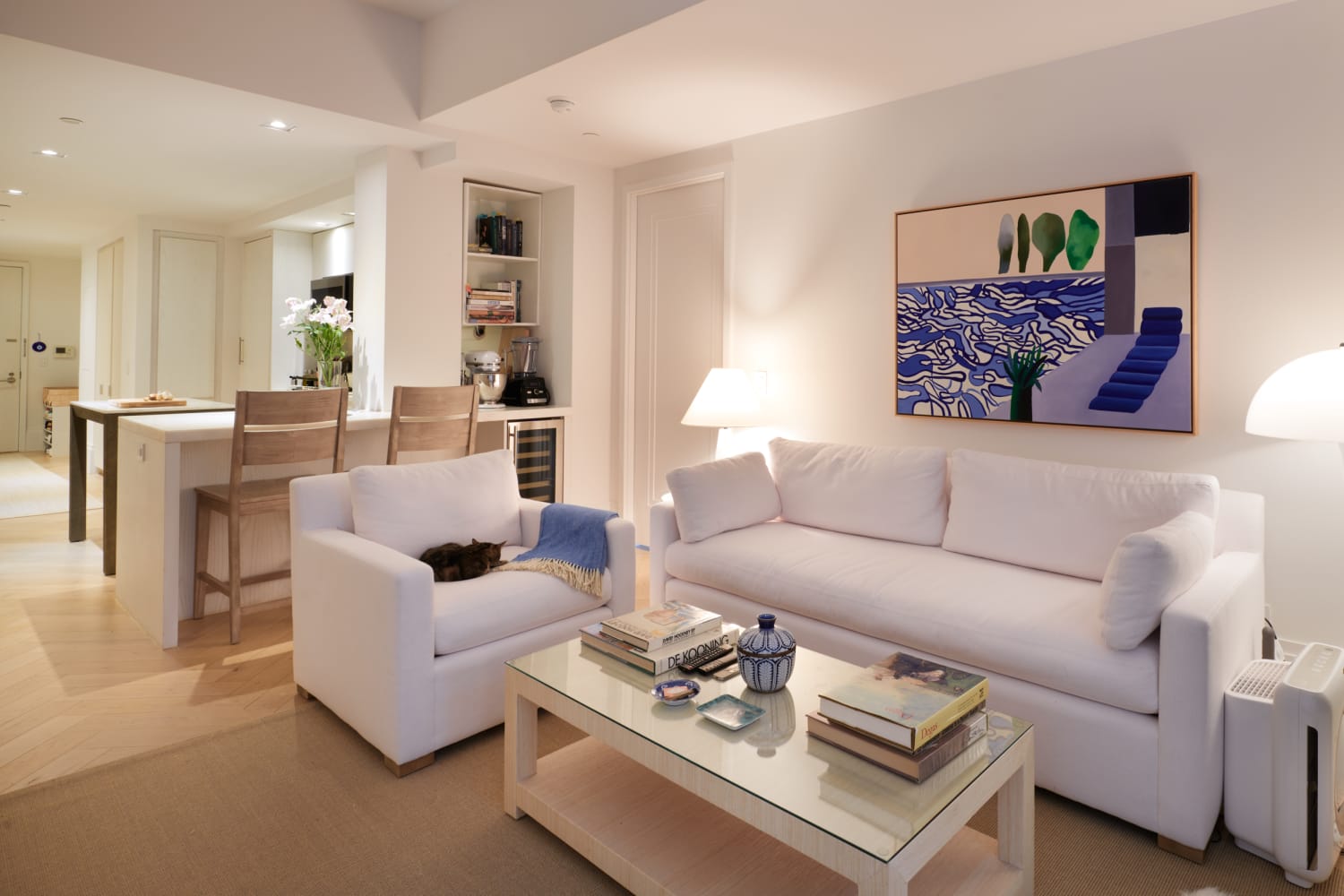 Getting organized around your home is one thing. But staying organized is an entirely different beast. There aren't any magic pills or quick shortcuts to keep your home organized — it will require regular work and maintenance. But there are a few small, easy tasks you can tackle every day that will help keep your home on a more organized track. Every year Apartment Therapy tours the homes of inspiring professional organizers, and this year I asked them to share their organizing wisdom, too. Below, these seven pros divulge the daily tasks that will help you stay a little more organized.
"This is a small but mighty task, but making your bed each morning truly sets the tone for your day. When you have a neat and tidy bed, you're more likely to treat your home (and yourself) with respect," says Caroline Solomon, owner of organizing company Caroline Solomon Home and whose tidy New York apartment was featured on Apartment Therapy recently.
Janelle Williams, who owns Organized by JWC (and whose neat Maryland home Apartment Therapy recently toured), agrees that it's being consistent with small, everyday tasks like making the bed or putting the dishes away that "will motivate you to be consistent with more difficult or time-consuming tasks. We often underestimate the idea of 'starting small' because we just want to get everything done now. However, in actuality, you put unnecessary stress on yourself when you try to do it all at once."
Create a to-do list for the day.
"It doesn't have to be super specific, but it should be a rough outline of things you'd like to accomplish for the day. When you write down your daily goals on paper (or digital notepad), you're much more likely to follow through," says Solomon. Nonnahs Driskill, founding organizer of Get Organized Already! who lives in this neat Long Beach home, has similar advice: "Use a calendar and a list until it becomes a habit."
Practice the mantra "don't put it down, put it away."
Organizing expert and author Shira Gill (whose house Apartment Therapy toured) says you should aim to put this mantra into practice right when you enter your home. "Instead of dumping by the front door, take a few minutes to tuck away shoes, bags, coats, mail, etc., as soon as you get home. Ditto for the clothes that get dumped in that chair in your bedroom at the end of the day. A little effort to tidy and maintain your space each day will prevent you from ever having to face a massive buildup later."
Michele Vig, founder and chief organizer at Neat Little Nest who lives in this tidy Minnesota home, agrees. "The one task that could transform someone's home is for them to focus each day on putting their things away when they are done using it."
SoleOrganizer owner Jakia Muhammad, whose uncluttered home Apartment Therapy recently toured, believes that staying organized requires maintaining a clear system. "One task that I recommend people do every day to stay organized is to return items back to their designated space after they're finished using them," Muhammad says. "If you're done watching television, then return the remote back to its designated space. If you are done using a comb, then return it to where it was retrieved. This simple yet effective task was instilled in me growing up and it has always stuck with me. By doing this daily, you will begin to create a habit that will be beneficial for your space."
Collect "outgoing" items around your home.
"I recommend keeping an 'outgoing bin' in your entryway full of items that need to be returned, gifted, dry cleaned, etc.," says Solomon. "Spend a few minutes each day checking around your home for any outgoing items currently cluttering up your space. Once you have an entryway bin in place, tossing all that clutter in will be a breeze. Same thing with your clothes. If your closet is in desperate need of decluttering, place a bin at the bottom of your closet and spend a moment or two tossing in any unwanted items. Easier said than done, but having a place to put it certainly helps!"
"Make a decision about the clothes you wore that day," says Jennifer Du Bois, CEO and lead professional organizer of Organized by Jen D, who lives in this immaculate San Diego home. "Decide if they are dirty or if they can be worn a few more times. Dirty clothing should go in the hamper immediately after you take them off. Clothes that you plan on wearing more than once should be hung up. No clothing should be placed on the floor or on furniture."
Starting the year off by touring the homes (and drawers, pantries, closets, and more behind-the-scenes spots) of professional organizers, small space dwellers, and other design experts has become a tradition on Apartment Therapy. After all, how your home functions is just as important as how it looks, and I personally never tire of seeing how the pros organize their spaces. You can find great home tours and even greater organizing advice from this year's fresh crop of inspiration (and catch up on last year's tours) all on this one page: Professional Organizer Home Advice.