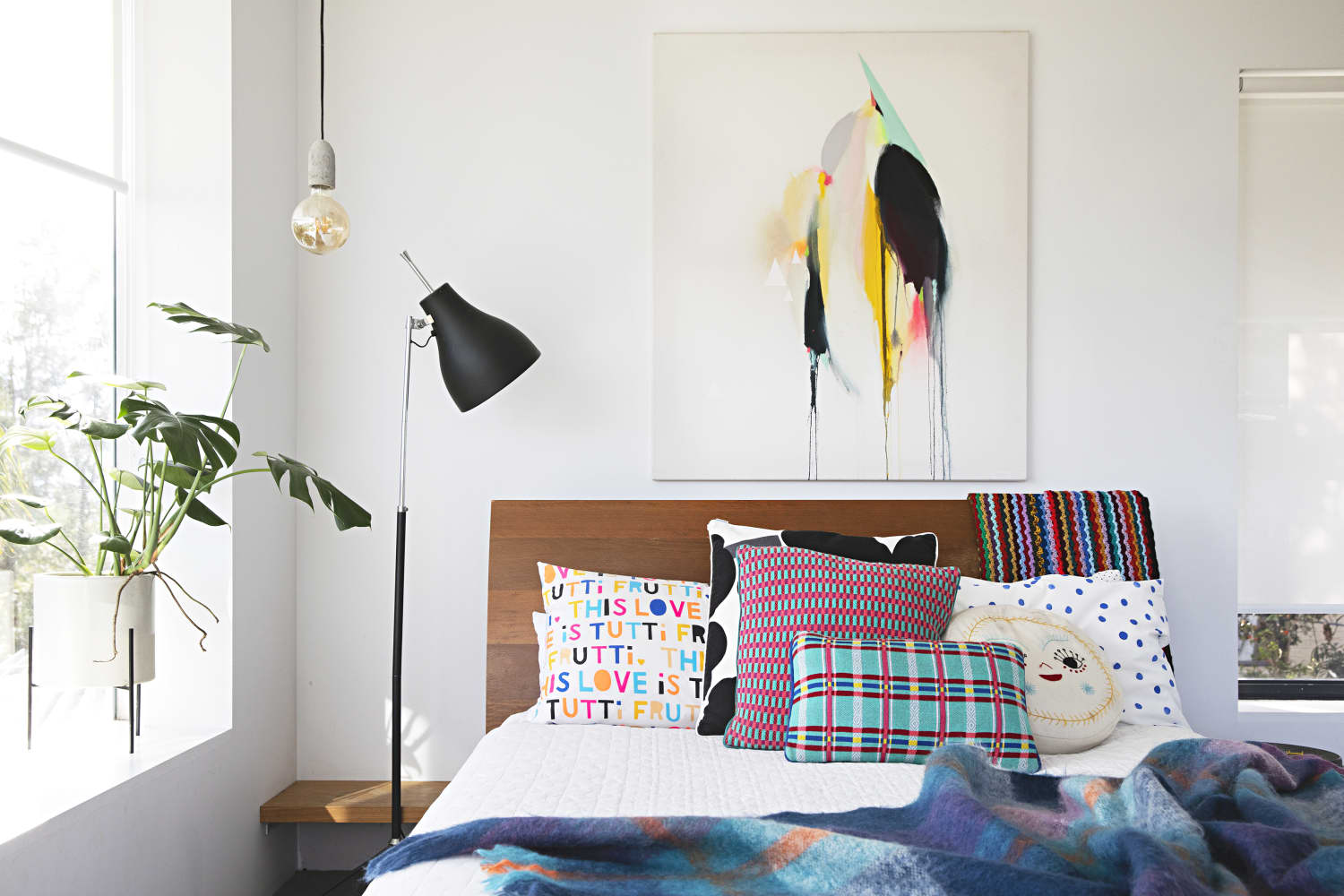 February is Bedroom Month on Apartment Therapy! We're sharing stories all month about bedrooms — from how to decorate them, to the fascinating history of them, and so much more. Head over here to see them all!
After spending so much time at home over the past few years, your bedroom might start to be feeling a little, well, stale. It's easy to feel like you've been staring at the same four walls and sleeping on the same old sheets forever. Sound familiar? Then this year might be the perfect time to finally give your sleeping quarters a refresh.
Of course, if you're short on square footage, switching up the look of your room is a lot easier said than done — but with a few easy tweaks, you can upgrade your tiny bedroom. The benefits extend far beyond just visual appeal: If you love the room you fall asleep and wake up in, your mood and wellness can improve, too.
Ready to give your little bedroom a face-lift? These design experts share seven tips on how to freshen up even the tiniest of bedrooms.
Go ceiling-high with your curtains.
While your room might not have the loftiest of ceilings, you can still trick the eye into thinking it does. "Move the drapery rod as close to the ceiling as you can, and buy drape panels that come down to the floor," says designer Noz Nozawa, principal interior designer at Noz Design. "You can't change a tiny room's dimensions, but at least you can enhance the illusion of ceiling height."
Curtains can also frame furniture, create symmetry, and add softness to your small bedroom. Plus, tons of options exist — whether you're looking for a romantic vibe with some sheer drapes or a dramatic pop of color with a vibrant velvet.
Don't skimp on the houseplants.
Awkward corner? Empty nightstand? Bland decor? There's nothing a good houseplant can't fix! By bringing a little bit of the outdoors in, plants instantly make any space feel more fresh and lively. Designer and home therapist Anita Yokota suggests looking to the ground — and the air — for the best placement. "Floor plants can add height and draw the eye upward, making the space feel a bit bigger," she explains. "For tighter spaces, choose a fun hanging planter to display over your nightstand."
Organize (or hide) your cables.
Tangled wires are a nuisance to deal with — and not particularly pretty to look at. "In our modern lives, cable management can often mean the difference between a space looking chaotic or serene," Nozawa says.
Do yourself a favor and keep all those chargers and plug-ins tidy. "Treating yourself to a pretty magnetic charging tray or a charger-and-cable box beside your bed keeps your electronics close by but visually restful," Nozawa says.
Opt for an oversized mirror.
It may be the oldest trick in the book, but an oversized mirror really does work wonders to make a room feel bigger and brighter. Especially in a teensy bedroom, where your bed probably takes up most of the floor space, mirrors can create visual balance without the need for more furniture.
Mirrors come in so many unique shapes and frame styles, too. "Whether you're thrifting to find a cool vintage mirror or taking on a fun mirror DIY, adding in this decorative element will help reflect natural light into the space, giving it a whole new feel," Yokota says.
Short on wall space? "Adding a full-length mirror behind a bedside table can do the trick," Nozawa suggests.
Pamper yourself with luxurious bedding.
Yes, nice bedding can be pricey. For something as valuable and important as quality sleep, though, the splurge is worth it. Just imagine wrapping yourself in soft, plush, cloud-like bedding each night — seriously, there are few better feelings.
Go ahead and make the jump to something hotel-quality. "Invest in the most luxurious bedding you've been eyeing," Nozawa says. "Even if your tiny bedroom circumstances are temporary, you'll get to enjoy your super-luxe amazing sheets and duvet every single day until it's time to upsize."
Double down on double-duty furniture.
One of the biggest challenges in designing a small bedroom is balancing style with space-saving solutions. While multifunctional pieces sometimes get a bad rap for being uncomfortable or unattractive, they're key for a small space. If you get creative, plenty of these types of pieces can look really stylish, too.
"For example, a bench at the end of the bed acts as decor, seating, and extra storage," Yokota says. By day, you can set down books or trays of jewelry there, and by night, store away your extra pillows and bedding in this spot.
While you might not typically think of decluttering as a way to add style, organizing your odds and ends actually creates soothing negative space. Plus, as Nozawa notes, it's "so healthy to unburden yourself of things that don't serve you."
If you still have stuff without a home, Yokota recommends using under-the-bed storage. "[This] helps minimize clutter so you can display the items you really want to showcase," she says. Tried-and-true floating shelves or even a slim-line credenza can help you store away any bits and pieces, too.