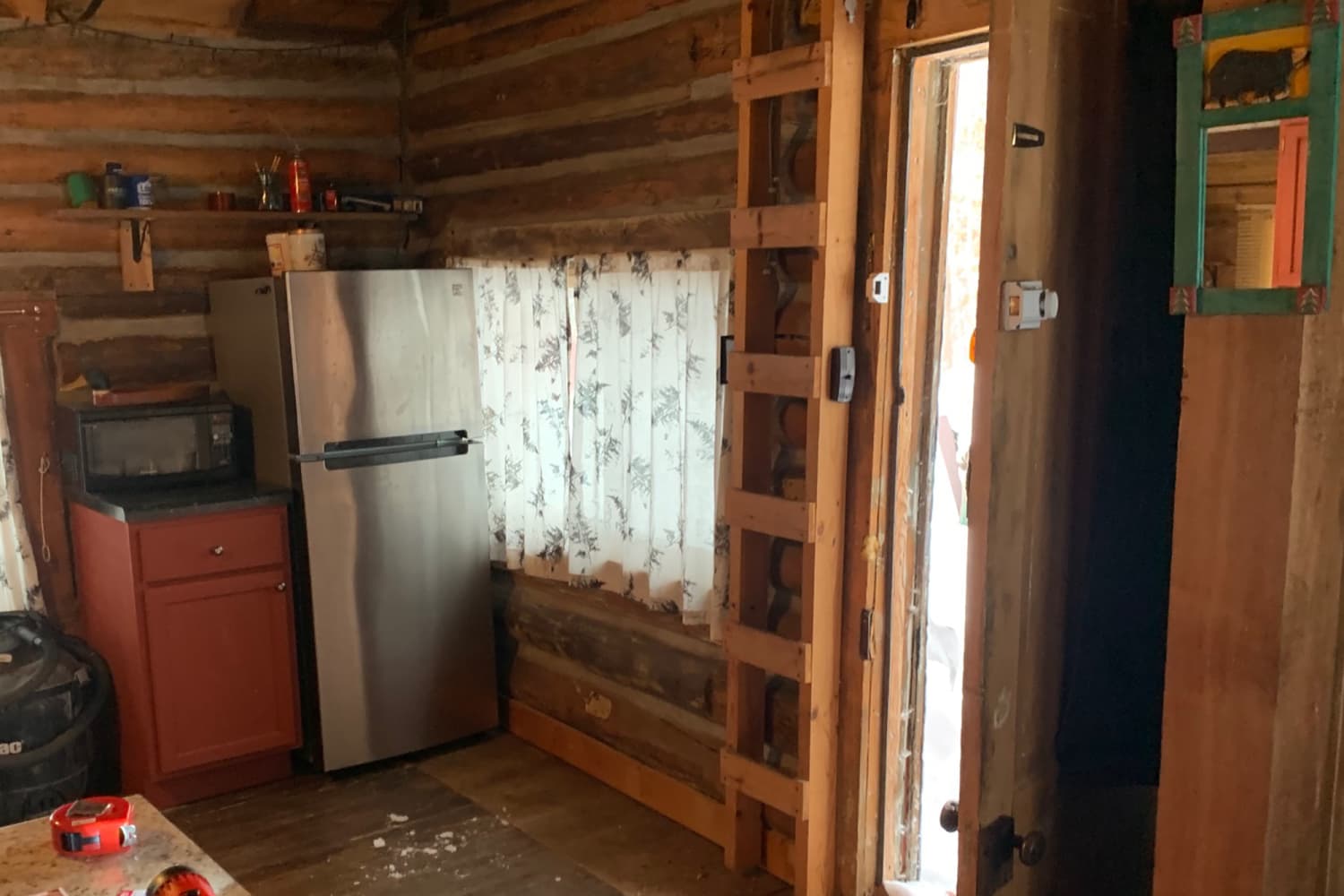 We independently select these products—if you buy from one of our links, we may earn a commission.
Name: Daniel and Stephanie Lalley, with two children Jane (age 6) and Jerome (age 5)
Location: Hackensack, Minnesota
Size: 475 square feet
Type of Home: 200-year-old log cabin part-time home
Years lived in: 2 years, owned
Stephanie Lalley, who is the Design Director at Lucy Interior Design, and her husband, Daniel, have completely revived this once-destined-for-tearing-down cabin. "We had been casually searching for a project — with not much cash in hand but a lot of ambition — when we stumbled upon this adorable 475-square-foot log cabin that no one seemed to love," Stephanie writes.
"It was originally located on Woman Lake on the resort, and when they were going to tear it down someone relocated it to the new site to save it," Stephanie explains. "It was a beautiful three-acre property on a private lake up north that would have been a tear-down to anyone else who saw it. I walked into the space on a snowy winter day and said 'I LOVE IT!' Our goal was to refurbish this tiny-but-mighty space so we could spend quality time with our littles, reconnect with nature, and disconnect from the digital world and life's daily distractions."
Apartment Therapy Survey:
My Style: I love vintage meets modern, clean, and purposeful design. I gravitate towards fresh colors and a happy, artistic aesthetic.
Inspiration: The inspiration for this cottage can be boiled down to one word: retreat. We envisioned a space where a small family could escape the hum of hectic work life and step out of time in a space of seclusion and tranquility.
Favorite Element: This property is magical from sun-up to sun-down, and the private lake reflects the beautiful woods around the property. The reason why you're there is not simply because of the cabin; it is because of these incredible surroundings.
Biggest Challenge: The original one-room cabin had a wood burning stove in the corner, which happened to be right in the middle of the current kitchen. This made for a non-functional layout. We moved the original stove to the living space, and totally re-organized the bathroom and storage area behind the kitchen. We added an interior shower, custom built a dining area, and re-designed the entire layout.
Proudest DIY: The cabin had rough-cut pine paneling on the walls throughout. We removed everything down to the studs so we could insulate and start with a clean palette. We salvaged the boards and used them on the ceilings and custom built the cabinetry in the kitchen and bathroom. It adds so much texture while maintaining that sense of hand-built self-reliance. Re-using the boards saved on cost but also salvaged the old-time cabin feel we were looking for.
Biggest Indulgence: The electrical updates throughout the cabin were the biggest expense. Original, antiquated electrical was entirely rewired and brought up to code. Outlets were hand sawn into each log and wires hidden within, and a bulky electrical panel was moved outside to save space. We added fun decorative lighting too! This modern amenity was TOTALLY worth the upgrade!
Is there something unique about your home or the way you use it? This one-bedroom log-cabin was re-worked to sleep four! We built a platform bed that fit a queen bed snug and took up most of the bedroom and had a clear view to the lake. We splurged on a modern sleeper sofa in the living room where the kids can sleep and curtains were added for privacy when needed.
What are your favorite products you have bought for your home and why? Artwork and plants!
Please describe any helpful, inspiring, brilliant, or just plain useful small space maximizing and/or organizing tips you have: Allocate a spot for everything. Thoughtful space planning and organization cuts out the need for excess stuff. We have too many things in our lives and once you live in a small space, you realize you don't need much to enjoy your home, your family, and your surroundings.
Finally, what's your absolute best home secret or decorating advice? The power of paint is astonishing. You must do all the hard things prior to make the updates successful, but in the end, when you get to paint your masterpiece after all the work is done, that's when your transformation dream becomes reality.
This house tour's responses were edited for length and clarity.