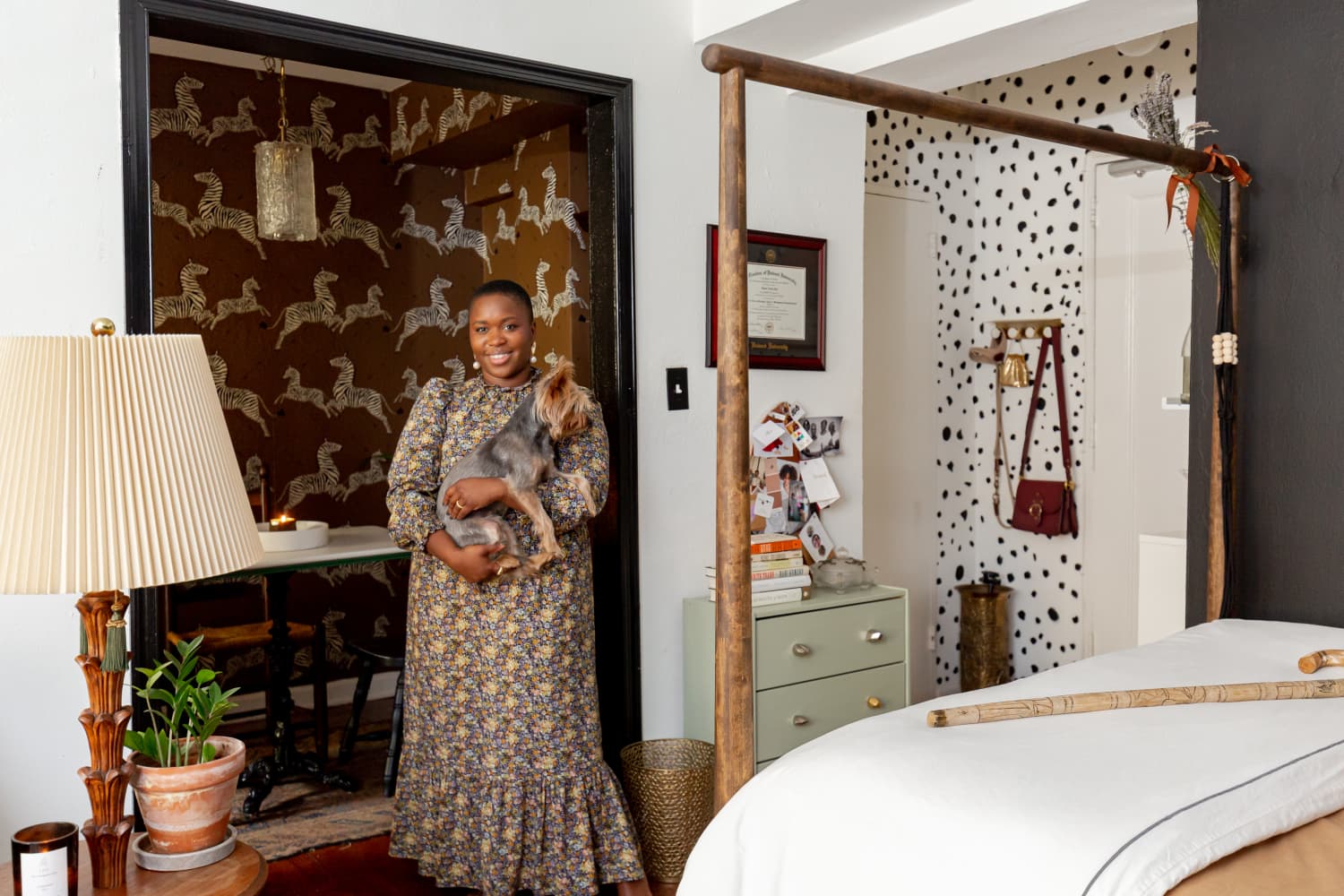 We independently select these products—if you buy from one of our links, we may earn a commission.
Name: Imani Keal and Yorkie Salazar 'Sal' Slytherin II
Location: Washington, DC
Size: 490 square feet
Type of Home: Studio Apartment
Years lived in: 2.5 years, renting
Content creator Imani Keal's spacious Glover Park studio is a "mix of free things I found on the street, family heirlooms, and strategic purchases." And one of her favorite things about the studio that she shares with her Yorkie is the layout, which feels more spacious than just a studio thanks to visually separate spaces for living, dining, and entertaining. "My 'large' studio has a separate kitchen/dining space and the bathroom is down a small hallway, so it feels larger than what it really is and I get to avoid the 'kitchen in the bedroom' effect that plagues most people that live in studios," Imani explains.
Another thing Imani loves about her apartment? How open to design updates her landlord is. "My lease is pretty open on the changes that can be made and my landlord even helped me complete some of my projects by providing the labor at no cost to me," Imani admits. It's an ideal situation for someone who loves adding personality to her rental.
During the pandemic, Imani relied on a nearby Ace Hardware and DIY home projects, like painting a third of the apartment black, staining an IKEA bed, and adding peel and stick wallpaper to projects, to help her get through the early days of the pandemic. She ended up pouring a lot of time, energy, and money into her own home improvements, which in turn inspired the creation of an Instagram, TikTok and blog all dedicated to helping people see what is possible in a rental. And a central tenet of her small space design philosophy can be summed up with this important takeaway she shares: "I think people who live in small spaces should try to make their apartments look and feel interesting rather than larger."
Apartment Therapy Survey:
My Style: My style is a mix of free things I found on the street, family heirlooms, and strategic purchases. It culminates into a neutral and cozy yet eclectic vibe!
Inspiration: I get inspiration from everywhere and nowhere. Sometimes, I see something on Instagram that I just have to recreate (like this door casing project other times I'm walking the dog or have a dream about something cool and decide to start another DIY.
Favorite Element: I love my china cabinet. My grandma passed away in October 2020, and this was hers. Something that really helps me as I go through the grieving process is being surrounded by her things. I never imagined a world without her in it, but it is nice to have a little bit of her in my home. I also have my grandfather's cane hanging off my bed. I don't remember him as much since he passed when I was a baby, but everyone talks about him like he was really cool guy, so by extension I'm also cool.
Biggest Challenge: I have an impulse control issue. Once I get it in my head that something needs to change in my apartment, it has to happen immediately. My apartment usually ends up looking better, but then I'm stressed out because I'm doing three DIY projects at the same time. Also, my bank account is begging me to stop going to the flea market. I'm not going to stop, but I want to immortalize my bad spending habits in print.
Proudest DIY: I added black casings to the entryway of my dining room and it looks fantastic. This part of my house has always been boring and I wasn't sure what to do with it until I saw this post by Marienne Sides. I was in love with her NYC apartment and immediately went to Home Depot. I picked up some MDF boards, nails, and paint (I used "Black" by Behr). This is by far my favorite project I've done because I was sure that I would mess it up, lol!
Biggest Indulgence: I'm cheap, but I do believe in investing money on a good couch. I spent $1000 (tax and delivery included) on this velvet green Farlov sofa from IKEA and it was a great decision. It's super deep and has a machine washable cover. Several friends have commented on the comfort.
Is there something unique about your home or the way you use it? My decision to paint the apartment black is pretty different because I live in a studio apartment. I think people who live in small spaces should try to make their apartments look/feel interesting rather than larger. It was a bold choice (that could have gone terribly wrong), but I think it paid off. Oh, I'm also a big fan of painting the ceiling. Mostly because I'm a terrible painter and I think it looks cool.
What are your favorite products you have bought for your home and why? I bought a table/lamp combo at the flea market for $35 and it makes me pretty happy. The lamp shade is a super dated accordion style and everyone who visits hates it, but I think it's great. And the pink peel and stick wallpaper in the kitchen is a fave! I've always been in love with pink kitchens, and I'm thrilled I have one of my own.
Please describe any helpful, inspiring, brilliant, or just plain useful small space maximizing and/or organizing tips you have: This may be played out as advice, but I think IKEA has some of the best storage solutions for small space living. The Stall or Hemnes shoe cabinet is like 8" wide and perfect for an entryway. I'm hiding so much unnecessary crap in mine; I should be ashamed.
Finally, what's your absolute best home secret or decorating advice? I'm on a mission to get people with small spaces to paint them black. I've painted ⅓ of my studio black and it looks great and special. Paint can go a long way to make spaces feel different, but no amount of "Chantilly Lace" is going to make 300 square feet feel like 900 square feet. Make it interesting. Also, don't buy that cheap ass couch!
This house tour's responses were edited for length and clarity.