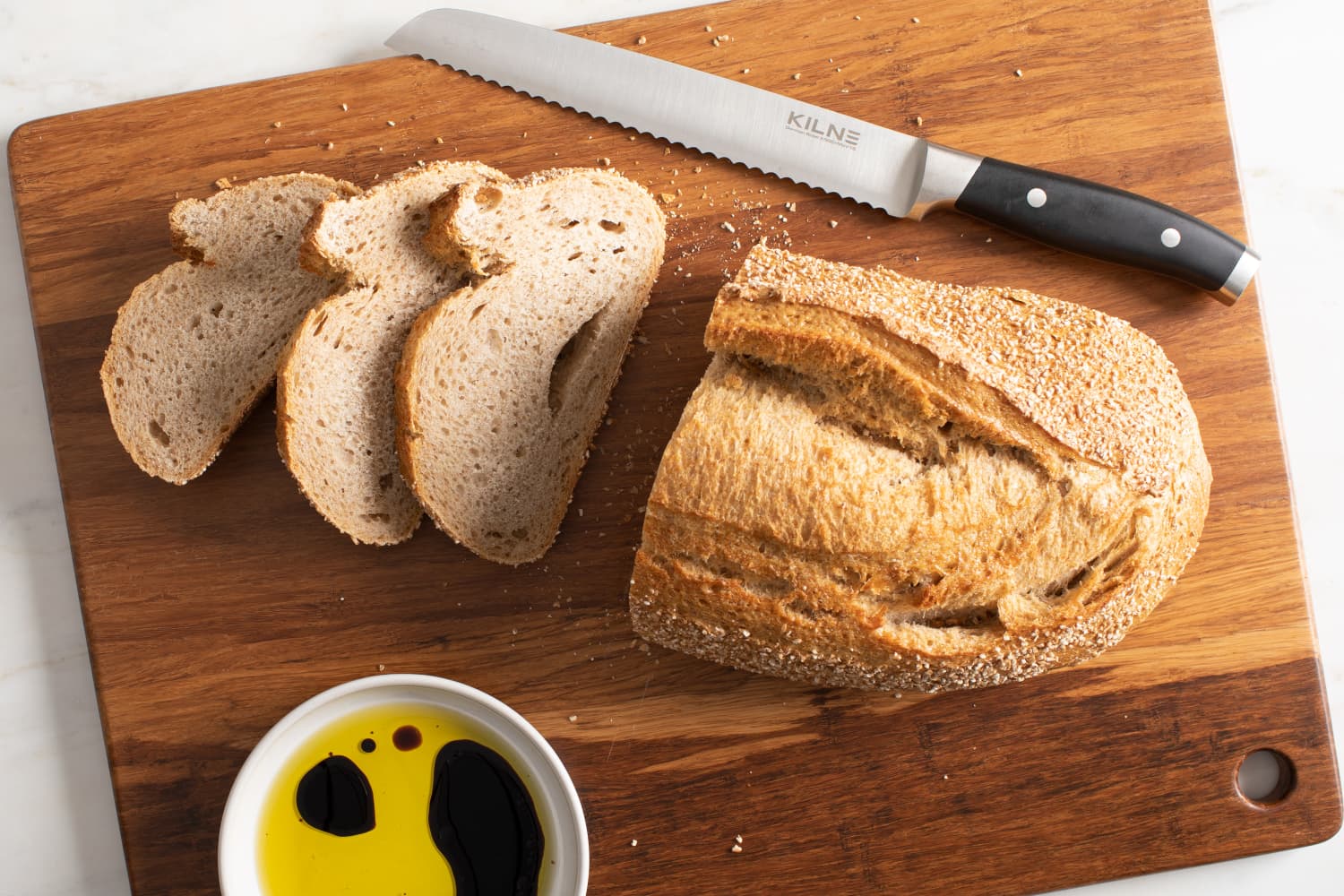 We independently select these products—if you buy from one of our links, we may earn a commission.
In my humble opinion, everyone needs a good bread knife. Here's some backstory from my pastry chef days: Believe it or not, my bread knife was actually one of the most used pieces in my knife roll! Perfect for cutting frozen dough, seamlessly slicing through stone fruits and citrus, delicately halving a croissant, and especially for shaving chocolate, this kind of knife should really be called the do-it-all-knife.
When I'm not baking, my bread knife takes on the tasks of slicing salami, tomatoes, cheeses, hard winter squash, turkey breast, and even avocados. Convinced yet? Good! But hold your horses before you head off to the internet to buy the first bread knife that pops up. One thing I haven't mentioned yet: All bread knives are not created equal. Luckily for you, I've found my favorite bread knife so far. The makers behind our Kitchn Commerce Editor's go-to chefs knife have done it once again. Kilne's durable yet precise Bread Knife is a winner all around with its ergonomic handle, super-sharp blade, and perfect length.
While loads of bread knives will go dull after a short time, this slicer is constructed with German steel meant to maintain its sharp one-sided edge for a lifetime. A serrated knife works so well because the teeth of the knife make small cuts while the space between the tips reduces friction. This Kilne beauty has perfectly arched serration with smaller and more pointed teeth between the divots, so the blade can make its way efficiently and effectively through whatever it is you are slicing.
The balance between the blade and handle feels just right. The blade, coming in at eight inches, is wide enough to slice through any loaf of bread without being unwieldy or awkward in length. And the handle is heavy, but not heavy in a laborious kind of way. In fact, its weight makes using the knife feel luxurious, and sturdy.
Now if you'll excuse me, I have some chocolate to slice. I'm off to make some cookies!