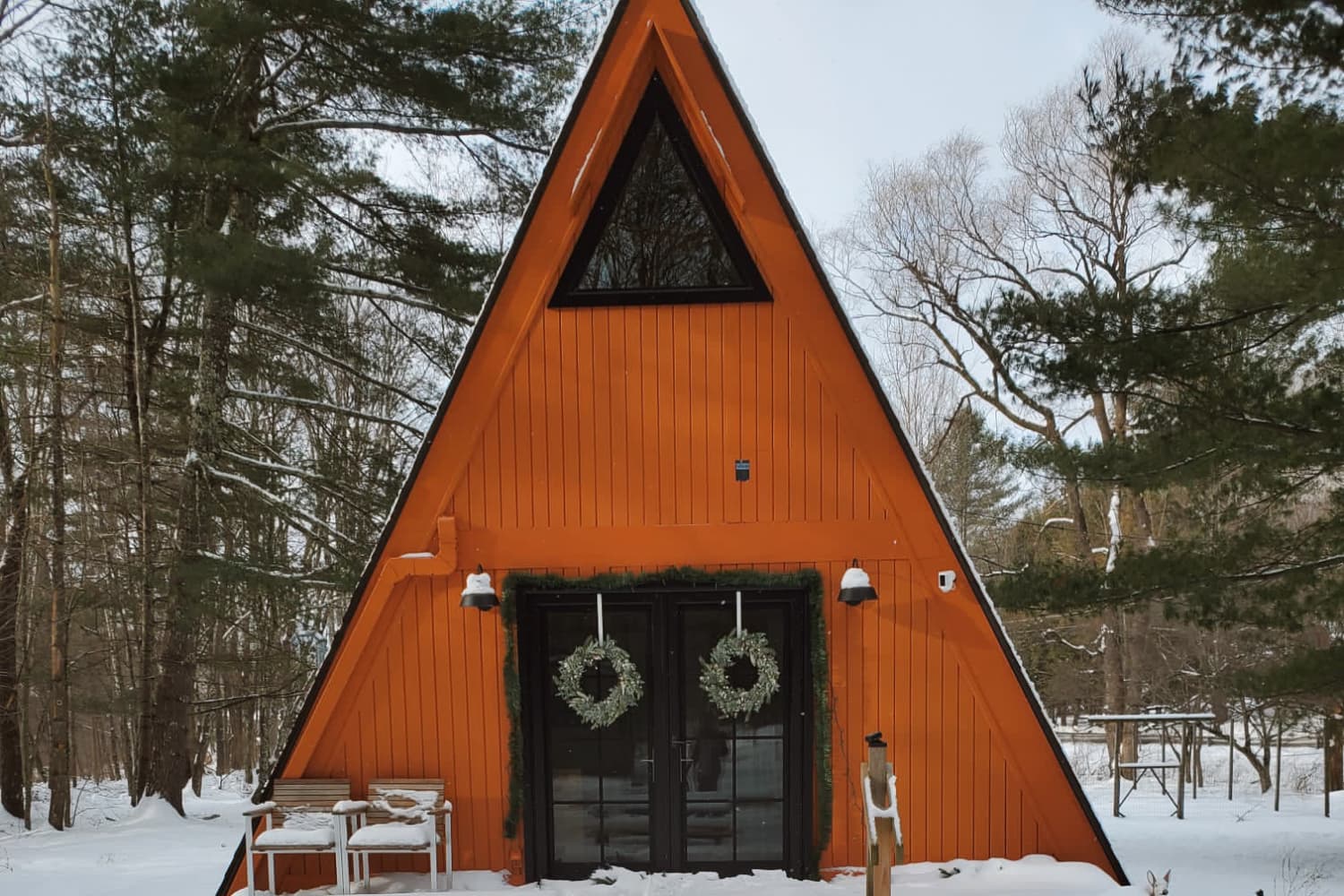 We independently select these products—if you buy from one of our links, we may earn a commission.
Name: Steffy Degreff and Matt Degreff along with our two sons, and our dog Claude
Location: Upstate NY
Size: 800 square feet
Type of Home: Tiny A-Frame home
Years lived in: 1 year, owned
Our home is a 1974 A-frame located in the woods of upstate New York. We fell in love with the shape of the home first, but we also loved the location (it's very central to many of our favorite towns in upstate New York, like Kingston and Hunter. We also love the property that it sits on — a ½ acre of land with a small creek, a large shed, and a gazebo. Our home is on a street that has a wonderful homeowners' group, and we share a common outdoor space with other neighbors a mile or so away that has a swimming hole and a rec room, which is a huge perk!
Apartment Therapy Survey:
My Style: My decor style is always based initially off of a warm color scheme — I usually am attracted to a mixture between mid-century modern and Scandinavian design, and I love to mix woods with interesting textures and too much brown, orange, and green.
Favorite Element: Oh there is SO much. The first thing I love is the bright color of the outside — we intentionally picked something that is loud, since the outside square footage of the home is so small, it was fun to play with that color. I love the cabinet color of the kitchen — "Current Mood" by Clare Paint; in my opinion the perfect green for upstate NY. I also adore the freestanding tub upstairs, along with the triangle window in our bedroom that we added in. The view through the window in the fall is absolutely breathtaking.
Biggest Challenge: Our largest challenge has always been the shape of the A-frame roofline, and the nature of an A-frame home having few internal walls and very little insulation. Every oddity we've done is due to the shape of the home. To list a few — when we added out upstairs bathroom, the only wall that the toilet could sit on was an exterior wall. So there's a toilet near our exterior door. But it was the only option! We also have a pipe that is along our exterior wall that became an issue in winter with freezing, because the insulation is so thin on A-frame exterior walls. Every piece of furniture was picked with the pitch of the roof in mind, and we had to build out dummy walls to create a flat surface to mount our pedestal sink and A/C unit to in the upstairs room.
Proudest DIY: I think I am most proud of the marble countertop DIY — it looks soo real and has held up so nicely!!
Biggest Indulgence: The largest cost was for replacing the windows and doors, and it was 100 percent worth it. It modernized the entire look of the home, and it also helped with a lot of the seals in the winter.
Is there something unique about your home or the way you use it? We found a way to fit laundry into our second bedroom in the closet! We ordered Bosch units that are only 24 inches wide!
What are your favorite products you have bought for your home and why? I absolutely love all of the EQ3 furniture we added to the space — it is so sleek and modern, and really looks great with the white painted wood-look. The table is a nice light-colored wood, and their swivel chair has such a gorgeous Scandinavian look to it.
Please describe any helpful, inspiring, brilliant, or just plain useful small space maximizing and/or organizing tips you have: Our best tip is to consider wall space your friend for hanging things. We have a little ledge and some wall space in our kitchen that we use to hang pots and pans, and we store our silverware in little mason jars in a place where they're out. We also only have what we need — we only have four towels, and four pieces of silverware — one for each of us!
Finally, what's your absolute best home secret or decorating advice? Never walk into a store blank — I always have an idea or inspiration in mind! If I mindlessly purchase something without a place for it to go, it never ends well!
Thanks Steffy and family!
This house tour's responses were edited for length and clarity.