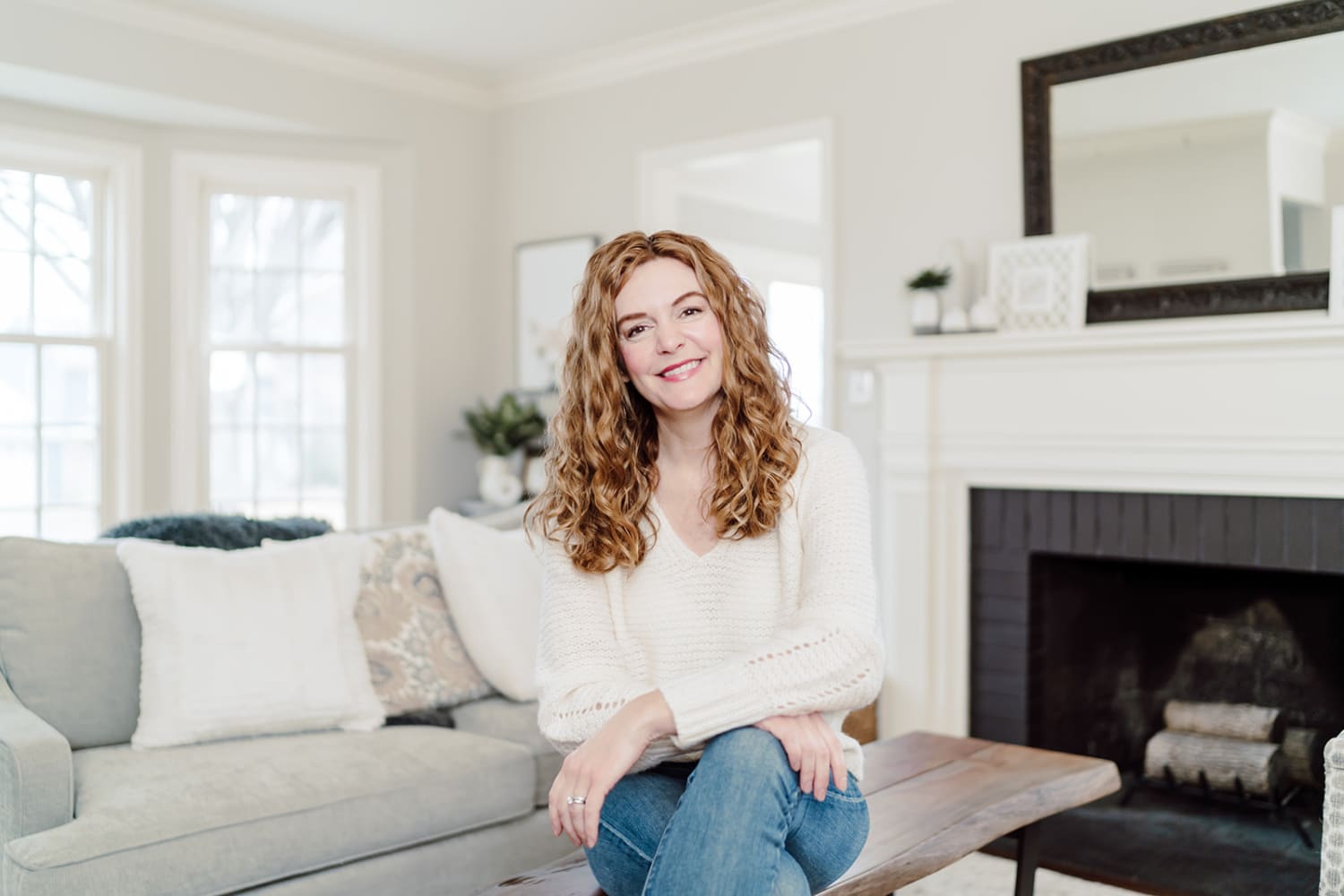 We independently select these products—if you buy from one of our links, we may earn a commission.
Name: Michele Vig, husband, kids, and Piper Mueller (our sweet cavapoo)
Location: Edina, Minnesota
Years lived in: 17 years, owned
Starting the year off by touring the homes (and drawers, pantries, closets, and more behind-the-scenes spots) of professional organizers, small space dwellers, and other design experts has become a tradition on Apartment Therapy. After all, how your home functions is just as important as how it looks, and I personally never tire of seeing how the pros organize their spaces. You can find great home tours and even greater organizing advice from this year's fresh crop of inspiration (and catch up on last year's tours) all on this one page: Professional Organizer Home Advice.
Michele Vig is the founder and chief organizer of Neat Little Nest, as well as the author of "The Holistic Guide to Decluttering." She shares this comfortable and calm house in Minnesota with her family. "My husband and I were looking for an older home with character when we started the search for our current home," she writes. "We were buying in a particularly hot market in 2007 when homes were selling in 24 hours well over asking. While the house we purchased did need a lot of work on the exterior and updating inside as well, we fell in love with the charm of the hardwood floors and the large crown moldings. Our home was built in the 1940s, so as we renovated, we wanted to keep in the spirit of the original home to hold onto the character. The first major renovation was on our main floor when we gutted the kitchen and resurfaced all the hardwood floors. That continues to be one of our most loved projects.
Apartment Therapy Survey:
My Style: Comfortable + calm.
Inspiration: I get inspiration from a variety of places. I've always loved sifting through magazines like Martha Stewart and HGTV for inspiration. I also find a lot of inspiration on Instagram accounts with Scandinavian design and home stores like West Elm and Pottery Barn along with small boutique stores in cities in Minneapolis as well as on my travels. I love to search out and find makers on Etsy showcasing their craft as inspiration as well because I'm drawn to handmade, one-of-a-kind items alongside more mass-produced pieces.
Favorite Element: My favorite thing about my home is the overall feel of being calm, cozy, and peaceful. This is in part due to a lot of creams, natural stone, natural wood, and bringing my love of nature indoors with plants.
Biggest Challenge: Our home was built in the 1940s, so we have smaller bedrooms for our children, small closets, and small bathrooms. The way we overcame these challenges of small bedrooms for our children was to remove dressers from the room and get custom closets created. Custom closet systems allow you to maximize every inch available to you, which is necessary in small space. Not having dressers in their small rooms was a game-changer in the feeling of space available to them.
Biggest Indulgence: Our biggest indulgence in our house was a custom kitchen table that was handmade from an old farm fence. We waited almost four months to get it and it was worth all the time and money we invested in it. We love that we were able to reuse old materials while adding a beautiful piece to our home.
Is there something unique about your home or the way you use it? The one unique thing about my closet is that it is also an office, so really, it's a cloffice. When I left corporate America to start Neat Little Nest, I started working in the basement at the DIY double desk I created, but I found it too depressing to work without being near light and windows, so we transformed my closet into an office, and it is working out very well. Through the transformation I learned that I'm able to stay stylish on much less clothing and it makes getting ready much easier.
What are your favorite products you have bought for your home and why? Recently, we purchased new utensils in our kitchen along with a small wooden tray to hold oil, vinegar, and salt + pepper by the sink. We took our time to find utensils that both looked nice and were highly functional. These are my favorite products because we were intentional when we bought them, and they have been such beautiful and hardworking pieces in a space that we use day after day. To me, I'd rather have fewer items that I really love than a lot of things that are just meh.
Please describe any helpful, inspiring, brilliant, or just plain useful small space maximizing and/or organizing tips you have: Decluttering is the key to maximizing any space, large or small. By taking the time before you organize anything to declutter and ensure that you want or need the items is essential. Then, the second most important step is to designate a "home" for everything you own. Without a home, items tend to just get put down anywhere and clutter is the result.
Finally, what's your absolute best home secret or decorating advice? My best secret to keeping my home looking nice and tidy is a weekly reset. We've been doing a weekly reset in my home for almost 20 years. The weekly reset is one day a week, for us it is Sunday, where everyone in the family participates to put everything away that's not in its "home," we clean high-use areas, and we prep ourselves for the week ahead by reviewing our calendars, stocking our pantry, and prepping food that we might need. The process is more of an art than a science as we don't use a checklist, but it's essential for us to keep balance and peace in our home and in our hearts.
This house tour's responses were edited for length and clarity.