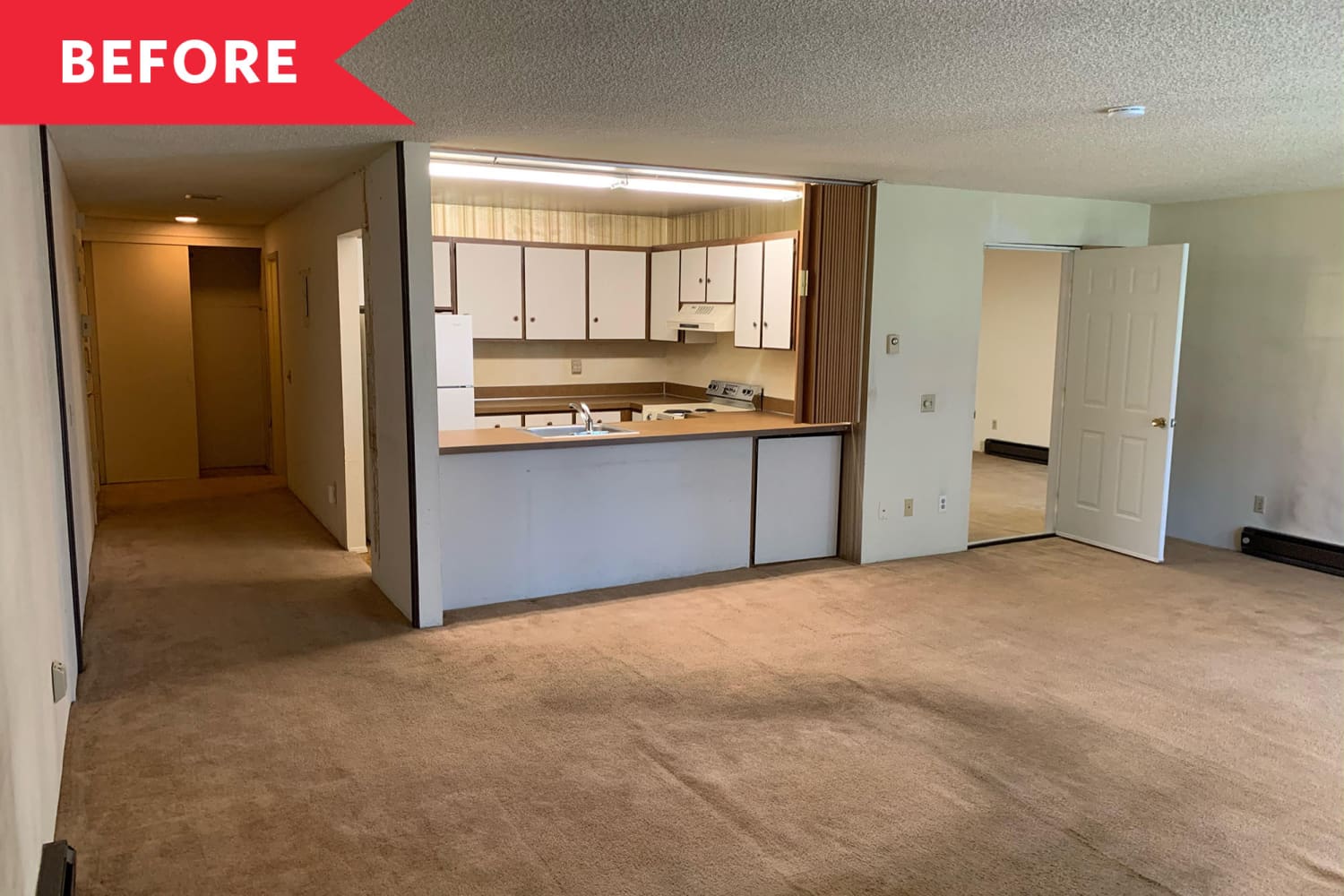 Sometimes, a home can look so drab and dated that it seems beyond saving — to the untrained eye, that is.
Seeing past the surface flaws to a property's true potential is an essential skill for a successful flipper, as Ann Carson, who co-owns Flipping Seattle with her husband, Scott, will tell you.
The Redmond, Washington, condo that the pair purchased was immediately off-putting. Because the former owner, who had lived there for decades, was a smoker, the smell of cigarettes permeated the entire two-bed, two-bath space, and all the surfaces were stained yellow from nicotine.
Plus, the 1,140-square-foot home was built in the '70s and had never been updated. Translation? Popcorn ceilings, laminate countertops, and fluorescent lighting abounded.
"The goal was to gut the entire condo and make it as close to brand new as possible," Carson says. "We wanted to give the next owner a fresh new place with all new systems, surfaces, and spaces."
In addition to cosmetic changes, they even went as far as replacing the drywall and insulation to make sure no odors lingered.
One particularly challenging space was the kitchen, which was quite small. "It was what we call a 'one-butt' kitchen," Carson says. "That means only one person could fit in there at a time."
However, due to condo rules, they couldn't enlarge the space structurally, instead relying on design choices to make the space as bright and open as they envisioned.
By strategically replacing the appliances and cabinetry, Carson was able to expand the usable space in the kitchen by several inches. "It may not seem like a lot, but it was well worth it and gave the kitchen a better flow with more room and space between appliances," she says. Best of all? "We made it a two-butt kitchen!"
Light oak hardwood floors replaced the old flooring in the kitchen and everywhere else, and dated wallpaper made way for light greige walls and crisp white trim.
For a modern look, the old cabinets were swapped out for white shaker cabinets with sleek new hardware. By extending the cabinetry all the way to the ceiling, Carson expanded the amount of storage space while creating the illusion of additional height.
One benefit of the kitchen being so small was that they could spring for some high-end choices to give the space a luxe feel, including quartz countertops and a suite of full-scale stainless steel appliances.
On the bar, where the kitchen opens onto the living space, Carson created a counter overhang that can fit stools for additional seating. Previously, the bar area featured a brown accordion divider that extended to close off the kitchen. Clearly, that relic of the '70s had to go, which opened the space up even more.
Finally, the fluorescent fixtures were swapped for recessed lighting — further shedding light on this dramatic floor-to-ceiling transformation by Flipping Seattle.