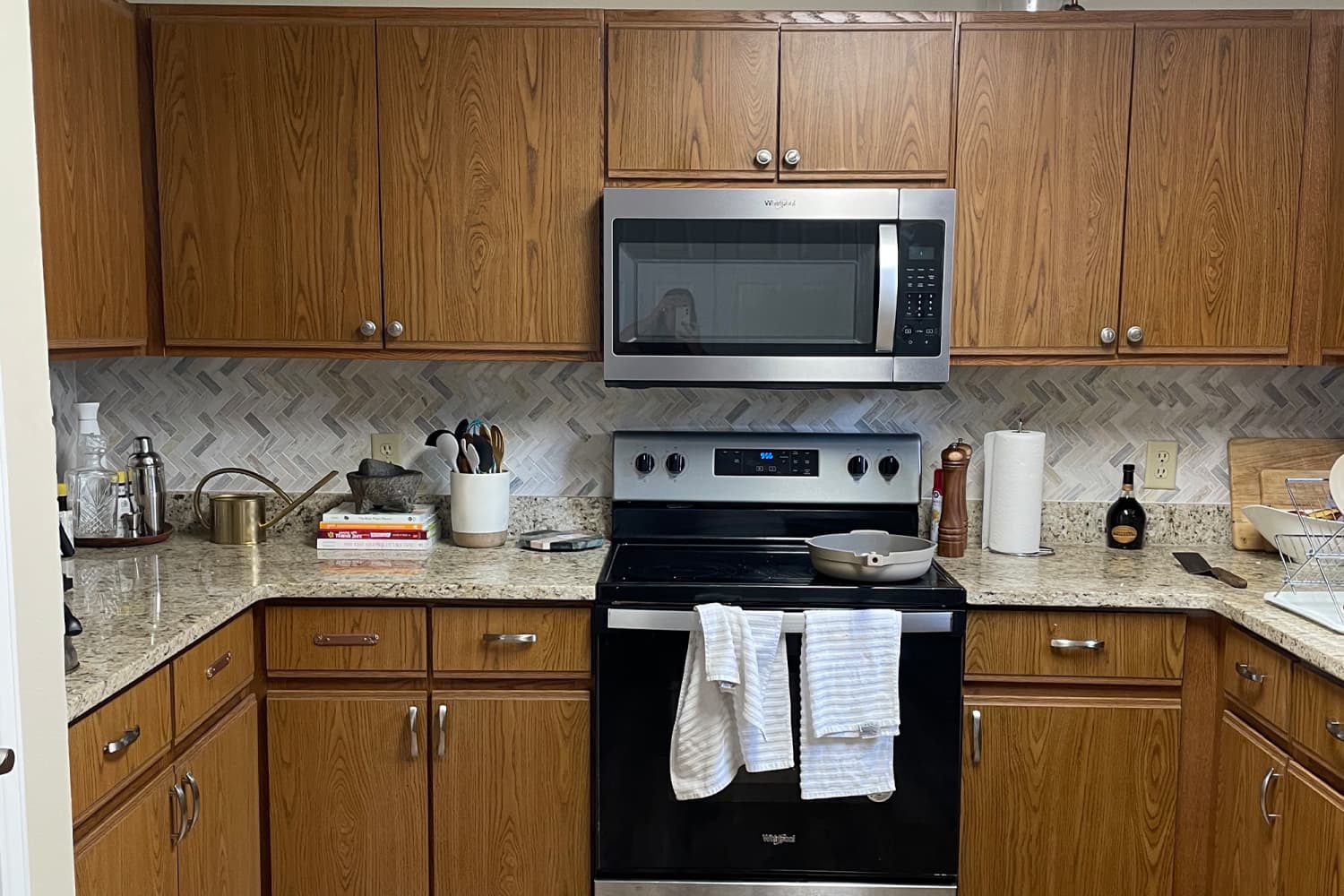 We independently select these products—if you buy from one of our links, we may earn a commission.
Designer Cailey Damron of Corio Design House can remember the exact moment when she knew her Florida kitchen needed a gut renovation. "I was cooking breakfast and went to grab a spatula from the utensil drawer when the entire drawer suddenly fell out," she says. "Since interior design is my full-time job, I decided to use it as an opportunity to design a space I truly loved and to find local tradespeople I could collaborate with on future projects."
While the cook space was technically still functional and the u-shaped layout totally worked, the home's previous owner had skimped on upgrades, and the appliances and finishes were definitely dated. "The before was a little brutal, to be honest," says Damron. "Thirty-year-old laminate cabinets just do not function well at all. The investor that 'updated' this home before we moved in chose the least expensive backsplash and countertops to add to the space and called it a day."
As a designer and a home cook, Damron wanted more for this space on all fronts. So when that drawer fell out, it was go time. Her goal? Carrying the neutral, tonal, and serene palette she employed throughout the rest of her home into the kitchen to DIY the warm minimalist cook space of her dreams. She kept the flooring and worked the quirky octagonal window onto the sink wall into her design plan, which included all new finishes, fixtures, and appliances.
First, she and her husband demoed everything and then scraped the popcorn ceiling before sanding it and filling the pot marks with joint compound to smooth it out before repainting it. Then, they hired an electrician to remove the overhead fluorescent lighting, replacing it with recessed cans for a more modern look. Then came the cabinetry selection. Instead of going the super-pricey custom route, Damron chose prefab white Shaker-style base cabinets, which arrived just in the nick of time — a mere 24 hours before the countertop template-measuring was scheduled to take place. "My husband and father-in-law pulled an all-nighter to install these cabinets so we didn't have to push back any other tradespeople!" she says.
Once the dark, soapstone-like quartz countertops were in place, Damron turned her attention to the top half of the kitchen, which she planned on keeping light, bright, and airy for contrast with floating white oak open shelving, a tile backsplash, and off-white paint. Here, two of her favorite details shine: the Kelly Wearstler Node Sconces that flank her concealed range hood, which together create a strong visual focal point in the cook space, and the Bedrosians tile backsplash. "I love that the color has a slight variation from tile to tile, giving it a handmade, organic look," she says of tiles, which are laid in a modern stack-bond configuration.
As far as words of advice go, Damron says to always consider how you use your kitchen when designing your space and to be honest with yourself. "For example, open shelving is beautiful, but it's not for everyone," she says. "If you have young children or if you don't feel like having your dishware displayed, perhaps opt for closed cabinetry." She also always suggests hiring licensed pros, like electricians and plumbers, if necessary for your scope of work.
From start to finish, the entire kitchen project took about six weeks, and Damron couldn't be happier with the results. "I love the simplicity of the finished look — it feels uncluttered, neutral, and modern," says Damron. "The white oak shelving adds a warmth that only natural materials can bring, and the styling ties it all together."