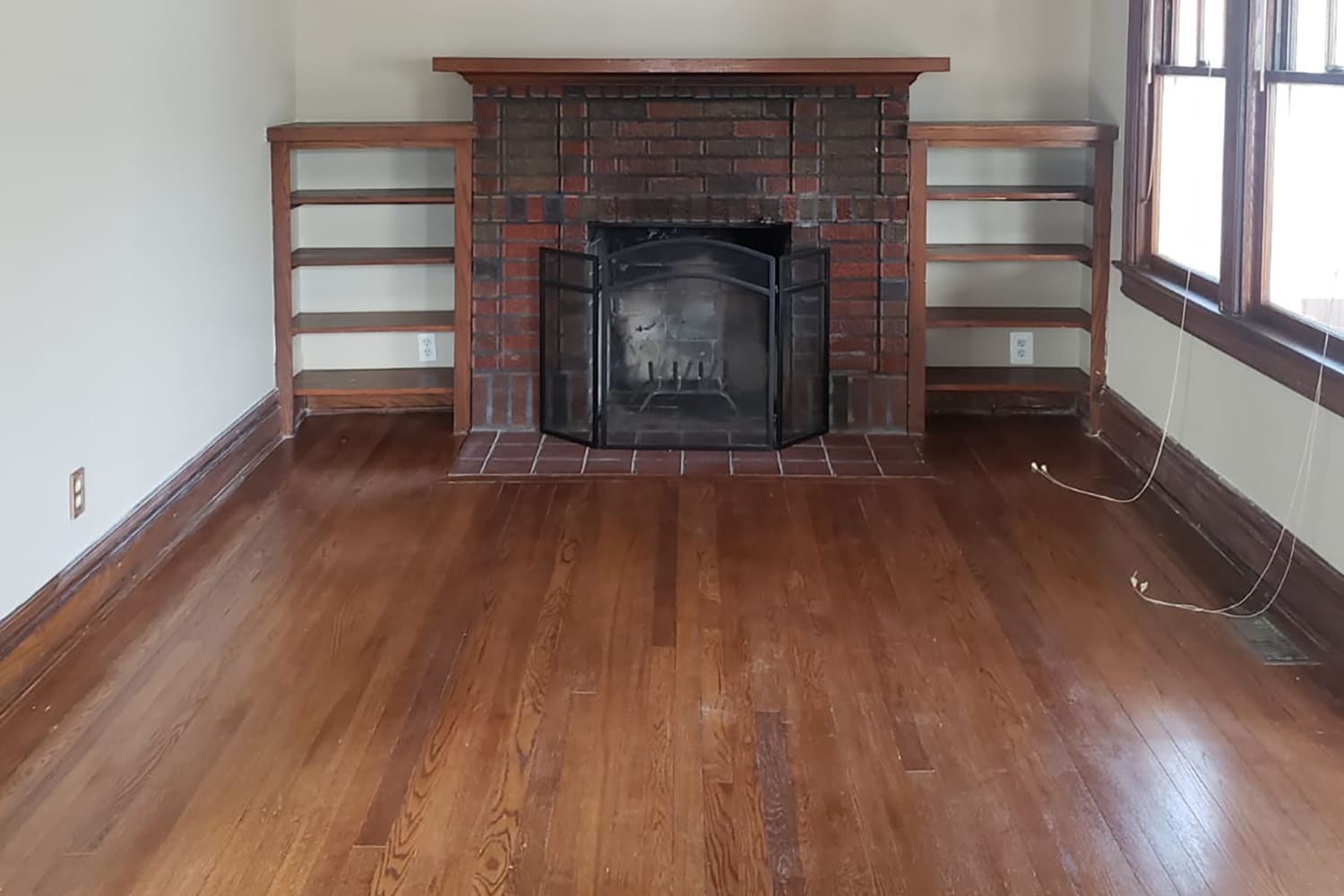 We independently select these products—if you buy from one of our links, we may earn a commission.
Name: Jaclyn Isaac and Anthony Frasciello and two dogs, Doni and Daisy. (We are both born and raised in New Jersey and this is our first beach house renovation.)
Location: Located on the Jersey Shore in the coastal community of Lake Como, New Jersey
Size: 1500 square feet
Type of Home: Two family-style beach bungalow home built in 1925
Years lived in: 2 years, owned
I'm a beach girl at heart so I've always wanted to own a bungalow within walking distance to the beach. My husband and I just renovated and sold a 1899 colonial in Northern New Jersey, so this beach bungalow at the Jersey Shore became our next renovation project. The home is only a 5-minute walk to the beach, and is located right near Lake Como, New Jersey. We enjoy entertaining family and friends during the summer at our beach bungalow.
The bungalow is a good example of high/low style, vintage/antiques mixed with West Elm, and some luxury brands. Originally a two-family home built in 1925, it underwent a major renovation, including: a remodeled first floor bathroom, new lighting added, the entire place painted, all windows replaced, new countertops added, and the wood floors polished. On the second floor, we did a kitchen remodel with custom backsplash inspired by the sharp angle of the home's roof line, refinished floors, painted all the rooms, and added new lighting.
Some design details that make this project pop include the raffia lighting over the kitchen table looks like a little straw beach hat, and wild jungle chairs in the living room. The mosaic Tilebar "Phantasm" backsplash in the upstairs kitchen was a complex, custom, day-long install and plays off the sharp angle of the roof line. And the porch walls and ceiling were painted in one color (Benjamin Moore's "Etiquette") to unify the space and add depth — the color even matches the surfboard in the kitchen.
Apartment Therapy Survey:
My Style: My decor style is a mix of classic elegance meets vintage meets young, fresh, funky, and fun. The interior vibe can be described as a mix of mid-century modern, vintage, and bungalow chic. The interior color palette combines warm woods like oak and walnut, mid-century olive and orange, with a clean cream base and a dash of a vintage ocean spray blue.
Inspiration: I'm inspired by travel and makers. Almost always Italian and Art Deco. Antique and salvage yards are definitely big sources of inspiration, too. The beach bungalow is a good example of high/low style, vintage/antiques mixed with some high end brands.
Favorite Element: My favorite room is the sun-drenched porch where I created a cozy nook for morning tea time. I consider myself a tea connoisseur and wanted a quiet relaxing space to reenergize for the day ahead.
Biggest Challenge: The mosaic Tilebar "Phantasm" backsplash in the upstairs kitchen was a complex custom week-long install and plays off the sharp angle of the roof line. It was difficult to plan and design around the angled roofline in this 150-square-foot tiny kitchen space.
Proudest DIY: We salvaged and reglazed a super heavy cast iron tub.
Biggest Indulgence: The "Phantasm" mosaic kitchen backsplash tile was our biggest indulgence both in time spent planning and executing as well as the cost. It was totally worthwhile since we now have a "design moment" or focal point in an otherwise small and simple space.
Is there something unique about your home or the way you use it? We turned a portion of the living room into a bar for additional entertaining space.
What are your favorite products you have bought for your home and why? Raffia lighting over the kitchen table looks like a straw beach hat and is a perfect fit for the fun beach vibe. Wild vintage jungle chairs in the living room and leopard print chairs on the porch are an extension of my inner '70s bohemian sense of style.
Please describe any helpful, inspiring, brilliant, or just plain useful small space maximizing and/or organizing tips you have: Maximize storage space with furniture pieces that offer multi functional benefits, such as built-in cabinets, multi-level tables, and ottomans and banquettes with hidden storage features.
Finally, what's your absolute best home secret or decorating advice? Choose one color to unify a small space while still adding depth.
This house tour's responses were edited for length and clarity.