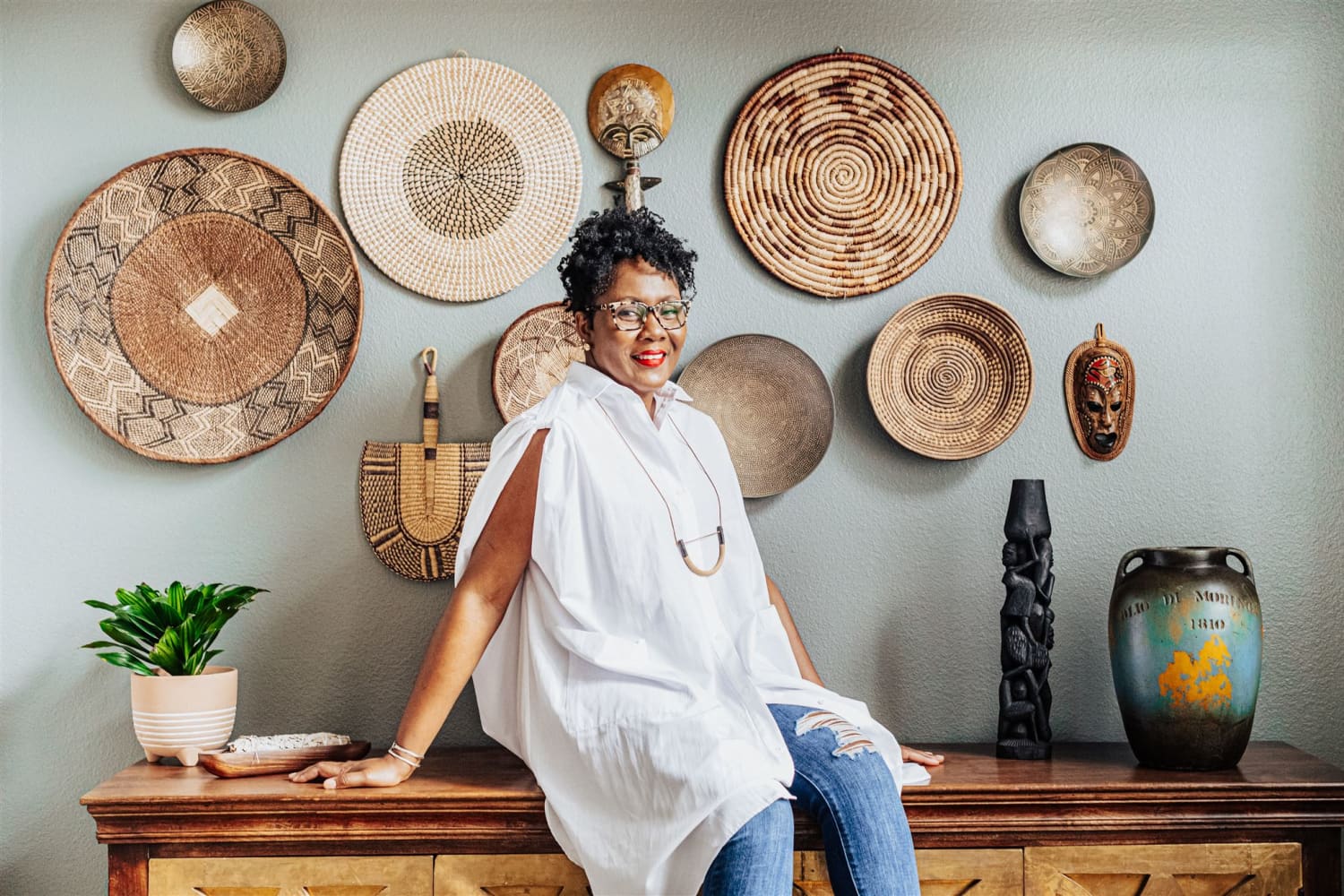 We independently select these products—if you buy from one of our links, we may earn a commission.
Name: Jennifer and Tony, with sons Alton, Aiden, and Sean, and with Silver (our bossy 2-year-old tabby) and Kobe (our tank of a dog, he is a tri-bully)
Location: San Diego, California
Size: 2.656 square feet
Type of Home: House
Years lived in: 4 years, owned
Starting the year off by touring the homes (and drawers, pantries, closets, and more behind-the-scenes spots) of professional organizers, small space dwellers, and other design experts has become a tradition on Apartment Therapy. After all, how your home functions is just as important as how it looks, and I personally never tire of seeing how the pros organize their spaces. You can find great home tours and even greater organizing advice from this year's fresh crop of inspiration (and catch up on last year's tours) all on this one page: Professional Organizer Home Advice.
Jennifer Du Bois, CEO and Lead Professional Organizer of Organized by Jen D, says she and her family found their home by accident. "We were selling our former home and needed to be away for a few hours for an open house. Usually we would head to our favorite park or a neighborhood restaurant for a bite to eat. However, we decided to find another park that day. We already had a new house in mind, so we had no intention of going house-hunting," Jen describes. "On our drive, we noticed an open house sign, went in, and knew instantly that this was going to be our next home. We fell in love with the high ceilings and the amount of light that was coming into the front room."
"Our home is in a very hidden area in our neighborhood, really quiet and tucked away," Jen continues. "One of my favorite things to do in my home is make breakfast for my family, really early in the morning, before they wake up. This was something my grandmother did and it made me feel so loved. I love sharing that with my family."
Apartment Therapy Survey:
My Style: I am not quite sure. The best way to describe it is eclectic, transitional with African influence.
Inspiration: My inspiration comes from my family's Afro-Caribbean roots.
Favorite Element: My favorite feature in our home are the high ceilings and windows in the front room. These were the features I fell in love with at first and are still my favorite today.
Biggest Challenge: Our home has the teeniest linen cabinet (yes, not closet — cabinet). Way too small to accommodate linens for four bedrooms. We keep no more than two extra sets of linens per bed and use duvet covers. I also like to fold the linens into bundles; this is a real space saver.
Proudest DIY: I stained our banisters! When we moved in they were a horrible orange wood color. I stained them within the first month of living in the home.
Biggest Indulgence: Our biggest indulgence is our kitchen. We recently had our cabinets refaced, installed new countertops and backsplash, and purchased new appliances. It was soooo worth it! I love being in our kitchen; it is bright and has just the right amount or personality.
Is there something unique about your home or the way you use it? My home office is at the bottom of the stairs.
What are your favorite products you have bought for your home and why? Our oversized sectional sofa. As I mentioned previously, it is way too big for the space. But it is the perfect size for family lounging! We have adult children and grandchildren and it is big enough to accommodate everyone for movies and snacks on the couch.
Please describe any helpful, inspiring, brilliant, or just plain useful small space maximizing and/or organizing tips you have: Go up! Use available vertical space to store items. You can use furniture like tall cabinets or floating shelves. Organizing products that stack are another good option. I do recommend selecting ones that allow easy access to the items you are storing, like the Drop Front Shoe Boxes from The Container Store. Wall hooks are great too — they can be used to store items like hats, purses, or cookware.
Finally, what's your absolute best home secret or decorating advice? Interior design trends are fun and provide inspiration to keep your spaces fresh. However, don't always go literal — put your own spin on the trends. Example — I love seeing displayed cutting boards in kitchens. I opted not to do that in our kitchen. Instead, I added a wooden tray and cake stand. This brought the warmth that the boards added but were more in line with my personal taste.
This house tour's responses were edited for length and clarity.