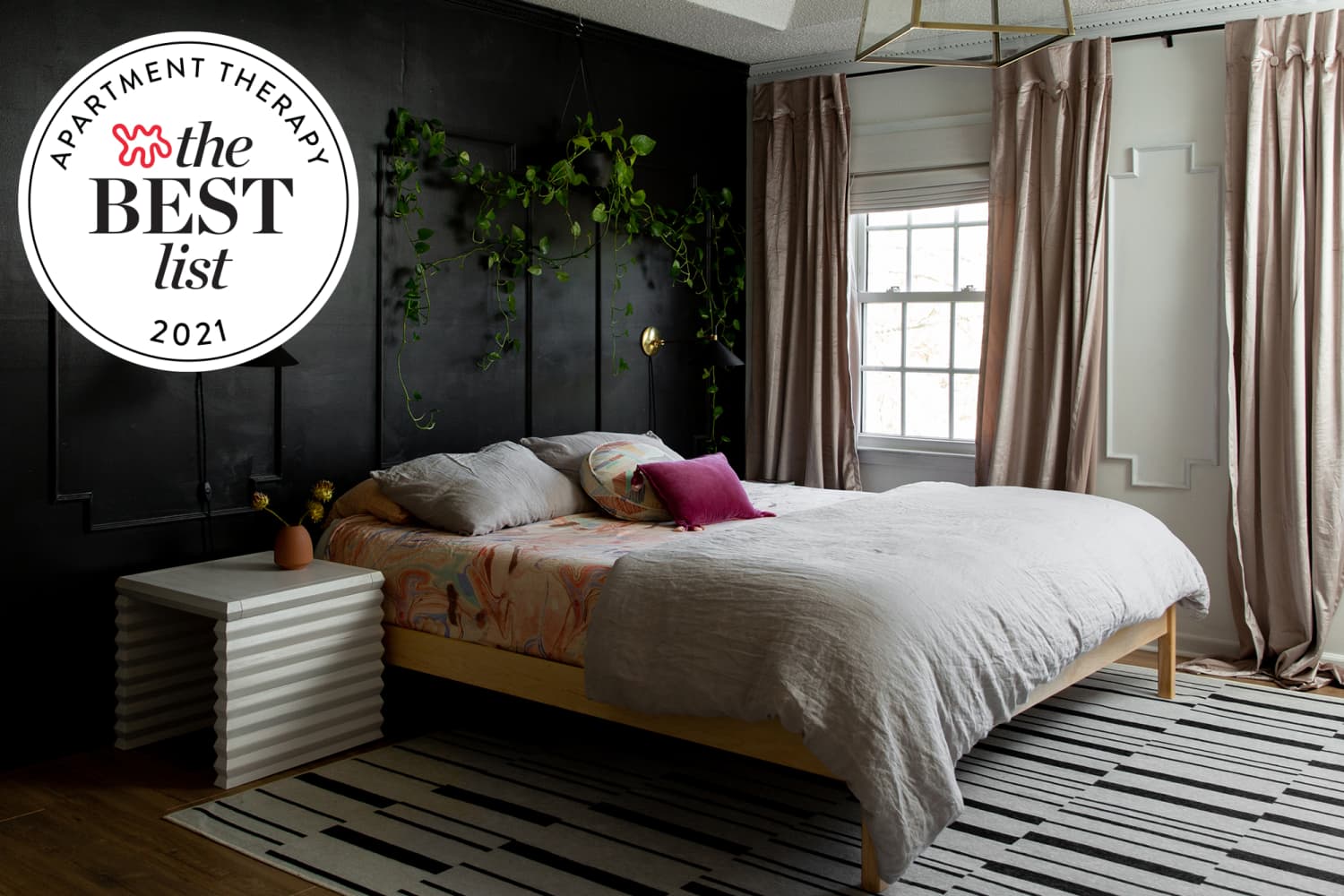 We independently select these products—if you buy from one of our links, we may earn a commission.
Some love them, some hate them, but if you sleep hot, have a hefty electricity bill because of drafty windows, or simply can't seem to catch enough winks, blackout curtains could be your new best friends. They serve a variety of purposes, from blocking out unwanted light to insulating the heat or AC in your space, and can save money, energy, and you from sleepless nights. Blackout curtains can also keep your home cooler during warmer months, which is beneficial if you're gone during the day and would prefer not to walk into a home that feels like it's been slow roasting for eight hours. Another huge plus, which can't necessarily be said for other highly functional home essentials, is that blackout curtains pass primarily as decor statements, adding to a room's design rather than taking away from it. We're big fans, so we put a range of blackout curtains to the test to find the best of the best.
The Best Blackout Curtains
What to Consider When Shopping for Blackout Curtains
What's your main goal? Are you mostly interested in blocking out light or insulating your space? Are you hoping to use the blackout curtains on their own or to layer behind sheer or decorative curtains? Do you want them to absorb outside noise as well? Take stock of your priorities and read on to determine your best approach to shopping for blackout curtains.
First things first: Blackout curtains should be able to do as their name suggests and keep natural light from shining through. Beneficial for nurseries, home theaters, and your dream home in the Arctic Circle, blocking out light can help you and your family stay on consistent sleep schedules, let you enjoy movies sans glare, and even customize and redirect the lighting in your home. Want to hang an investment painting but you're afraid the noontime sun rays from the adjacent window may damage it over time? Blackout curtain. Have a fabulous accent wall you want to direct rays to during golden hour? Blackout curtain, drawn halfway.
It could be time to face the fact that your windows aren't impenetrable shields between you and the outside world. Whether preventing cool winter drafts from creeping in or precious heat and AC from slipping out, blackout curtains add a weighted, usually thick layer of insulation. If this is your goal, consider curtains that fall to the floor, fully closing in around the window for optimal fortification (of your home and bank account, considering the money you'll save on electricity bills). Blackout curtains can also insulate your home from outside health hazards like seasonal allergens, urban pollution, and smoke.
That's right — you can even use your curtains to block out or lessen outside noise. Not only does this add to their function in home theaters, but it can also mean the difference between a comfortable night's sleep in your small city apartment and moving out of your urban abode entirely. Keep honking cars, music, and voices to a minimum without raising the volume of your sound machine, and keep your space as private as you like.
The material you'll mostly see when it comes to blackout curtains is polyester or some sort of blend. It can be crafted to meet the specific needs of the curtain's design and tailored to be more sound- and/or light-proof. Polyester can also yield durable and shiny velvets, among other luxe materials, for a beautiful look that's also easily washable — essential if you're simultaneously blocking out pollen or pollution.
Curtains aren't cheap, especially those of high quality or longer lengths. Polyester tends to bring the price down a bit, but expect to pay between $35 to upwards of $200 per panel for long, high-quality blackout curtains that will last. That said, this isn't the case for our best overall pick (more on that below)….
What We Look For in Blackout Curtains
We tested a wide range of blackout curtains and judged them on the following criteria:
The Best Blackout Curtains
These are the real deal when it comes to achieving, as the name suggests, total blackout in any room. Not only do the SUN+BLK 100% Recycled Total Blackout Curtains win our best pick overall, but they also happen to be our favorite budget-friendly pick. In testing, we were so impressed by their ability to block natural light that we even draped a panel directly over a forcefully bright spotlight, the bulb of which shouldn't be looked at with the naked eye, and there wasn't even a sparkle detectable behind it. These aren't any heavier than your average curtain — in fact, they may even be lighter weight — nor do they have that unappealing plasticky look or feel typical of inexpensive curtains. On the contrary, they are among the most attractive blackout curtains we tried. They are backed with an extremely thin and flexible layer of foam, which absorbs any and all light rays from behind while allowing the recycled polyester outer material to remain lighter in color. Forget draping big, dark curtains just for the sake of blocking light — these allow you to keep the integrity of your space's indoor lighting and decor scheme. Lastly, the rod pocket heading allows the curtains to work with your curtain rod's design (especially if you have one made for blackout curtains) without giving way to any sneaky rays that can come through grommets or other heading styles.
Who It's Best For: Those ready to invest in interior design-friendly blackout curtains; those who want a luxe-looking velvet; those who prefer rod pocket headings.
Keeping your precious air conditioning in during the summer months, especially if you leave your home during the day or have south-facing windows that scorch your space with extra sunlight, can save you money as well as keep you comfortable. This is especially important for hot sleepers, but everyone can benefit when the temperatures get high. The HDP Faux Linen Room Darkening Curtains are a wallet- (and environment-) friendly addition to your summer decor, helping to conserve your household energy output by holding cool air in and preventing harsh, hot sun rays from counteracting your AC's hard work. In testing, these effectively blocked sharp rays of hot light, kept our spaces deeply dark at night, and allowed them to be bright and airy during the day. Without breaking the bank, these are some of the chicest blackout curtains on the market, letting you change their hanging style between their rod pocket and back tab features. They wash and dry easily and can even be ironed as necessary, which we love for achieving clean lines and that well-dressed window look.
Who It's Best For: Those who don't want to spend and arm and a leg for a pair of blackout curtains, those who really don't want any light shining through.
Good to Know: To keep the integrity of these light-canceling curtains, HDP recommends dry cleaning only.
Drafty windows are the enemy of anyone who loves a warm, cozy space in the winter. And if you invest in central heating, they can also be the enemy of your bank account. Whether or not you simply get chilly when you sleep, West Elm's Worn Velvet Blackout Curtains are a saving grace during cold weather. These brushed, low-pile velvet curtains have pleated rod pocket headings that give them a strikingly luxe appearance while allowing them to block heat from escaping. After testing for a month in New York City's winter, we noticed our space to be significantly warmer without increasing the output of heat whatsoever. For those who enjoy the historical relic that is radiator heat and don't get to choose your temperature, layering these blackout curtains over strategically opened or closed windows effectively allows you to customize when and where you feel the warmest. We also noticed that the thick hem at the panel's end creates a seal between the window and the floor, making even our floors warmer and more comfortable. The price of each panel is well reflected in its weighty, plush, and glamorously robust look and feel. In testing, the curtains didn't fade, shrink, wrinkle, or otherwise distort after multiple washes, which is necessary since the knit weave — gross as it may sound — collects quite a bit of the pollution from outside.
Who It's Best For: Those ready to invest in interior design-friendly blackout curtains; those who want a luxe-looking velvet; those who prefer rod pocket headings.
Good to Know: We recommend getting the length that allows your curtain to hit the ground rather than hover above it to optimize warmth and prevent any heat from escaping or drafts from spilling in.
What if you need absolute dark to get to sleep but prefer to wake with a touch of natural light? Urban Outfitters' Blackout Pompon Curtain kept the artificial city light and luminous moonlight of the evening out of our space while allowing us to rise naturally with the daylight in the morning — a total win-win. A single, thick layer of woven cotton acts as a soft light filter come daytime but provides sleep sanctuaries with total privacy. As a morning person myself, but only if the sun is up, I personally can't stand greeting the day in a room with zero light, so this curtain became my go-to. Its pompon-edge detailing is cute as well, so I've been able to keep my room decor fun and my sleep schedule on point.
Who It's Best For: Those who want room-darkening curtains that create a blackout experience at night and let you to rise with the sun in the morning.
Good to Know: Getting these curtains in white allows them to filter less daylight while the darker hues and bolder colors do more to prevent unwanted rays.
If you're a highly sensitive sleeper and wake to even slight sounds or visual motion, these deceptively heavy-duty curtains are for you. Beautiful enough to garner compliments (which we shamelessly loved), the linen-looking Peace & Quiet Noise Reducing Blackout Curtains from Pottery Barn are made in a Fair Trade Certified factory and give you three different headings to choose from: rod pocket, back tabs, and the option to clip rings on top. For background, I live above a daycare and have a garden-facing apartment, which means I have gotten to know the barks of my neighbors' dogs just about well enough to be considered fluent. A single Peace & Quiet panel, made from a dense polyester that's both visually and tangibly deceptive, eliminated the barks, bird chirps, and Ring Around the Rosie-ing from my bedroom, restoring my sanity and protecting my landlord from a broken lease. I wasn't kidding when I said a good blackout curtain can make or break your city life experience.
Who It's Best For: Those who want blackout curtains that also reduce noise; those who prefer the linen or natural fabric look.
Good to Know: Pottery Barn has a comprehensive guide to dressing your windows on each product page, from finding the perfect length to listing everything needed for installation.