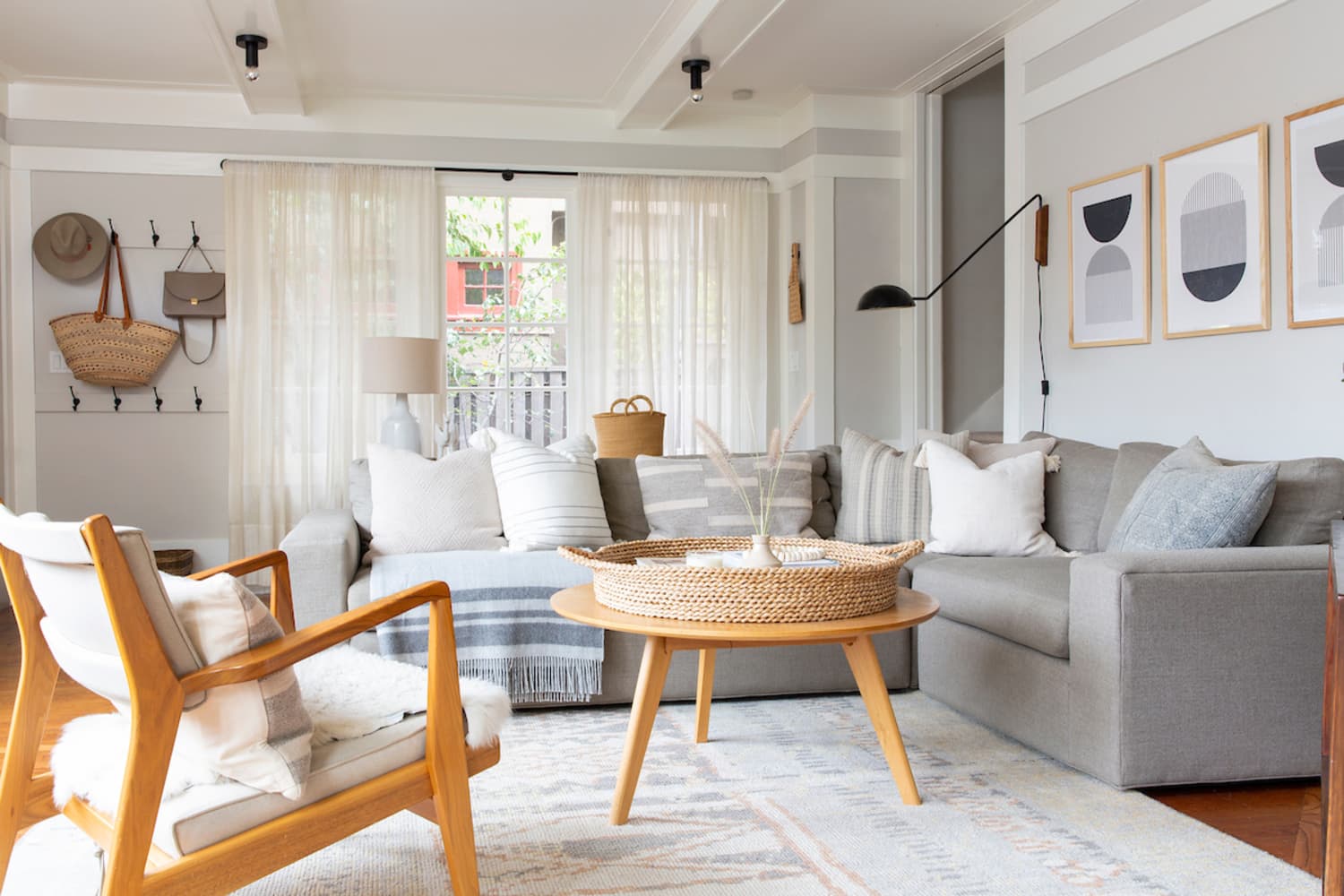 We independently select these products—if you buy from one of our links, we may earn a commission.
Name: Jordan and Shira Gill, our two daughters, and our Australian shepherd, Patches.
Location: San Francisco Bay Area
Size: 1200 square feet
Type of Home: House
Years lived in: 8 years, owned
In professional organizer and design expert Shira Gill's opinion, clutter is a universal stress trigger. Through her lifestyle brand and blog, Shira Gill Home, she shares her philosophies about decluttering and organization, promoting sustainability and ideas that can work with any size space, lifestyle, or budget. And yes, she practices what she preaches in the San Francisco Bay area home she shares with her family. "Our home is filled only with items we need, use, and love. Living with less stuff has enabled our family to host, entertain, and travel with ease and has freed up so much time, energy, and resources for the things we value most — community, contribution, and creativity," she explains of their Craftsman bungalow they were able to buy off market from good friends who were relocated to London. "Our friends could have gotten a lot more for the house had they listed it, so we really lucked out."
Shira explains that when they bought the house, it featured a lot of dark wood and a broken up floor plan, and it took them a bit of time to figure out how to "sort out how to paint, remodel, and make it feel like our own. We wanted a more spacious feeling, so we opened up the walls between the living room, dining room, and kitchen and painted everything white – a controversial move when it comes to craftsman houses, but we love it!" she writes. "We have transformed their house into our very own relaxing, airy retreat."
Shira recently released her first book, "Minimalista," where she shares her five-step process of organization: "Clarify, Edit, Organize, Elevate, and Maintain."
Apartment Therapy Survey:
My Style: Streamlined, airy, comfortable, and minimal. My personal definition of minimalism is not about deprivation or scarcity, but rather, defining what is essential and meaningful to you, and then stripping away the clutter and distraction that stands in the way. Our home is filled only with items we need, use, and love. Living with less stuff has enabled our family to host, entertain, and travel with ease and has freed up so much time, energy, and resources for the things we value most — community, contribution, and creativity.
Inspiration: I find inspiration everywhere! Hotels, restaurants, and cafes, travels, other organizers and designers, and often my favorite small, local shops, like Atomic Garden, Saffron and Poe, The Vintage Rug Shop, The Perish Trust, and Morningtide Shop, to name a few.
Biggest Challenge: Our home was built in 1916 and I love the original details and charm, but two small closets, one postage-sized shared bathroom, and no home office can make family living a challenge for sure! During the pandemic we transformed our concrete patio (with a little help from Yardzen) into a lovely oasis complete with plants, a hammock, outdoor dining, and a quiet place to work. Since we live in California where the weather tends to be mild, I often work and write on the patio instead of wrestling for space inside — it's become like another room in our home!
Favorite Element: I'm a big fan of the layout of our two-story house. Oddly enough, I have always dreamed of a home where the bedrooms were all upstairs and the living space and kitchen were below. I love that we can have dinner parties downstairs while our kids sleep upstairs and not worry about waking them.
Proudest DIY: Hmmm… we do not win awards for this category, but I'm quite proud of how we transformed our kitchen on a budget by removing the cabinets, painting everything white, and replacing the outdated green marble with white subway tile. I had the vision, but thank my talented contractor and team for the execution!
Biggest Indulgence: Probably opening the wall between our dining room and kitchen. This renovation only took a few days and completely changed the flow of the house and how we use the space. We love hosting and gathering with friends, and the open floor plan allows us to cook, prep, and clean up while still being able to socialize with our guests. We lost our microwave and some storage cabinets in the process, but the benefits still outweigh the reduced storage and the one-time investment.
Is there something unique about your home or the way you use it? We keep our small dining room pretty minimal because it is the hardest working space in our entire home. We use it daily for breakfast, lunch, and dinner, but it is also where I take client calls, record podcasts and write, and where my kids do art, homework, craft projects, and games. The built-in cabinets function as our liquor cabinet as well as storage for platters, vases, candles, art supplies, organizing supplies, work and reference materials and our tiny portable printer!
What are your favorite products you have bought for your home and why? Fresh flowers or greens on the nightstand, by the kitchen sink, in the entry — basically everywhere. I love to go to the San Francisco flower market (I go with my prop stylist friend Leila who knows the best stalls) to get wholesale flowers for the whole house every few weeks. I especially love olive branches, bay leaves, or other greens, which tend to be only $5 a bunch!
I also swear by elevating the utilitarian objects we engage with every day such as hand soap, dish soap, olive oil, salt and pepper mills, dish towels, and even your kitchen sponge! I prefer stylish and sustainable options (hold the plastic!) such as glass soap dispensers and wooden dish brushes. My go-to sources include Bliss Haus, June Home Supply, and Williams Sonoma. These simple upgrades are easy on the wallet, instantly elevate your space, and can even brighten your mood.
Finally, this year we installed a fully integrated kitchen faucet and foot pedal from Principal Faucets. The clever design enables you to save tons of water and stop the spread of germs with hands-free functionality. The whole family is in love!
Please describe any helpful, inspiring, brilliant, or just plain useful small space maximizing and/or organizing tips you have: I used to be skeptical about investing in custom closet systems but have found them to be an absolute game changer for maximizing small storage spaces. Our shared primary closet measures just 3 x 6 feet and manages to neatly store all of our everyday clothes, shoes, and essentials thanks to the space-maximizing design from California Closets. Instead of feeling cramped, or space challenged, we are both thrilled with how perfectly everything fits, and how streamlined our space looks. Sometimes we just hang out in our closet for fun. Kidding, it's way too small for that, but we would if we could!
Finally, what's your absolute best home secret or decorating advice? Own less stuff. Editing your home can instantly elevate your space, and also results in less to clean, manage, organize, and care for, and eventually dispose of. Instead of contemplating what you can add, consider what you can subtract.
This house tour's responses were edited for length and clarity.