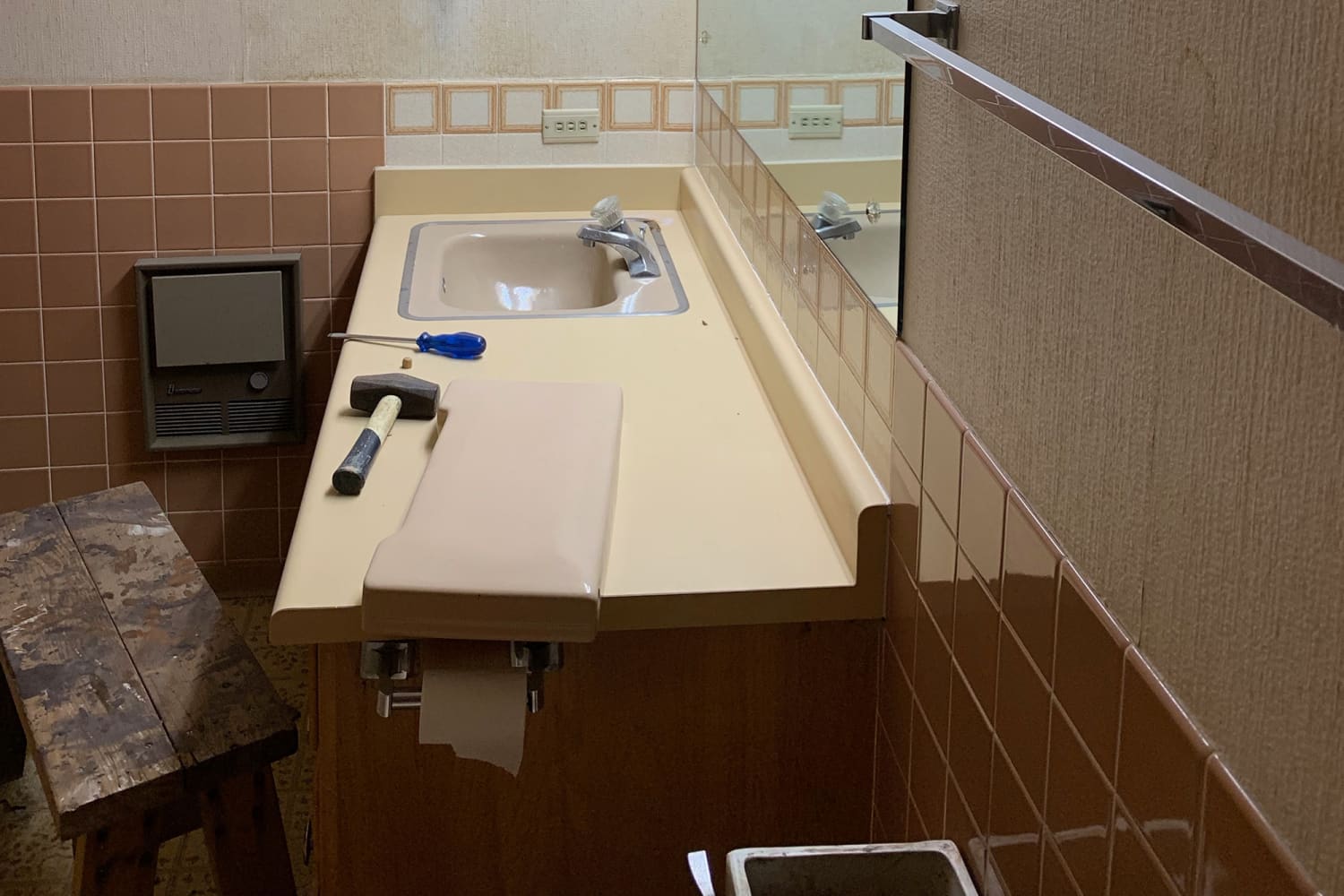 We independently select these products—if you buy from one of our links, we may earn a commission.
For Eva Van Someren (@VanSomeren_Home), her family's 1950s hallway bathroom felt more like a dimly lit cave than a place for pampering.
The bathroom, untouched since the ranch-style home was built in 1957, needed a lot of love. "This bathroom felt really dirty, dark, and dingy," explains Eva. "Let's just say you wouldn't have wanted to take a bath in that tub!"
The photos of the bathroom do it more justice than seeing it in person, jokes Eva. The dim lighting cast dark corners over the space, making it feel small and unwelcoming. It was the opposite of what Eva and her husband, James, wanted for the hallway bathroom that they hoped would eventually be used by future children.
"We wanted a light, fresh, and clean space for them to bathe before bed or get ready for the day," Eva says. She and James tackled the bathroom renovation with the help of James' father, Terry, and brother, Nick, who are both tradesmen. The project took a month and a half, and the couple renovated it completely before moving into the home.
During the project, one of the family's most inspired ideas was to open up the soffit above the shower and towel hooks. "It makes the space feel much larger — I'm so glad my husband thought to do that," Eva says.
Bright white paint and modern white subway tiling make the bathroom feel light, bright, and welcoming. Eva's only minor regret was the hexagon tiles on the floor. "The one we picked feels a little cheap," she says, but it will hold up well in the high-traffic space.
Though they prepared for the unexpected, everything "went as planned and we didn't encounter any issues," Eva says. In fact, they even had luck on their side. They found a perfectly sized vintage dresser at a resale shop and transformed it into the bathroom's vanity with a ceramic vessel sink — adding a subtle vintage feel to the space.
A fun, playful element comes from the bright, graphic shower curtain with a cat peeking out of it. This pop of color adds a touch of whimsy to the otherwise serene bathroom.
The project cost close to $4,000 to complete. Taking the bathroom from dark and dingy to bright and wide open, the Van Somerens now have room to grow in their new home.