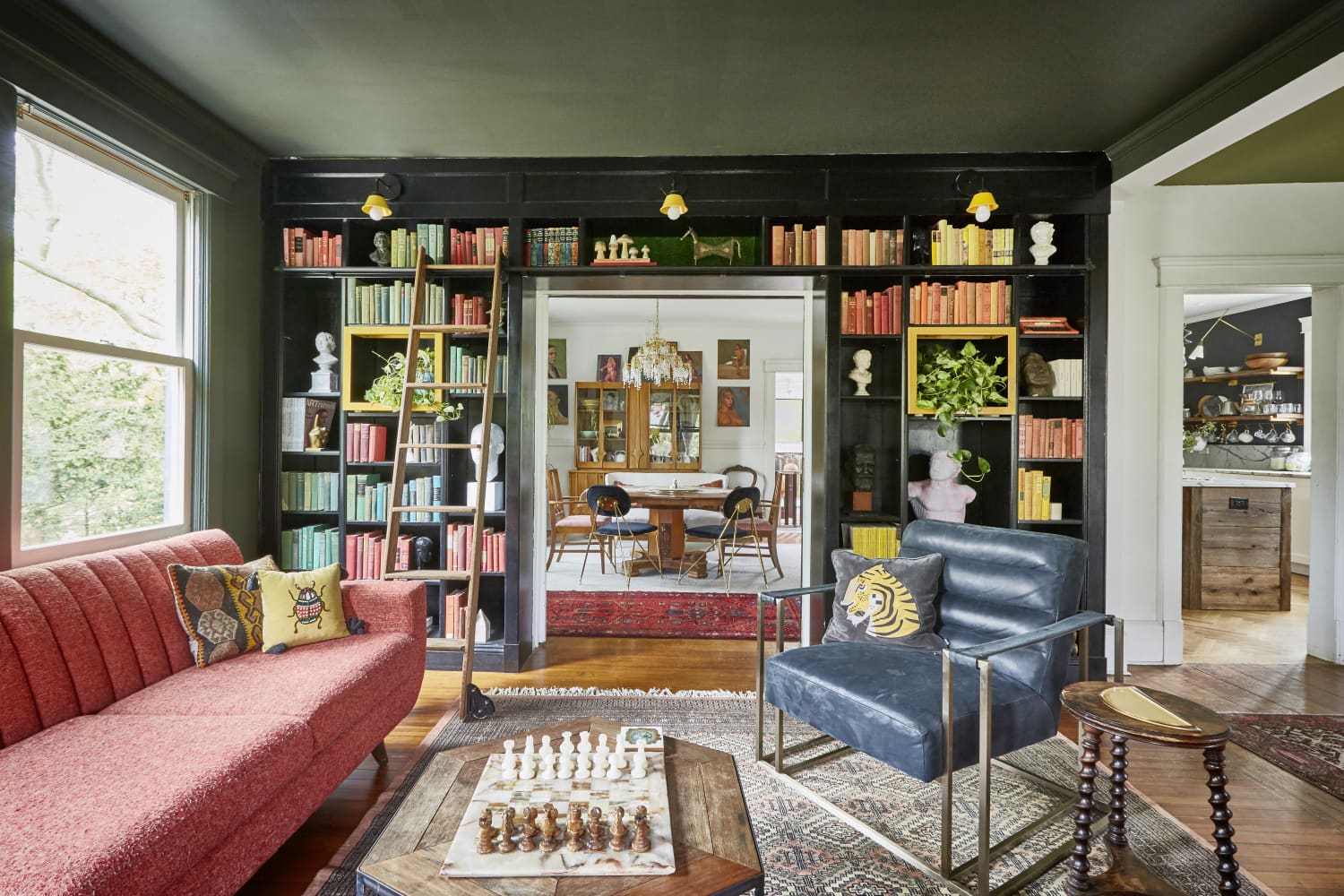 Choosing a favorite house tour is never easy. They all have something special about them, whether it's incredibly cool built-ins, a playful mural, or an adorable reading nook. From the tiny New York City studios to the old Victorian houses full of history, every home featured on Apartment Therapy tells a story.
Apartment Therapy editors look at beautiful, creative, and stylish homes every single day. Every once in a while, though, a home will immediately jump out to them. Here are seven house tours and house calls that stood out to AT editors, inspired them, and stuck with them.
1. The Perfect Vintage Gallery Wall
This 101-year-old North Carolina home is dripping with personality and history. "I am a weird mashup of dark and whimsical," said homeowner Audrey Sprinkle in her tour. "I think you can definitely spot this through my home with dark walls, leather furniture, and pops of color. Throw in some odd decor touches like a giant medical poster, and you've got me!"
For real estate editor Maddie Bilis, what stood out the most about this house tour was the carefully curated gallery wall featuring a collection of mid-century oil portraits of different women. Bilis was so inspired, in fact, that the tour convinced her to buy thrifted portraits for a gallery wall in her own home.
2. This House With Ultimate Grandmillenial Vibes
This 1950s Cape house in Auburn, Massachusetts, has tons of incredible original details, like a sweet scalloped cabinet above the kitchen sink. With its vintage decor, mid-century touches, and a color palette of mossy greens and light peachy pinks, the home's style is "grandmillennial," according to homeowner Katie Pellegrino.
If you're unfamiliar, grandmillennial refers to a design aesthetic that's become popular over the last few years that marries modern millennial style with grandparent-inspired decor. (Think flowery wallpaper and lots of needlepoint.) Blair Donovan, Apartment Therapy's style shopping editor, says this house tour made her "fall in love with grandmillennial all over again."
3. This Gorgeous Home Full of Vintage, Victorian Details
The tour of this historic Los Angeles house made managing editor Terri Pous "want to ditch New York City for an old, Victorian manse." Homeowner Jenn Laskey said she channeled "creepy, sexy, vintage vibe with Victorian elements" when fixing up the home — and the result is stunning.
"I notoriously love historic homes, and something about the stained glass, wood beams, and green walls in this one completely stole my heart," Pous says. "I loved seeing how the owners restored it and brought it back to its glory. I just want to sip tea and catch up on my correspondence in the parlor."
4. A Plant-Filled Urban Oasis
This 600-square-foot Manhattan apartment is home to a lot of plants. Like, a lot. Like, more than 100 of them. When Paul, known on Instagram as @plantmepaul, was looking for an apartment, he told his roommate there was only one must-have on his list: plenty of natural night. Since the start of the pandemic, Paul's been working remotely and has passed the time by adding more plants to his impressive collection and learning how to take better care of the ones he already has.
This house tour convinced Apartment Therapy's entertainment editor, Nicoletta Richardson, that she needed to buy more plants. Maybe not quite as many as Paul, but one can dream.
5. This Colorful, Eclectic Home Library
This 1910 Long Island home is filled with tons of gorgeous vintage finds and unique details — so it makes sense that it was designed by a pro. In fact, homeowner Kate Pearce used her home to launch her own business. One detail in particular stood out to special projects director Alison Goldman: the floor-to-ceiling bookshelves complete with a wooden library ladder. It's the perfect finishing touch to tie the moody, eclectic home library together. As soon as Goldman saw this room, she was convinced: "I must one day have a bookcase with a ladder."
6. The Dreamiest Bedroom Mural
This 900-square-foot New York City apartment looks like a theater set, with antique furniture and unique art around ever corner. Renter Anna Kate Reep describes the home's style as "art nouveau eclectic fairytale." The detail that captivated AT's editorial assistant, Sarah Everett, was the stunning mural inspired by Grand Central Terminal's ceiling, which wraps all the way around the bedroom.
"Because I've had so much time, I've been able to take my time and gold-leaf everything so it really shines," Reep said in her tour. Add in a blue ceiling, twinkle lights, and a canopy, and this bedroom is a dreamy fairytale. No wonder Everett has decided she wants a Grand Central mural in her own bedroom.
7. This Rainbow-Painted Historic Cottage is Pure Sunshine
There is so much to love in Marita's gorgeous historic home in Seattle. She shares the house, which is over 100 years old, with her young daughter and a delightful mix of pets. For Adrienne Breaux, Apartment Therapy's house tour editor, Marita's whole life seems warm, loving, and cheery, and that shows in the bright colors that envelop every room. Marita does much of the painting herself, and she's always making updates to different elements with color, too.
"Don't feel guilty. Do you. Change stuff you don't like! I've repainted the stairway six times because I haven't found the perfect color yet. I don't stress it, I just keep experimenting. At the end of the day it's you who is doing the work and reaping the benefit. Painting makes me happy, color makes me happy, and change makes me happy. Who cares what other people think," expressed Marita in her house tour. The entire home is a reminder that there's no wrong way to use color, and that it's totally okay to think outside the box when it comes to home design.