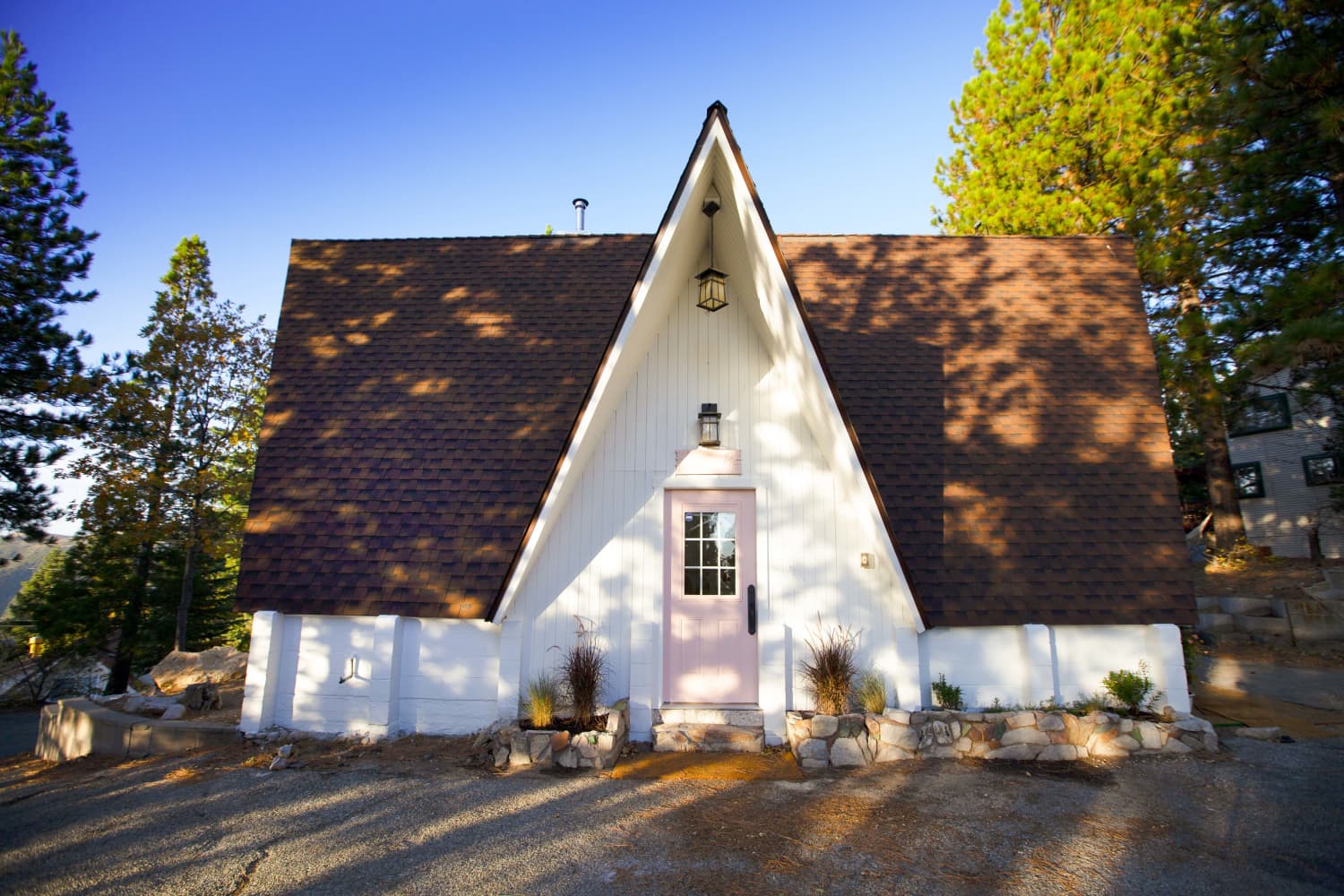 Who hasn't dreamed of running away to the woods to live a simple life? With remote work more common than ever, it's becoming an attainable reality for some. And for others, they're simply keeping an eye on these incredible renovations and waiting for them to hit Airbnb.
From A-frames in California to log cabins in North Carolina to mountain hideaways in the Catskills, these quiet retreats show what's possible with DIY skills, creativity, and, sometimes, a lot of white paint. Almost every one of these homes started with a complete renovation project and the results are jaw-dropping. Join us on this jaunt through the woods with these 11 stunning cabins and A-frames.
1. The 'Art of Doing Nothing' House
Named the Niksen House, this asymmetrical "Scandinavian modern minimalist" cabin in Oregon embraces "niksen," aka the Dutch concept of doing nothing. Here, the bedroom begs you to crawl into bed early and watch the stars through the skylight above your head, then wake up early as you watch the sunrise. It's a retreat that encourages you to disconnect from it all and find a bit of peace among its modern design elements.
2. A Cheerful Spot in the Woods
When you think of an A-frame cabin, you probably don't imagine pops of pink set against a white backdrop. But that's exactly what you'll find in this "vintage modern" California home named "Little Apple A-Frame." Designed to maximize every inch of its 830 square feet, this house is a bright, cheery spot in the woods with pink stairs, pink doors, and vibrant accents in every room.
3. A Campy '70s Mountain Chalet
Imagine taking a cozy three-bedroom/one-bath cabin in need of a lot of love and turning it into a spacious, airy, four-bedroom/four-and-a-half bath lodge, perfect for a family full of adventure-seekers. That's exactly what was accomplished in this Northern California A-frame. With lots of wood and textiles and loads of "campy '70s mountain chalet vibes," it feels like stepping back into a nostalgic campsite — in the most stylish way.
4. Whimsical, White, and Family-Friendly
Whimsical touches, like robin's egg blue kitchen cabinets and bunny wallpaper in the bathroom, are unexpected in a rustic A-frame cabin — and that's exactly why this home in California's San Bernardino Mountains is so special. Its sloping walls soar with light, and somehow, it's both almost all-white and kid-friendly at the same time. It's a dreamy space in the woods for families to get away.
Many of the A-frames on the market are weekend rentals, but not as often is there one that's a long-term home. This stunning 1,200-square-foot A-frame cabin is the long-term rental unicorn, nestled among the redwoods outside San Francisco. Its residents have totally leaned into the wall-to-wall carpeting, retro kitchen, and wood paneling by embracing mid-century silhouettes and a warm color palette.
6. A Colorful Surprise in the Mountains
This log cabin in the mountains outside Asheville, North Carolina, may remind you of an old-school home, but once you step inside, you're hit with bold colors and modern design elements. You'd expect nothing less from the founders of East Fork Pottery, and their home is a wonderful collection of color, texture, and objets d'art.
7. Cozy, Airy Simplicity With Spectacular Views
Black paint outside and white paint inside did the trick for preserving the woodsy feel of this formerly run-down mountain retreat. With incredible views of the Colorado mountains at 10,000 feet, this home is cozy, bright, and airy — the result of painting the wood paneling white and installing rich, wide-plank hardwood floors. With local touches and intentionally chosen furniture, this is mountain simplicity at its best.
8. Vintage-Minded Cabin Vibes
A 1950s summer cabin with "360-degree wood" was 95 percent renovated with just a coat of white paint to brighten up the space. But this isn't a "make-it-all-white-and-modern" renovation. Instead, the home has been lovingly restored using local vintage pieces that evoke the history and craftsmanship of its home in the Catskill Mountains of New York.
9. A Pacific Northwest Paradise
Mice, spiders, and a foreclosure didn't stop this rustic Washington cabin from becoming the warmest, most welcoming family home. Working with, rather than against, the wood beams and cedar ceilings that make this space a woodsy retreat, the light walls and low-profile, loungey furniture make the home feel like a modern mountain retreat — or a contemporary and comfortable tent hidden away on 28 acres in the woods.
10. Honoring History at Hemlock House
Honoring the original 1920s cabin architecture of this California home was the inspiration for a complete renovation. The owners of Hemlock House looked at old black-and-white photos to recreate and salvage many of the same elements that would have been in the original home and have decorated with their grandparents' antiques to keep it feeling authentic to its original era. However, they chose to go with modern fixtures and materials to keep it from feeling stale.
11. A Cozy, Intimate Oasis
An extensive DIY renovation that involved hours upon hours of sanding and staining made for a cozy bohemian retreat in the middle of the Catskill Mountains. With 16-foot ceilings and soaring windows in the living room, bedrooms that layer monochromatic textures, and plants around every corner, this oasis in the woods launched a beloved trio trio of Airbnbs.