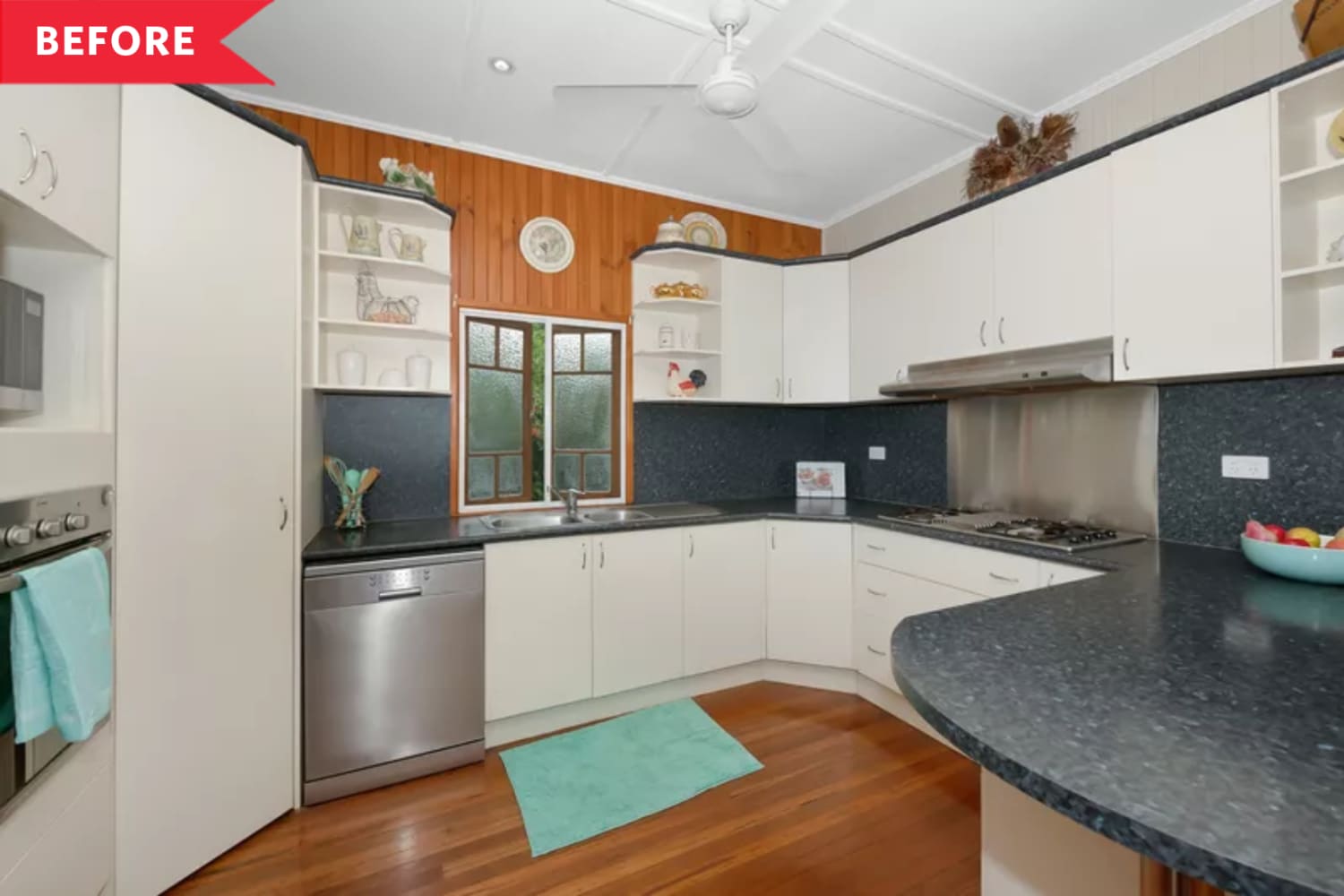 One of the only things that can make a successful room makeover feel even better? Pulling off the redo on a shoestring. Over the last year, we've watched as people have said, "Hey, this room can use an update!" and went about making it happen with their bare hands and limited budgets. When that space is successfully completed with a new coat of paint, flooring, lighting, and accessories, the reveal can be almost as satisfying as knowing that it was all done on the cheap.
For our roundup of the best budget-friendly makeovers of 2021, we looked at renovations that turned tired spaces around for $1,000 or less. This includes a bathroom basement that seemed like a '90s time machine, a dark kitchen where nearly every surface was brown, and even a white refrigerator that was altered to look much more expensive. All of these projects took a lot of creativity, of course, but they required something else, too.
When you're in the middle of a project, it can be easy to look around and wonder what you've gotten yourself into. These renovators must have had that moment, too, but they didn't break their budget just to get out of a bind. Instead, they stuck to their plans, and made these transformations happen in a way that didn't break the bank. So besides their clever solutions, we also appreciate their drive — it's a big deal! Read on for the 10 best budget-friendly makeovers of the year, and join in on feeling impressed by what you see. Who knows, by this time next year, you could be among those who keep this feeling alive.
1. A Bold Gray-and-Blue Stencil Makes a Beige Kitchen Feel Personal
Carla Elliman didn't necessarily have a problem with the beige vinyl flooring in her home. It went with everything, of course, it's just that the beige tone didn't exactly fit her personality. So with three days and less than $300, Carla had a solution that would at least jazz up her kitchen: She'd add a bold stencil to the tiles. She and her partner Fraser painted the surface white, and then added a gray-and-blue pattern that matched their equally graphic backsplash. It took time, effort, and precision, but now the kitchen has a personality that shines.
2. A Basement Kitchen Gets Upgraded With Coats of Brightly-Colored Paint
Kevin O'Gara lived in a basement apartment, so it's understandable that his kitchen's ceilings would be low. It was mostly fine that the beige palette was a little boring, too, but he knew he could actually change it with a fresh coat of paint. He painted the floors, walls, and upper cabinets in white — instantly brightening the space — and then coated the lower cabinets in a rich blue. Kevin also used blue paint to fill in the outline of the upper cabinet doors' paneling, creating dimension, and finished everything off with gold hardware. Now it's even more understandable that this renovation, which cost about $1,000, has been well received.
3. A Beige Bathroom Was Transformed With Sage Green Walls and Wood Accents
Emily Rodgers's bathroom was beige-on-beige, with a vanity and mirror that had seen better days. She was confident that her skills could transform the place, and felt that it was necessary — the bathroom was right off the living area. She removed the wall tiles and replaced it with vertical wood paneling that she painted a sage green. A floating vanity from IKEA took the place of the old one, and then peel-and-stick marble tiles were used to cover the floors. A gold mirror and a glass pendant finished things off, and everything cost about $600. She was right to feel confident!
4. An All-White Kitchen Was Overhauled to Have More Vintage Charm
Kristine Ham started with a mostly white kitchen, which is more than what a lot of people can say. The only issue was that it lacked the charm the rest of her home had, and she had to figure out how to give it more character on a budget. She painted the lower cabinets in a pistachio green, and swapped some of the upper cabinets for new open shelves. She also painted the remaining uppers white, and installed new wood countertops for a bit of warmth (with help from her dad). The kitchen feels like an extension of the rest of the house now, and it cost about $860.
5. A Basement Bathroom Gets a Budget-Friendly Refresh Using a Coordinating Palette
Melissa and Wyatt Shipman had a bathroom in their basement that looked like it was a time machine from the 1990s, thanks to an oak vanity, blue countertops, and a matching toilet. After Wyatt began working from home in the basement, they couldn't ignore the bathroom any longer. Sticking to a $200 budget, they removed the popcorn ceiling and painted the walls white, making it look refreshed in no time. Then they applied a graphic peel-and-stick tile to the floor, which had a hexagon pattern that coordinated well with the painted black vanity. And with new fixtures, the blue countertop and toilet seem refreshed, even if they didn't change.
6. A Plain White Refrigerator Gets a Fresh Coat of Paint to Seem Much Pricier
Tanna Bartlett's white refrigerator was perfectly fine, though a bit ordinary and old. She couldn't splurge on a new appliance, so instead of shrugging off this design disappointment, she thought of painting her refrigerator to resemble an on-trend Smeg. After sanding the gloss finish off, she applied three coats of primer and then five coats of acrylic enamel in an eye-catching coral shade. One last top coat sealed in the color, and then she screwed in gold towel bars from Amazon to act as the handles. The $115 result is fun, bright, and clever — and majorly budget-friendly.
7. A Bathroom's Lack of Style Is Completely Transformed in a Couple of Days
Emily Welch lived in a home built in 1952, but the ho-hum bathroom didn't reflect the type of charm expected of that era. Its gray walls and bulky furniture had been installed much more recently, but were still outdated — even if they were functional. So, with two days and $150, she got to work giving it the charisma it lacked. She painted the walls white and hung an arched mirror, which was accompanied by a new double-globe vanity light. Emily also added a striped shower curtain and two floating shelves, which she used to display plants and necessities. And the best part? The entire room still complements a mid-century home.
8. A Brown Kitchen Is Reimagined as a Bright and Airy Retreat
Every corner of Nedra Davis's kitchen was brown, and it made the entire room feel like a cave she was forced to spend time in. She craved something bright and airy, and started by hiring two pros: One to get rid of the backsplash and fix the drywall behind it, and another to rewire the electricity for new pendants. Then she painted the cabinets a mossy green, and used an epoxy on her countertops so that they'd resemble marble. But her biggest project came in the form of a creamy checkerboard floor, which she meticulously applied with a stencil. The updates fulfilled her goal for just $500, leaving the brown version far in the rearview.
9. An Awkward Half Wall Is Removed So a Family of Four Can Eat Together
Jenna Etherington had a half wall between her living and dining area that made her 800-square-foot home feel even smaller. She wanted a place where she could eat comfortably with her husband and their two children, so the couple ripped it out and repaired the floors. In its place, they designed and constructed a banquette directly under a window, and then installed a slatted wall accent for even more style. Now the family can all eat together here, and all it took was about $130 for the supplies.
10. A 1980s Bathroom Is Updated Over the Course of One Thoughtful Weekend
Stephanie Villa Davis's parents bought a home that likely hadn't been touched in more than 30 years. That was especially evident in the plain bathroom, which had a low-slung vanity and small mirrors that lacked any color or character. So, Stephanie convinced her parents to let her do a makeover over the course of a weekend, with only $300 to spend. She used a paint transformer to apply a green coat to the vanity, which cut hours of prep off the project, and then added black hardware. Afterwards, Stephanie replaced the mirrors with modern round pairs, added an existing red runner to the floor, and brought in accessories to tie everything together. The bathroom looks much more of-the-moment now, and it's all for her parents to enjoy.