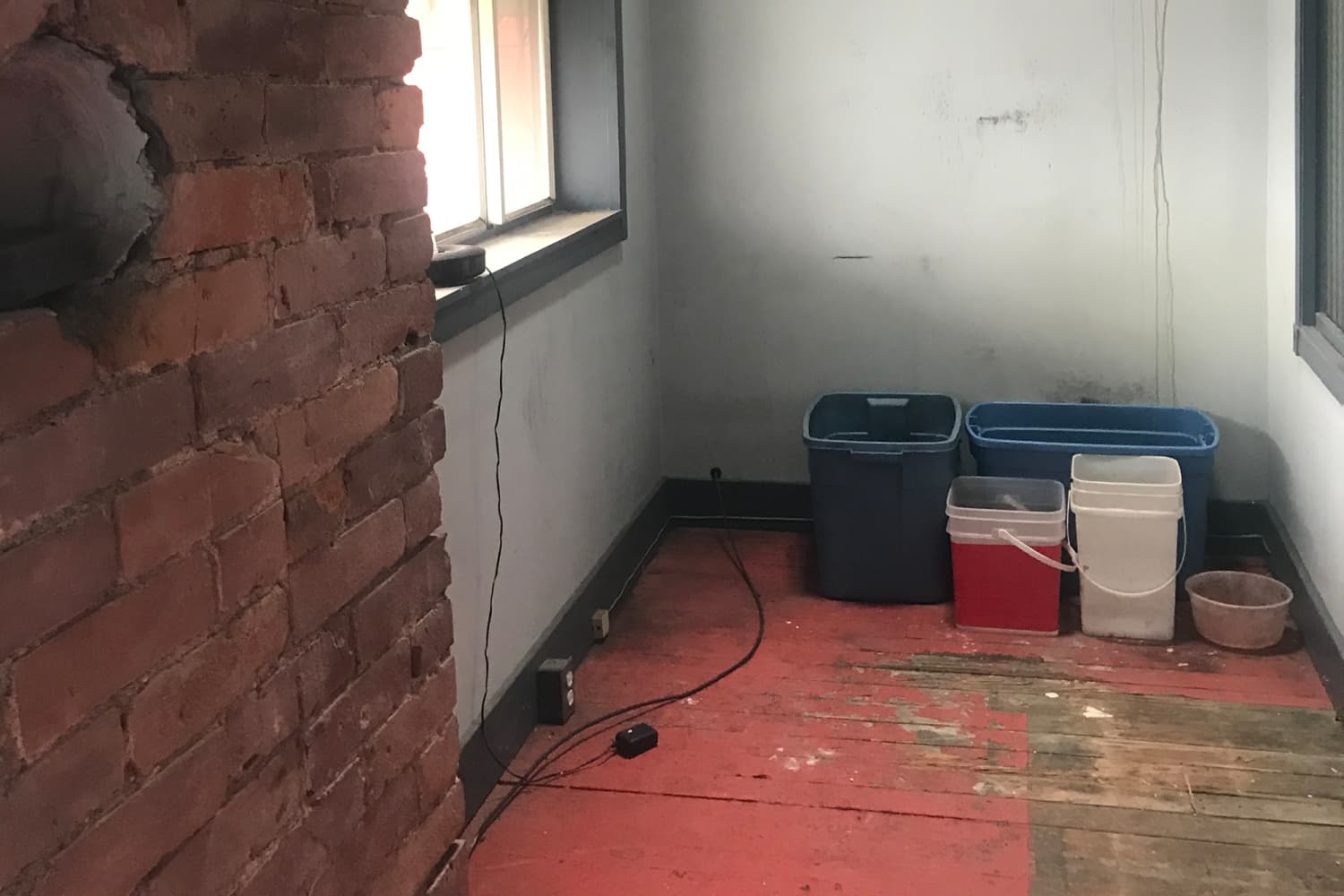 We independently select these products—if you buy from one of our links, we may earn a commission.
Designer's Name: Esther Dormer of Esther Dormer Design
Location: Pittsburgh, Pennsylvania
Size: 675 square feet
Type of Home: It is a stand alone one-bedroom home
When I found this 675-square-foot home online, I immediately saw its potential despite its unlivable condition. With its close proximity to downtown Pittsburgh and gorgeous city views, I knew I could make it into a charming one-bedroom bungalow. The spacious backyard is a rarity in cities so I added a deck to make the most of the outdoor space. High-vaulted ceilings are hard to come by and it makes the home feel that much more grand.
My goal was to create a luxurious home in a small space. Living in a small space is far more environmentally conscious but that does not mean you have to sacrifice quality of living. To create that luxurious atmosphere, I made sure to include features that would be in much larger homes, such as ample bathroom storage, a sizable kitchen, and big windows.
Apartment Therapy Survey:
My Style: I like to describe my style as modern with a bohemian rustic vibe.
Inspiration: I am constantly being inspired by both nature and the city.
Favorite Element: My favorite element is the view from the kitchen. I wanted to take advantage of the city views so I added glass doors and a large window.
Biggest Challenge: The biggest challenge was definitely making this 675-square-foot home feel spacious. I completely reconfigured the entire floor plan. The kitchen was originally in the basement and the original bathroom became the kitchen. We ended up having to replumb the entire house which was no easy task.
Proudest DIY: I actually did a lot of the work myself and am proud of the entire DIY process. However, the stand-out project was using shipping pallets for an accent wall. It was a lot of work cutting up and refinishing the wood but it was worth it because I am so proud of the outcome of that accent wall. It brings some nature inside — which I try to do in all of my projects — and adds more character than a plain painted wall. I found this particularly important for this place because of its city location; I wanted to make sure this home had that warm and inviting feeling.
It is much more sustainable to use old wood and it becomes that much more authentic. Even though it was a lot more work, I think it was worth it because we did not contribute to cutting down more trees for the sake of this project. I also think the wood is beautiful in its worn state with all its imperfections.
Biggest Indulgence: The biggest cost was the natural wood throughout but I am so glad I carved space in my budget for this because it truly makes the atmosphere of the home what it is.
Is there something unique about the home or the way it is used? Definitely! I changed up the whole floor plan to make the most of the space. I tried something new with this home and decided to add closets in front of some of the bedroom windows. I used transparent closet doors to create a beautiful layered look with the light still shining through.
What are your favorite products you have bought for your home and why? All the lighting and artwork are my favorite because they added that finishing touch.
Please describe any helpful, inspiring, brilliant, or just plain useful small space maximizing and/or organizing tips you have: I used windows and a clear glass door to open up the old bathroom and turned it into the kitchen and I used an old closet for a cool half bathroom.
Finally, what's your absolute best home secret or decorating advice? My decorating tip is to always have fun with the design elements. Don't be afraid to go bold like I did with the mirrored tiles in the kitchen.
This house tour's responses were edited for length and clarity.