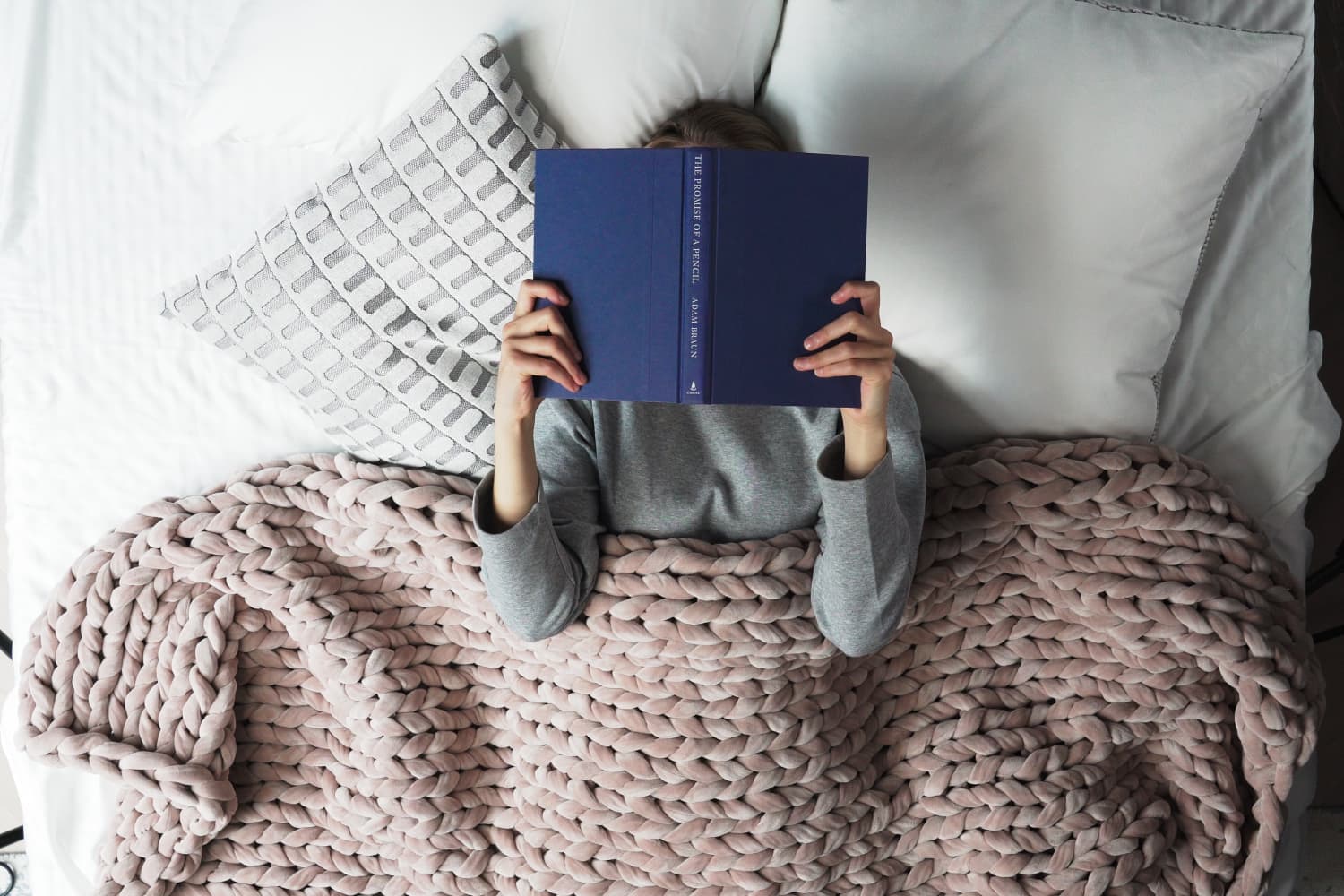 We independently select these products—if you buy from one of our links, we may earn a commission.
The first time I broke it out was during family movie night and everyone in my four-person family was able to share a bit of the blanket without sacrificing too much personal space. About halfway through the movie, it became clear that my blanket solution was now the problem. Debates started at a whisper about who had dibs on the Hugger that night and who didn't deserve it. The thing is, everyone did. My mom sleeps hot and loved the pressure without added insulation. My brother had had trouble getting to sleep recently and felt like he could have dozed off within minutes of being under the blanket. And my dad… well, he actually did, missing the movie and most of the argument.
The thing about Bearaby weighted blankets is that they totally stand alone against their competitors. They're made entirely of organic cotton and totally free of fillers like plastic or glass beads, so the weight is distributed as evenly as possible. And since there's no need for multiple layers of blanket to encase any filling, Bearaby's blankets are also the most breathable weighted ones out there. Don't run into the same issue I did, though — I recommend the Hugger for co-sleepers who want a weighted blanket that covers the whole bed and stays there. Shopping for something more personal? Check out Bearaby's smaller options, consider getting one for everyone, and think on becoming gift giver (and peace maker) of the year.
The Hugger comes in three neutral colors, — white, light gray, and a deeper gray — designed to basically melt right into your existing bedroom decor. It also comes in a variety of other sizes, including minis for kids and travel, and even a velvet style for added warmth. And while the Hugger is not cheap, I do have to say that the price is completely justified to me by its totally unique size, weight, design, and construction. And, if you think about it, if that's the only thing standing between you and your (and your partner's!) best sleep, most relaxing moments, and overall wellbeing for years down the line, it could even be called a small price to pay.