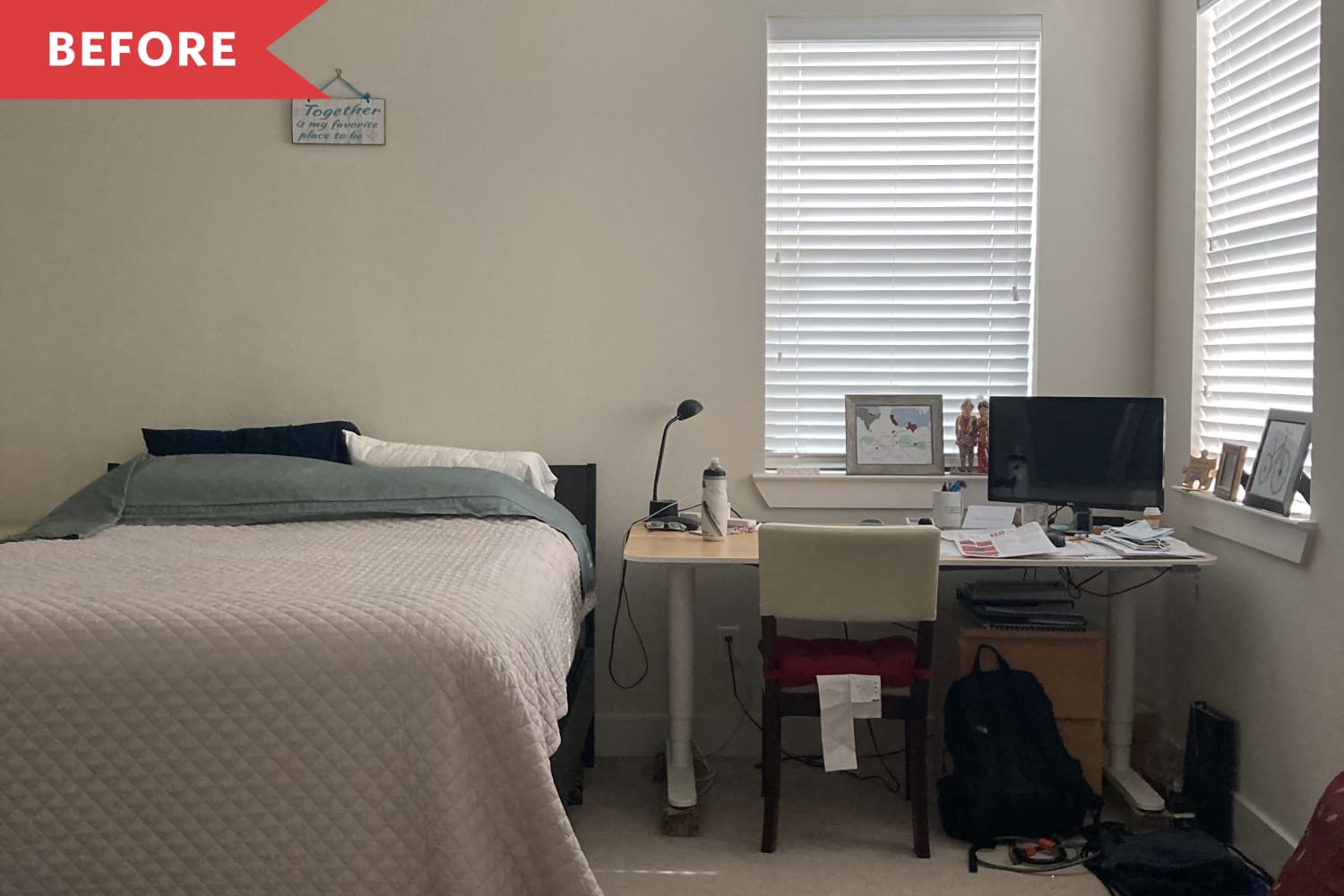 We independently select these products—if you buy from one of our links, we may earn a commission.
Moving in with your partner is a big, exciting step in any relationship — but it can also bring some new challenges. Aside from figuring out finances and adjusting to a new routine, discovering your joint design style can be tricky. Sometimes, a fresh set of eyes is exactly what you need to get the ball rolling to merge two styles into one.
That's when it's especially nice to have a friend like Joana Bianchi, a proud DIYer who sees cluttered spaces as a challenge to create something beautiful. When Joana's couple friends were having trouble decluttering and decorating their home they called on her for help.
"When they moved in together they just combined all of their things into a new house, which resulted in the space not feeling cohesive or thought about," Joana says. The bedroom in particular lacked any sort of design direction.
With both of their desks crammed into the room and clutter in every corner, it felt more like a college dorm than an adult bedroom, the couple said. "As soon as I got to their home and saw this bedroom, I knew I had to turn it into the room they deserved," Joana says. Although the room was big, the decorating made it feel small and cramped — so Joana's goal was to make the room equally functional and relaxing.
"My friends own their home, but they were still stuck in the 'I can't make holes in the wall' phase," Joana says. So she created a mood board to show the couple her vision, settled on a budget of $400, and got to work.
To stay under budget, Joana opted not to buy her friends a formal bed frame or platform. Instead, the mattress is sitting on top of a box spring to keep it off the floor. Box springs don't really go with the clean, neutral aesthetic Joana was going for so she found a clever fix. "I was really excited when I figured out that a thrifted $5 velvet curtain would be enough to cover it," she says.
The minimalist headboard is made of simple 1×3 pine boards nailed to the wall and wrapped with inexpensive burlap. Joana took the same simple design approach to the nightstand. "They were improvised with some thick boards I had rescued from the trash," she says.
The desk across from the bed (along with its clutter) was removed to give Joana a blank slate to work with, so she decided to upcycle an old KALLAX shelf from IKEA the couple already had. "I had some trouble thinking of a new way to upcycle the shelf, so I just started trying things," she says. "I think the legs and burlap-covered doors made a huge difference."
"Most of what you see in this room was either transformed (like the bed and the cabinet) or made from scratch (such as the nightstands, the big art, and the plant stands) by me," Joana says. She searched for items at Goodwill and figured out how to make use of things her friends already had and turn them into something more intentional. "The bed and the KALLAX really show you that you don't need to buy something new or spend a lot of money to have something unique," Joana says.
Over the course of a month, a room that was once cluttered and overwhelming has a new welcoming, relaxing vibe from thoughtful DIYs and secondhand finds that Joana chose with care for her friends. "I was really focused on creating something they would enjoy every day for a long time," Joana says, "and I love how much they loved it."