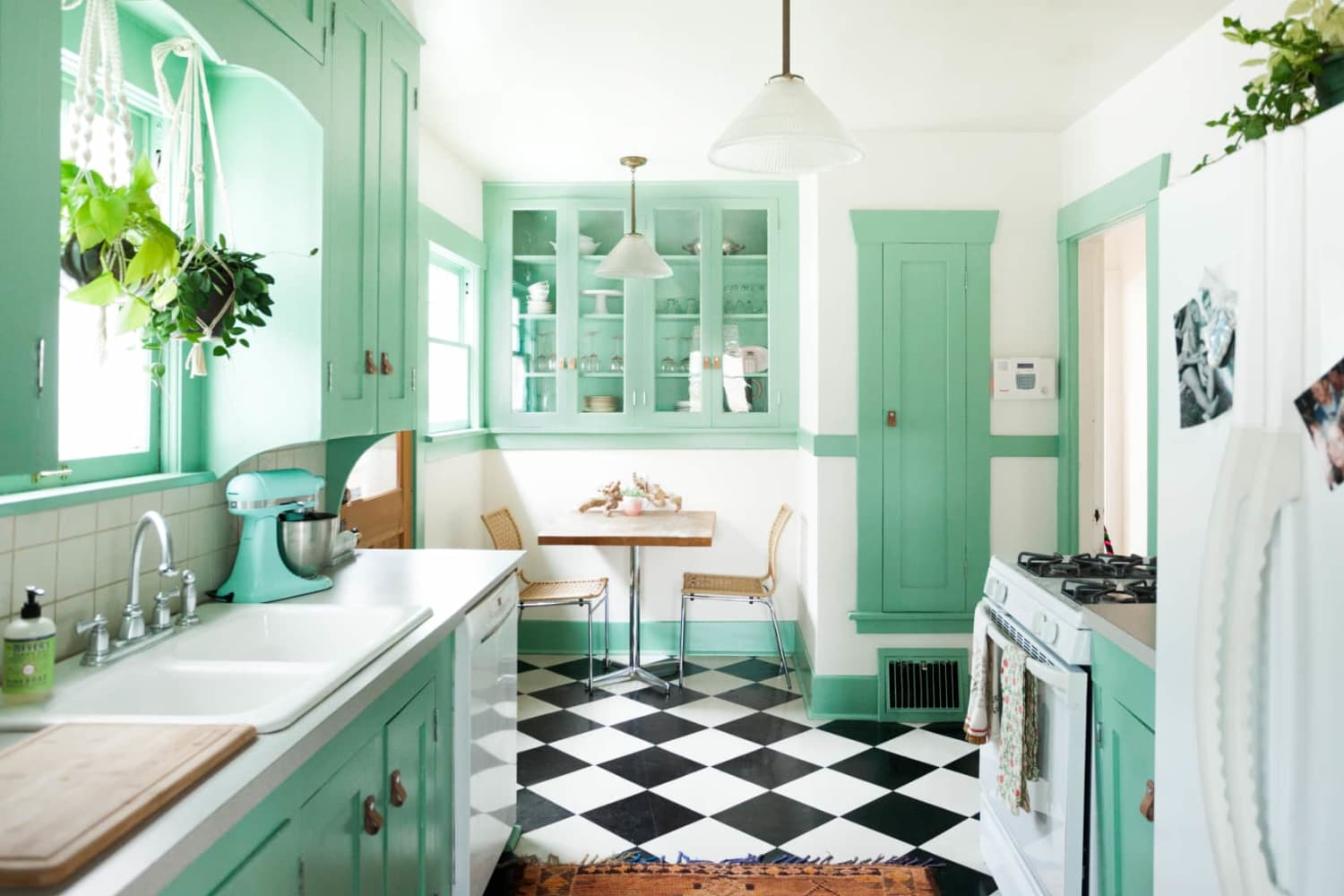 While no one can fully predict what the future will hold, interior designers do have a pretty good sense of what to expect when it comes to the kitchen trends you'll see in 2022. It is, after all, only 21 days away! On that note, I spoke with 12 pros who shared what you can expect to see making major waves next year, which might be timely if you're considering a full renovation or DIY project to zhuzh up your space. There's plenty of good news coming your way if you're a color lover — particularly if you can't resist shades of green!
1. Mesh cabinet doors (and other English influences)
"[Mesh cabinet doors] are a beautiful and modern alternative to the traditional glass doors that you see in more formal kitchens. They bring in a completely different texture to the kitchen palette and are a welcomed surprise. With different levels of openness, they can either hide the cabinet interiors or highlight them. This is something we'll be proposing to our clients this year for sure!" —Designer Heather DiSabella of Heather DiSabella Design in Washington, D.C.
"As in other areas of interior design, we are seeing English influences, such as metal mesh glass front cabinets, cupboard latches, exposed hinges, and cremone bolts." —Designer Kerri Pilchik of Kerri Pilchik Design in Ridgewood, New Jersey
"Clients are moving away from the all-white kitchen, or, if requesting a white kitchen, they're wanting to add interest by incorporating unexpected details that make the space uniquely their own. For our Brooklyn Heights project, the client was not ready to embark on a full renovation, and so we opted to glam up and refresh the space by installing a Gaultier wallpaper as an accent wall. It visually fills the space in a much grander way, especially since it's viewed from nearly all angles in the pre-war apartment." —Designer Isabella Patrick of Isabella Patrick Interior Design in New York City
3. Antique kitchen islands
"Sometimes kitchens have odd shapes that won't fit a standard kitchen island, so a workaround that looks amazing and is also incredibly functional is to use a cool piece of antique furniture, such as a rectory table, which is higher than a standard table. The table should be about counter-height, but if you can't find a table that works, you can install locking casters to raise the height. This provides a space that can be that can be used for extra food prep as well as pull-up seating. Using a table instead of a solid island also has the added benefit of adding a sense of airiness to the space." —Designer Amy Sklar of Amy Sklar Design in Los Angeles
4. Open shelving — or a solo, super-long open shelf
"Open shelving in kitchens is not necessarily a new trend, but it's one that still offers some advantages, especially in smaller spaces. My kitchen is super-tiny and had super-ugly upper cabinets. Removing the hulking soffits and uppers opened up the space dramatically. Bonus: I can easily access stuff, and it gives me an opportunity to display my prettiest tableware. We know the jury is still out on this trend, but removing my upper cabinets and installing open shelves was an effective — and relatively inexpensive — solution for me." —Designer Casey Stallings of Lime Tree Home in St. Louis, Missouri
"Recently, people have been opting for one continuous shelf on a main wall. It's
a very minimalistic, clean look, but the design boundaries one can push with this can make for a beautiful kitchen." —Designer Ashley Danielle Hunte of Style Meets Strategy in Boston
"Green will be a top choice for kitchen designers in 2022. It's definitely not a fad and is here to stay, especially with it being named color of the year!" —Designer Ashley Colombo of Ashley Colombo Interiors in Chicago
"Maximizing any room's functionality — especially a kitchen — is key. I'm a huge fan of working an appliance garage into kitchen designs to keep clutter at bay. I also love the idea of a pull-out counter to add more workspace when needed." —Designer Elaine Burns of Pistachio Interiors in New York City
7. Little to no cabinet hardware
"I definitely see that in contemporary designs there's a move to little or no cabinet hardware. Instead, we see tab pulls that are barely visible or notches in the side of doors as finger pulls. This look lends itself more to the organic and post-modern kitchen aesthetic, so as to not have too much of a metallic appearance that could interfere with the organic nature. If there's hardware that's visible, it's trending toward a flat black, iron, or brushed steel look." — Designer Jodi Janzen of Janzen Design in San Francisco
8. Sleek, minimalist surfaces and lighting
"We're seeing fewer hanging pendants over islands — clients are gravitating toward a more clean, modern look of just recessed lights. And no outlets on the backsplash [is also a trend]. We are now installing plugs below the upper cabinets so that the backsplash is uninterrupted." —Designers Sharon Falcher and Sherica Maynard of Interior Design by S&S in Atlanta
"After volumes of white kitchens hit the stage over the past few years, clients are requesting a more personal identity in their kitchen space. The kitchen is the fulcrum of the family home and should better reflect the personality of the residents and their unique settings and lifestyles." —Designer Patti Hoech of Patrician Design in Albuquerque, New Mexico
"White kitchens are safe, but if you like color, then embrace it! I love a dusty green or blue kitchen! I think it immediately creates 'wow factor,' and deep hues give a classic feel that never feels overly trendy." —Designer Kate Lester of Kate Lester Interiors in Los Angeles
10. Mixing metals, countertop materials, and cabinet colors
"Today, kitchens have become much more of a 'living room' kind of space with exotic marble counter tops, bespoke cabinetry, artisan-made lighting, and plumbing fixtures in 'living' finishes that patina over time like a fine Chippendale high chest… there is a penchant for mixing metals. An unlacquered, brass gooseneck faucet looks beautiful next to steel hanging shelves or steel-framed doors. Mixing up different counter tops is also a trend we're likely to see more of. A perimeter countertop in one stone and an island countertop in another. A kitchen island in a completely different color can be a beautiful way to punctuate the center of the room." —Designer Elizabeth Kannan of Elizabeth Kannan Interior Design in Bethesda, Maryland