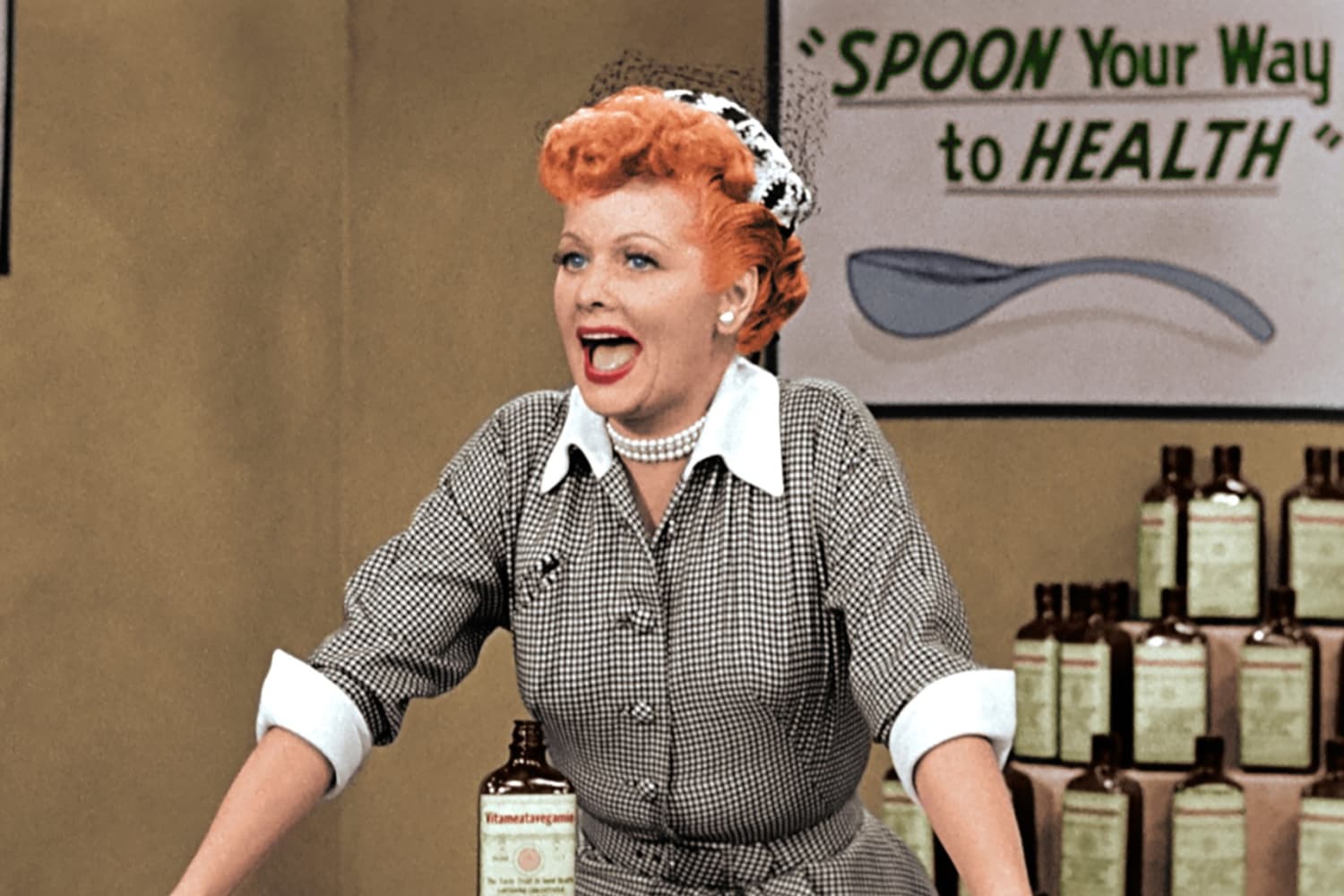 We independently select these products—if you buy from one of our links, we may earn a commission.
It's been 70 years since the debut of "I Love Lucy," and Lucy Ricardo is still making the world belly laugh through her zany household hijinks, ill-fated get-rich-quick schemes, and disastrous plots to break free from the daily constraints of being a housewife.
The iconic show ran for six seasons, with its final episode airing on May 6, 1957. But thanks to streaming services like Hulu, Paramount+, and Amazon Prime Video, "I Love Lucy" remains popular among millions of audiences. And with the upcoming debut of "Being the Ricardos," a biopic focusing on the relationship between Lucy and Desi starring Nicole Kidman and Javier Bardem, there's no better time to rewatch classic episodes of the hit 1950s show.
Here are eight of the funniest, most iconic episodes of "I Love Lucy" that are available now to stream today.
This hilarious episode is hands down the best episode of the series as it features Lucy performing a gut-busting audition for "Vitameatavegamin," an after-dinner tonic that touts health benefits — but really, it just gets the user a bit drunk. That's exactly what happened to Lucy when, in the process of testing the syrup for the commercial, she gets a little inebriated before finishing the audition.
In an extremely funny and pointed way of tackling the roles of men and women in 1950s-era homes, Lucy and Ethel and Ricky and Fred all decide to swap roles: the men will do the housework while the women will go out and get jobs. Even though it's encouraged that they have actual skills to perform a job, having little to no work experience doesn't stop Lucy and Ethel, who get hired as candy makers in a chocolate factory. This episode features that famous scene of Lucy and Ethel stuffing pieces of chocolate in their mouths before their supervisor returns as they struggle to keep up with production.
For much of "I Love Lucy," the Ricardos live in their modest New York City apartment, which they lease from landlords Fred and Ethel Mertz. In the sixth season, the couple decides to move to the country — a home on two acres of land in Connecticut — and of course in no time, begin to experience the growing pains of being away from the city. When the Ricardos learn how expensive it is to run a country home, Lucy concocts the "brilliant" idea of raising chickens that will lay eggs for them to sell for a quick buck. But when Lucy and Ethel bring home 500 baby chicks before Fred has a chance to finish building the hen house, well, hilarity ensues when they decide to let the chicks roam free inside an already full house.
Another take on adjusting to life in Connecticut's countryside, the Ricardos and the Mertzes embark on building a barbecue pit when Ricky becomes restless while on vacation from work. In order to teach Lucy a lesson about not leaving her wedding ring lying around when she's doing housework, Ricky hides Lucy's ring while they all work on building the pit. But a confused Lucy panics when she realizes her wedding ring is nowhere to be found and the only place left to look is in each layer of concrete holding together the newly completed barbecue pit that their husbands just finished.
A first-season great, this episode hysterically follows Lucy swept up in the thrilling atmosphere of her latest murder mystery novel as she starts to believe her husband is trying to kill her. But the truth is a little stranger than any fiction Lucy's book — or her own mind, for that matter — can drum up. While Lucy thinks she's going to be Ricky's helpless victim, he's really just planning his next show at the nightclub.
In another biting commentary on the pains of being a 1950s housewife, Lucy is faced with having her allowance cut off by her husband after he discovers she's spending too much of his money. Not one to take no for an answer, Lucy decides to enlist herself on a radio game show at Ethel's suggestion where the prize money is $1,000 in cash. Who can resist! But the hurdles and trials Lucy has to go through in order to win the cash prize — including pretending to have two "first" husbands prior to marrying Ricky — prove to be a little more daunting than what Lucy first set out to do.
Ahead of the birth of their first child, Lucy worries that her and Ricky's bundle of joy won't have any real exposure to art and culture. So naturally, Lucy embarks on a journey to become a world-class artist in just three short weeks. After visiting an art store and being scammed into thinking she's the next Auguste Rodin, Lucy begins sculpting what she thinks are great sculptural works. But when she runs out of live models in Fred and Ethel on the heels of an important art critic heading to her home, Lucy does what she does best: inserts herself into the middle of her scheme, using her own head as the model for her greatest sculptural masterpiece.
Between apartment dwelling antics in the city and countryside stunts in Connecticut, you'd think the Ricardos and Mertzes would run out of places to get silly. But there's always Europe! On a whirlwind tour across Europe in season five, the gang lands in Italy where Lucy catches the eye of a big-time movie director who wants her to "star" in his next film. Or, so Lucy thinks. In order to prepare for her close-up, Lucy sets out to learn the way of Italians by immersing herself in local culture — including working in a traditional wine-making vineyard. This episode features the famous scene where Lucy and a local Italian woman get into a cat fight in a wine vat filled with grapes they've been tasked to press with their bare feet.
Do you have a favorite episode not listed above? Let us know in the comments below!