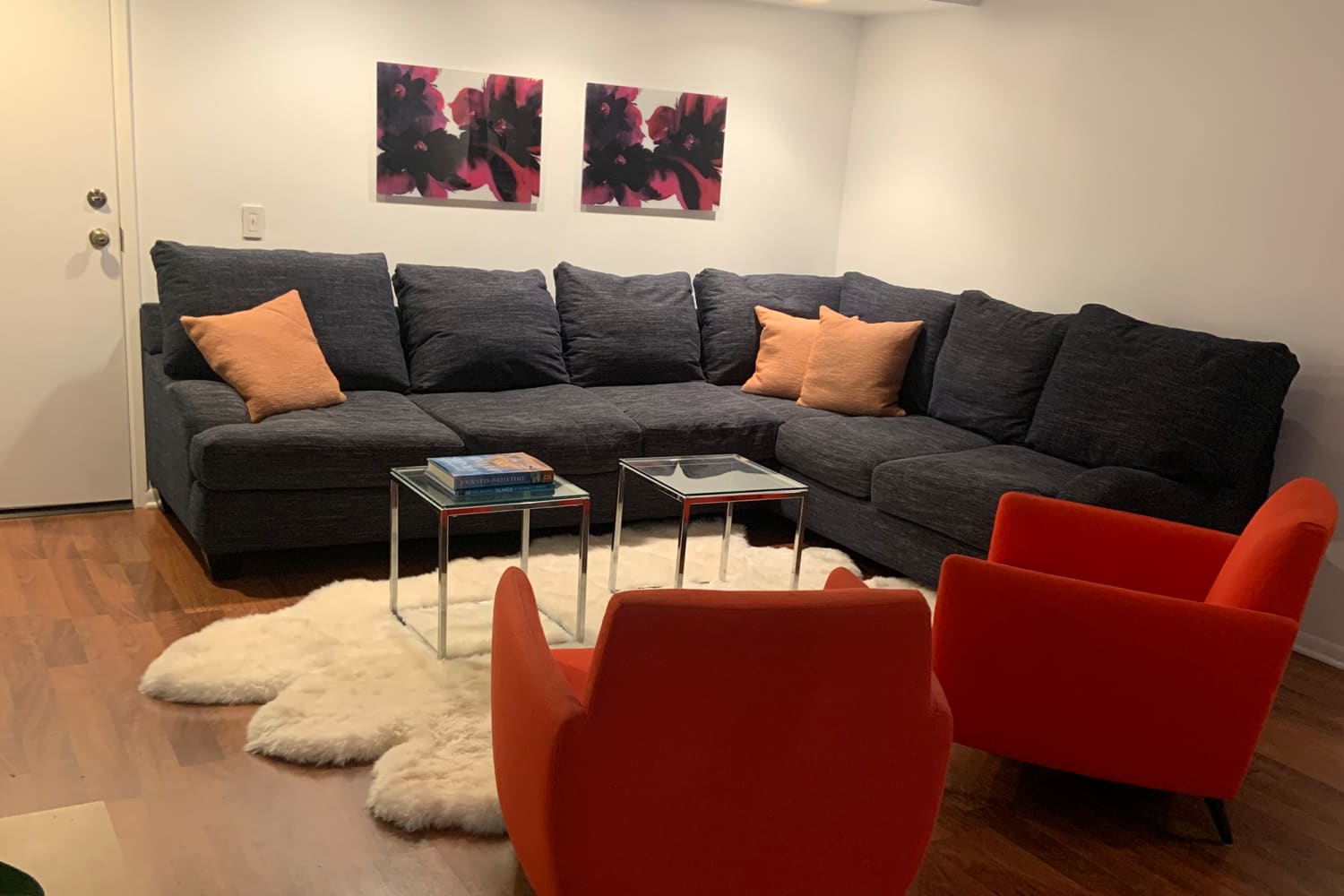 We independently select these products—if you buy from one of our links, we may earn a commission.
Homeowners' Name: Jean-Francois Alix
Design professional names: Ryan Black, the interior designer and owner of Blackbird Chateau
Location: West Hollywood, California
Size: 701 square feet
Type of Home: Condo
Born and raised in Taiwan, Jean-Francois Alix, who is originally French, lived in Taiwan until he was 16 years old. "From there, my family moved to the U.S., where I have since been," he explains. "I have been living in the LA area now for 15 years, and love the city that I live in and call home." And when it came to finding his first home to purchase, he spent a few years looking. "I knew that if I was going to take this enormous leap of faith in becoming a first-time homeowner, it would have to be something that I knew I was truly in love with and absolutely had to have," he says. "I knew my basics were going to include a one-bedroom with a pool and parking spot, and it had to be in West Hollywood. That was where my head was at, and I had not gone much further than that."
When combing through Zillow listings earlier this year, he came across a condo on a street he had previously rented on, in a neighborhood he knew and loved. "I took my chances, set up an appointment, and went to go visit in on a Sunday early afternoon. The apartment checked off all the boxes that I needed," he explains. "However, this apartment had an enormous patio space that was impossible to ignore. It sang to me. It called my name. I wasted no time in putting in my offer and then battling my way through to make sure that it would be mine in the long run."
Jean-Francois hired interior designer Ryan Black, the owner of Blackbird Chateau, to help bring his vision for his home to life. "What Ryan did for me is quite simply mind-blowing," Jean-Francois exclaims. "I now can say that I live in a work of art. It incorporates everything that is me, but also has a sense of whimsy, class, and elegance. I would never have done anything like this without the vision of my talented friend, who I would recommend to absolutely anyone that I came in contact with. I catch myself still walking around my apartment quietly whispering under my breath 'This is ALL YOURS! Can you believe it??!!'"
Apartment Therapy Survey:
Jean-Francois Alix's Style: I can't honestly say that I have any particular style or design. I know that from my many years of living in Asia, I had a tendency to lean quite a bit heavy on Asian antiques, designs, motifs, etc. I like a lot of the old world feel with antiques, as it's quite simply something that I was so used to, having two parents that were antique fanatics. Every twist and turn of our family's homes would be littered with fantastic little decorations and fabulous pieces with so much history to them.
Jean-Francois Alix's Inspiration: I had finally found my forever home, and wanted to make sure that I did it right by spending the money to make it the best that it could be. I had some ideas that I had bounced around in my head, but really had no idea of how to execute them at all. I had the notion of putting down black carpeting, which was immediately taken off the table once Ryan quickly walked me off that cliff. I needed the eyes of someone with true design experience, and more importantly someone that knew me on a personal basis. Ryan and I had known each other for the greater part of a decade now, and it helped him know what was important to me while still allowing him the space to get creative while trusting his lead. I knew he would never put me in a home that he personally did not feel honored to have put together for me. My trust in him was and is always strong.
Designer Ryan Black's Inspiration: First and foremost I am inspired by the client. Most especially their culture and history. In this case JF's international upbringing was a huge influence. He was born and raised in Taiwan, spent summers in Paris and the south of France, and his family also had a summer home in Miami. Incorporating family heirlooms and a treasure trove of antique pieces (far too many even to fit) from Asia and Europe were the driver of style. Bringing in current design elements like lighting were the catalyst to modernizing the space into an eclectic, worldly feel. We want people to walk into a space and see where the client has been and where they are going.
Jean-Francois Alix's Favorite Element: Where do I even begin? I can't say that there is something specific that I can say is my favorite because EVERYTHING is so fabulous. From the minute that you open the front door, to the moment you step into my bathroom, to the chill moments lying in my gorgeous bedroom, to relaxing on my private patio. My home has turned into a sanctuary that I'm so deeply proud of, and can't wait to share with my family, friends, coworkers, guests, and more. I love that when I walk in, it feels like me, but almost the cooler me that I didn't know I had inside. It feels cultured, artistic, colorful, rich, and cozy all at once.
Designer Ryan Black's Favorite Element: Details are always my favorite part. I believe personalized details are the icing on the cake that make a design complete. Elements like the added brass campaign hardware to the cerused oak vanity in the bathroom and the ceiling mural around the dining room chandelier (inspired by muralist Nic Valle). The brass nail heads framing the panels in the bedroom (inspired by interior designer Steven Gambrel) added a depth to an already complex feature wall that we painted in tea paper-size panels with a faux linen finish. Instead of spending an arm and a leg on crown molding we finished the wall by painting three dimensional charcoal strips on the ceiling and wall corners then added in 1"x2" cut pieces of wood to make it appear to be dentil crown molding.
Is there something unique about your home or the way you use it? Jean-Francois Alix – My home is quite simply my sanctuary. It is a place of relaxation, peace of mind, and a wonderful place to kick up your feet an enjoy a glass of Prosecco. I work from an office in Beverly Hills, but there are some days that I have the luxury to be able to work from home. What I will say is that having the enormous patio really lends itself beautifully to being able to transition from inside to outside, and vice versa. I've always been someone that really enjoys an outdoor space, and my apartment is now exactly that.
What's your absolute best home secret or decorating advice? Designer Ryan Black – Customize, customize, customize! We don't want the client's friends to walk into their space and identify one store. We want it to be unique to them! Especially if they have to see it every day. It's like buying a dress off the rack, taking it to a tailor, cutting off the sleeves, adding new fancy buttons, taking in the waist, shortening it, then wearing it with a kick ass pair of shoes and your grandma's 50-year-old brooch and earrings. No one wants to walk into a room and see 19 people wearing the same thing. Make it your own. Couture it!
Thanks Jean-Francois and Ryan!
This house tour's responses were edited for length and clarity.