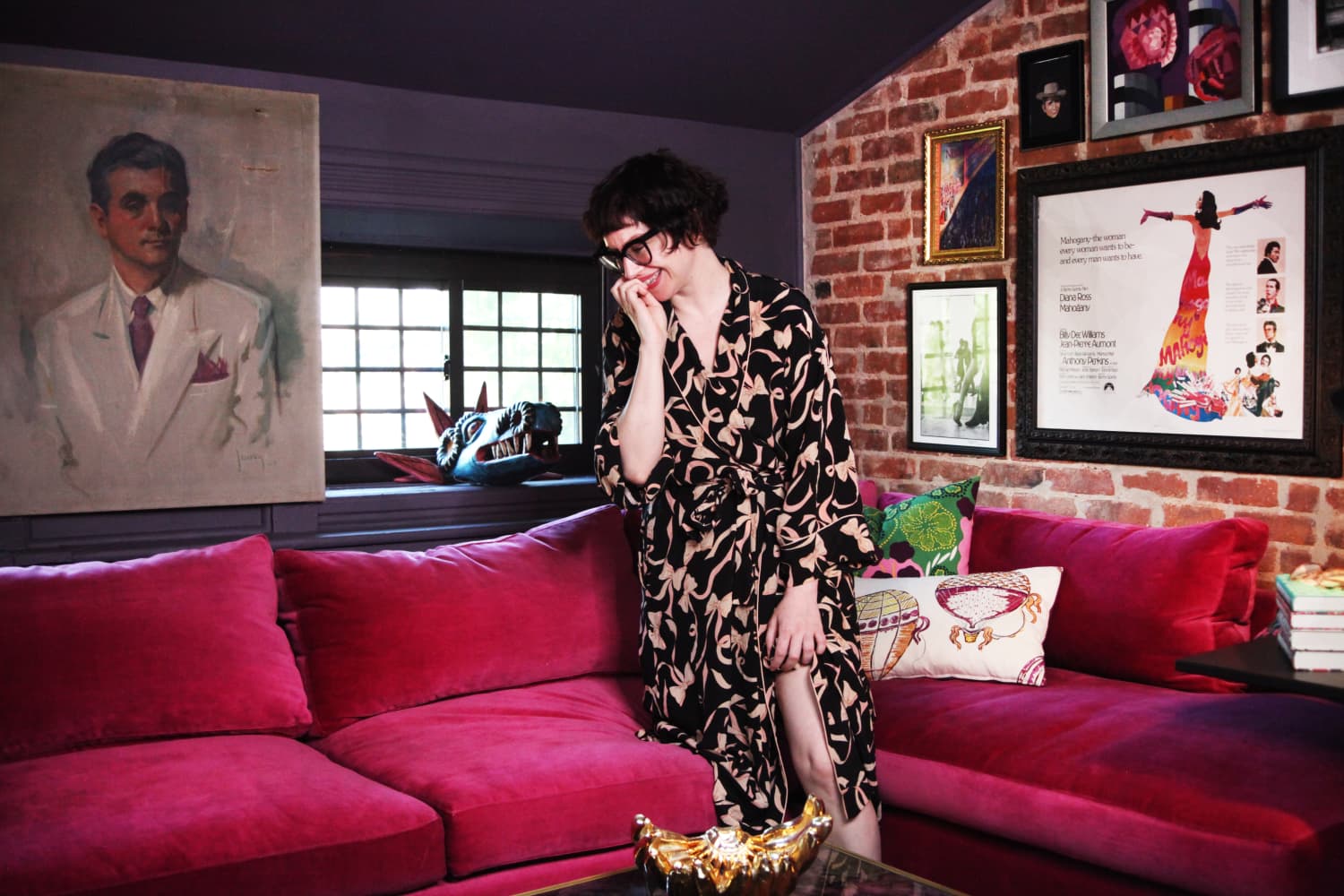 We independently select these products—if you buy from one of our links, we may earn a commission.
Name: Sarah Hartley with cats. White cat w/ calico tail = Isabella (aka Izzy Busy/Isadora Duncan/Busy Phillips) and Fluffy black cat = Beatrix (aka Trixie/Beatrix Potter/Bebe Neuwirth).
Location: Stuyvesant Heights, Brooklyn, New York City
Size: 750 Square Feet
Type of Home: 1 bedroom railroad apartment [on the top floor of a Brooklyn brownstone]
Years lived in: 1 year, renting
I slept on a sofa in Queens for most of last year. My partner (now a truly great friend) and I decided to uncouple at the top of quarantine right after I recovered from Covid. What a time to be alive, amiright? Sleeping on a velvet Chesterfield under a coved, blush-colored ceiling is not without its glamour, but it was discovering and personalizing this treasure of an apartment in a dreamy Brooklyn brownstone that gave me new life in the midst of so much grief. It's not just my first place on my own in a while. It's literally my first place on my own ever. I've always had roommates or lived with a partner, so this apartment is more than an apartment; it's a radical act of self-love.
When I first stepped into this brownstone built in the late 1800s, I was beyond charmed. The wonderful owners have carefully preserved everything that gives this apartment soul — exposed original brick everywhere with thoughtful renovations, like how the old, leaky skylights were replaced with architectural replicas of the originals! And they were open to me making my own customizations, like painting, switching out door knobs and lighting, upgrading to a cute Smeg fridge, etc. I knew it would be the perfect fit for my creativity and modern vintage aesthetic. I knew I was home.
In a tough year for everyone in New York, I got really lucky.
Apartment Therapy Survey:
My Style: My style is modern vintage, eclectic, maximalist, seriously whimsical, adventurous, nostalgic, queer, unapologetically colorful and femme, bold, energetic, cozy, life affirming, unconventional, and wholeheartedly personal. I could go on…
Inspiration: I'm hugely inspired by history and my lifelong love of classic films. Design trends are all very cyclical, and by looking back we can actually rediscover forgotten, timeless style choices to put our own twist on. I particularly love Dorothy Draper's bold use of color and pattern. I have all her books. I highly recommend "Decorating is Fun!", originally published in 1939. Regardless of your personal style, she's got quite the voice, and the book is a quirky, fascinating time capsule. Plus, all the illustrations are in black and white, so the written color descriptions are oh-so-vivid and delicious.
There are also many mentors in my life who live their lives fully committed to unapologetic self-expression. My dear friends Gretchen Fenston, a fashion historian and gifted milliner I met at Condé Nast, and Marushka O'Handley-Waters, my high school theater teacher and proprietress of a spectacular gingerbread home on Martha's Vineyard, both had a profound impact on the way I design my life. Look around. There are remarkable women living life to the max all around you. There's nothing more inspiring than that.
Favorite Element: It's been a personal dream of mine to have a living room centered around conversation and connection — not the big black hole that is a TV. And for the first time ever, I have just that! I didn't think I was bringing both of my impractically sized sofas (sidebar: velvet upholstery is your friend, cat parents!) from my large two-bedroom in Astoria with me to a bachelorette pad in Brooklyn, and I certainly didn't imagine they could actually face each other in a smaller apartment if they couldn't easily do so in a larger one. But this apartment seems to have been magically made especially for me. Some people would make my living room the bedroom, but my priorities were different.
I had my first gathering for fully vaccinated friends during that hope-filled window just before Delta hit, and I'm happy to report my would-be conversation pit is everything I hoped and more. Plus, this move has been just the excuse I needed to finally take the plunge on a Samsung Frame, so I never have to look at that damn black hole again.
Biggest Challenge: This apartment is not without its quirks. Low, crooked ceilings. Three separate entrances to a three-room apartment. Brick that's both a gift and really tricky to decorate around if you love bold color choices. The key is you can't fight or ignore any of it. You have to embrace it all. I love, love, love color on the walls, but I knew my color choices needed to honor the existing colors in the exposed brick. I pulled all my paint colors from undertones in the brick in each room. As a result, the paint and the brick complement each other beautifully.
The key to low ceilings with a lack of clean lines is to paint the ceiling the same color as the walls. You don't want the eye to be drawn by the contrast. It's commonplace to basically ignore ceilings when making design choices, but — like it or not — they are fully on display. I had high, coved ceilings in my last apartment. I celebrated them by painting them red, blush, and charcoal. I wanted you to notice. Don't be afraid to use your entire canvas.
I used the same low ceiling paint trick on all the doors, so they would blend into the walls as much as possible. It empowered me to use the entire space more freely. I even hung art right over them as though they weren't there — though they quite clearly are. It's a bit of a wink to my guests. Don't be afraid to bend the rules and have fun. Don't be afraid of anything.
Proudest DIY: Does the D stand for "delegate?" For "create a vision and then hire a local artisan to work their highly valued magic?" Because that's my approach. I'm the daughter of highly-skilled tradespeople, and I think that's where this appreciation for professional craft comes from. From my custom-dyed lace curtains, to the paint on the walls, I am all about finding local talent to help me make the vision a reality. It truly takes a village.
A previous tenant got white paint on the edges of the brick walls all over the apartment. Victor, the amazing man who always helps me paint my apartments, matched several colors in the brick with me and hand painted over the white paint bleed in each room. His clever idea and meticulous work is better than anything I could have done alone. I'm so grateful for his expertise — not to mention patience! I do add novelty knobs to a lot of my furniture with my own two hands to keep things interesting. That I can handle.
Biggest Indulgence: I'll be honest. I fell in love with an Ikon København tile table, but I clearly didn't fully understand the conversion rates or cost of shipping something so heavy from Europe all the way to Brooklyn in the midst of a global pandemic — let alone how I was going to get it up three flights of stairs. I was knee-deep in my [slightly early?] midlife awakening mission to craft a space especially for me and my needs, so I decided to just go for it.
It is easily the most flexible and commented on piece in my home. First of all, it's striking! Second, it's on hidden wheels, so it's easy for me to move around for various purposes. [Single lady life hack: casters on everything!] And boy is it multifunctional. It's primarily my desk, which I can easily share if someone on my team comes over to work alongside me. But it's also a dining table, a buffet, a console, additional counter space for cooking, all while being a visual showstopper. I have considered moving it alongside the U-shaped sectional in the living room to serve as a chaise lounge end table and elegant room divider. It's incredibly sturdy, clearly well made, and almost preposterously easy to clean. I will have it forever. That's why I went for the ivory and black. Timeless. Works with everything. Matches my cats. Totally worth it. You only live the once, right?
Is there something unique about your home or the way you use it? I like to think everything is unique about my home. I'm a collector and my home is a little like my own private museum of personal treasures. By creatively customizing the space, I was able to maximize real estate to showcase my collection. Everywhere you look, there is art. Everywhere you turn, there is joy.
What are your favorite products you have bought for your home and why? I think special is special, so my favorite things are all old, novelty, rare, or one-of-a-kind. When I'm fortunate enough to be able to travel, I scour local flea markets and small shops for unique objects that speak to me. Antique brass bookends from Brussels; a hand-carved, wooden cat sculpture from Kyoto; handcrafted masks from Mexico City; a propaganda art print from a collector in Shanghai; an antique set of Shakespeare's works from a bookshop in Boulder; original collage artwork found at a tiny London market. All my favorite things have a story, and I'm often giving them a second or third life.
I do spend a lot of time hunting on Etsy, Chairish, eBay, and even Instagram. I'm obsessed with the limited-edition Suzanna Scott "Coint Cunts" print strategically placed in my bathroom — a recent Instagram discovery. I found my original 1975 Mahogany poster on eBay 17 years ago. I found the refurbished French provincial dresser and mid-century Italian coffee table in my living room on Chairish. My pink Panton chair was a Chairish score too! I had my drapes custom made by an Etsy maker. My upcycled, vintage beverage cart (on wheels again, folx!) and steamer trunk, 1940s chenille bedspread, and a lot of my old portraits were also found on Etsy. I discovered my gorgeous, mix-and-match French flatware on The Food52 Vintage Shop. I love shopping locally (like my vintage bar cart and clothes drying rack from Portmanteau New York in L.I.C.), but I appreciate being able to cast a wider net and discover more with a little digital assist. You can also search locally on Etsy and Chairish, so it's win-win.
Please describe any helpful, inspiring, brilliant, or just plain useful small space maximizing and/or organizing tips you have: Don't be afraid to take up space in a small space. Don't be afraid of using real, vibrant color — my tiny bedroom is a deep shade of burgundy and I absolutely love it. Don't be afraid to go big with statement pieces you love and then fit all the rest around them accordingly. I have used every nook, corner, and cubby in my home to full advantage. I basically squeezed a bedroom out of a glorified hallway. I have created subdivisions throughout my space with paint and furniture — for things like a fitness corner and a chaise lounge reading area. I store clothing and accessories in every room of the house. I have more books stored on the floor behind my sofa than I do out on display. Treat your books like art. Treat everything like art. My handbags are art in my home. In a small space, most of the traditional rules are worthless — all that matters is making your lifestyle the priority.
And a small space is actually a big gift. It's your opportunity to get in touch with what's important to you. Figure out what you want, and then use every inch of your canvas to make it so.
Finally, what's your absolute best home secret or decorating advice? Be brave and make bold choices. Home is and should always be personal. While I am certainly a big fan of many interior designers, I don't love it when they develop such a signature style that you can instantly tell a space was done by them — at least not when it comes to a personal residence. It's your home, not theirs. I believe the role of a designer is not to treat your home as their canvas; it's to help you make it yours.
And wear your art on your sleeve. When you let the world in on what you love, unique decor will come into your life naturally. I have received the most heartwarming gifts. "This belonged to my grandmother, and I wanted you to have it." It's humbling, and totally awesome. A former boss gave me my beloved, vintage "Measure for Measure" poster (featuring Paul Davis illustrations of Meryl Streep and John Cazale!) off her own office wall, because she knew I would treasure her treasure forever. And I truly will.
ENTRYWAY/DINING ROOM/OFFICE
This house tour's responses were edited for length and clarity.