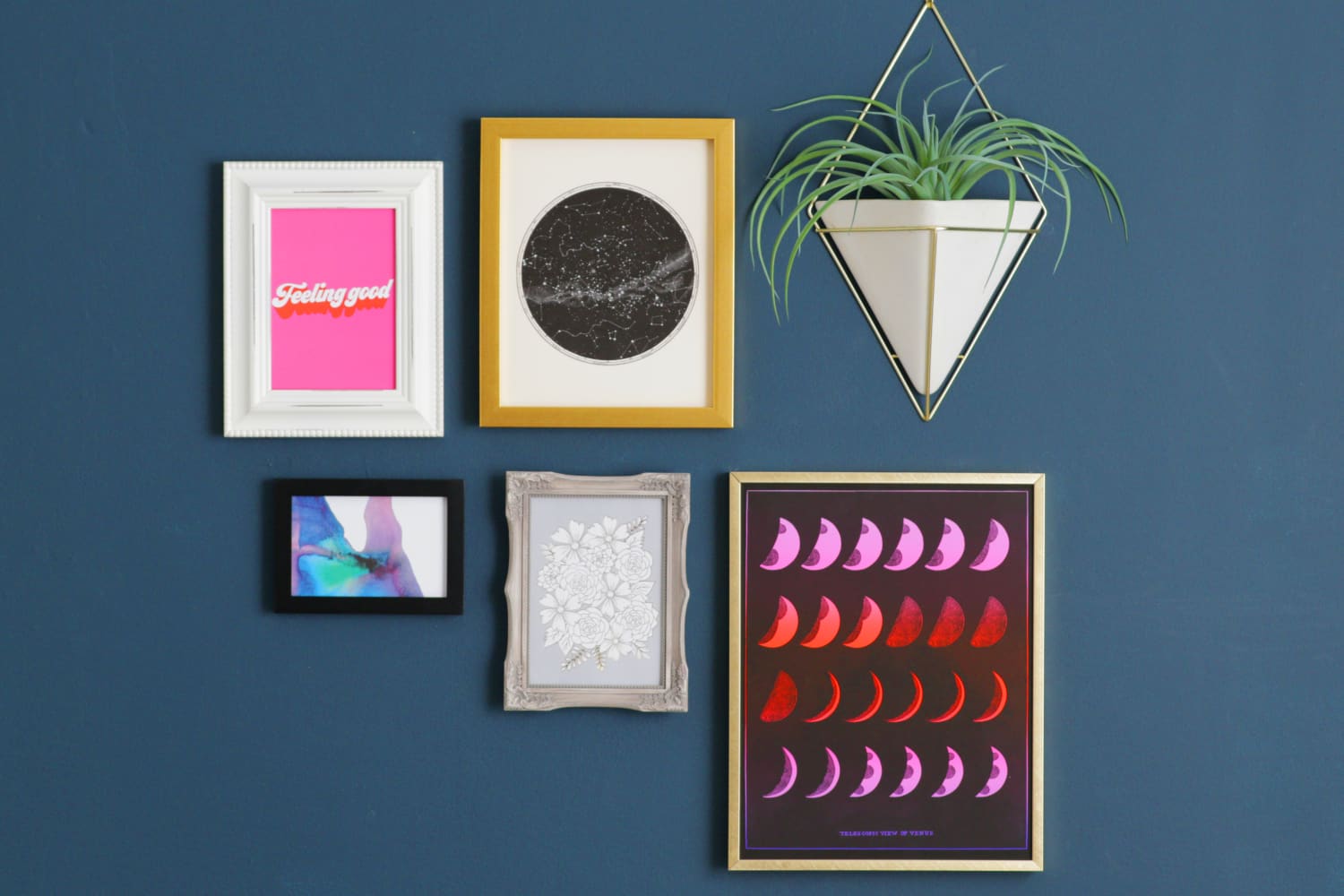 There was an era not too long ago where gallery walls were everywhere — I call it the design blogger effect. You couldn't open a lifestyle blog or scroll through Instagram, or enter an Anthropologie and not see a gallery wall. And there's a good reason for it; they're a great way to fill up large walls without having to splurge on huge pieces of art, which can be cost-prohibitive to many. When done right, they can be a beautiful statement, a way to add personality to your space, and an effortless design layer that makes the whole room come alive.
But the design blogger effect meant that they all started to look similar, and I found myself craving new, creative takes on the timeless look (and I really mean timeless — take a spin through any art museum and you'll see that gallery walls are classic). I totally believe gallery walls have a place in design always, and I'm happy to say there is something similar (yet different!) out there for anyone who's feeling fatigued by the traditional gallery wall. Enter: Mirror walls.
The principles are much the same. A collection of pieces — sub mirrors for art — arranged graphically on an empty wall as a way to add visual interest and draw the eye. However, because mirrors are a tad more understated (typically), the end result is a bit quieter, more of a design whisper than a scream.
Mirror walls are also a great solution for tiny houses or apartments, lending the illusion of more space and instantly adding an airy quality to any room (great if you have low ceilings). No windows or natural light? No problem — a gallery wall of mirrors will solve that for you, visually tricking the eye into believing there are windows in the space and bouncing around what natural (or artificial) light you do have to make everything a bit brighter.
Like traditional gallery walls, mirror gallery walls can quickly go "wrong" if they don't feel thoughtful and considered. While you don't necessarily have to stick to the same color, shape, or material within your mirror selection, everything should definitely fall within the same design category in order to feel cohesive (like a collection of antique wooded mirrors, or a slew of Art Deco-inspired designs). The good news: Because mirrors are so ubiquitous (and not as intimately personal as art), you can easily create a mirror gallery wall on a budget shopping local flea markets, Facebook Marketplace, and more, making them a great alternative to spending thousands on unique art and bespoke framing.
If the idea of seeing yourself reflected back 20 times over every time you walk down a hallway haunts you, no worries — stick to traditional gallery walls or just throw in one mirror or two for a little variety!