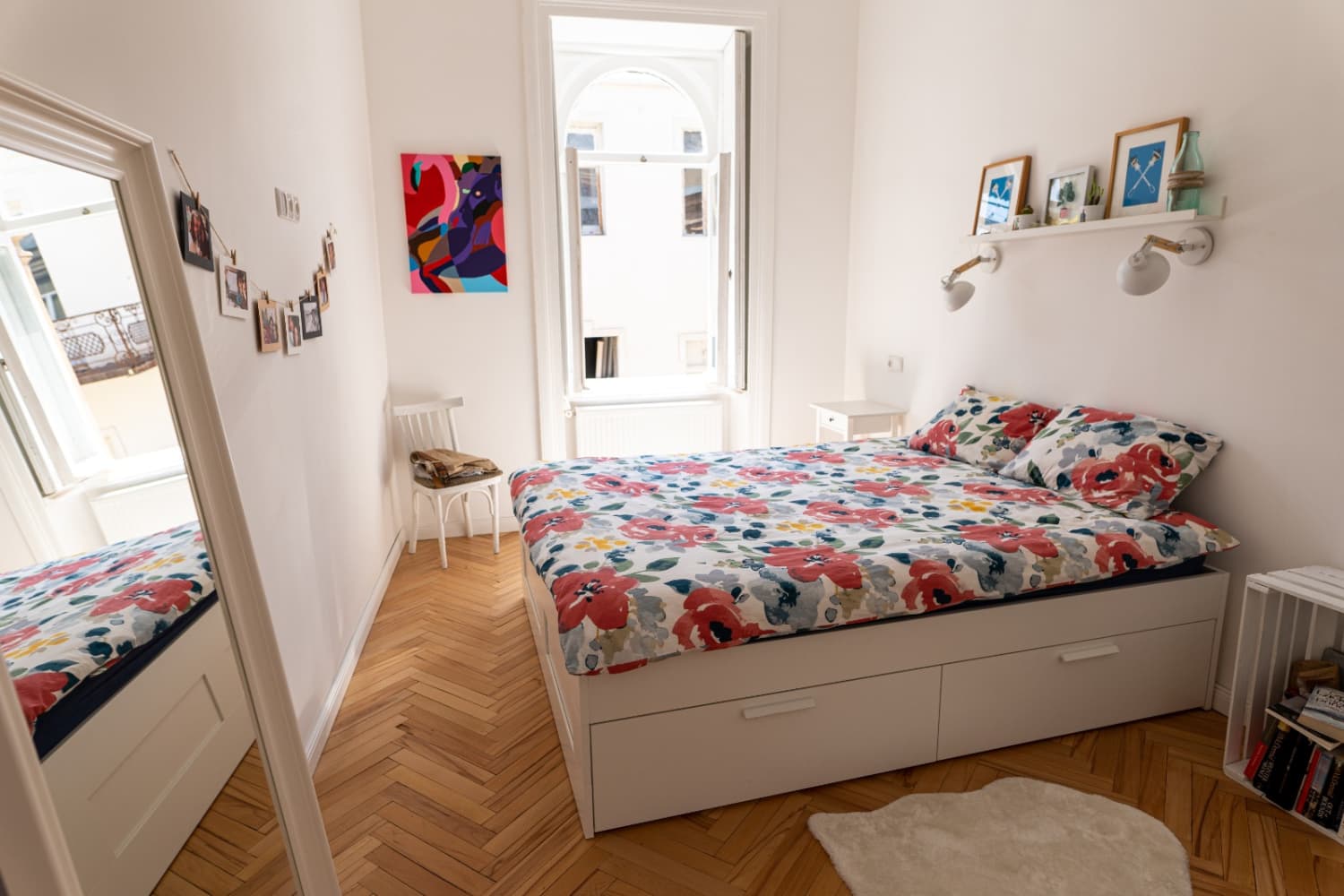 Name: Leonor and Pablo
Location: Tbilisi, Georgia
Type of home: Apartment
Years lived in: 1 year, owned
Tell us a little (or a lot) about your home and the people who live there: I am a foreigner in Tbilisi and moved here for work. Maybe this is why I appreciate so much its old-style buildings from the Soviet Union times. I instantly felt in love with the city and couldn't help buying an apartment. High ceilings, French doors, light wooden parquet floors — all of it animated by the classic music played my neighbors that comes in from the street though the balcony.
Just a couple of months after buying the apartment, I fell in love again, but this time with Pablo, and apparently he also felt in love because he came for a week visit and ended up staying forever. Together we did some renovations and decorated the apartment. We both love retro style and tried our best to keep the old style in the apartment.
We used to go (and still do it as much as we can) to the flea market to buy old Soviet small treasures; most of the decoration comes from this market. Another personal touch is the photo gallery. Pablo loves photography, and we definitely wanted to have his pictures on our walls. All of them, by the way, were taken in Georgia. The standing coat rack has one of the funniest stories: It was literally rescued (by me) from an abandoned house about to collapse while Pablo was hiding from the shame caused by his wife taking abandoned stuff from the street.
As for the furniture, it wasn't easy to find exactly what we wanted in Tbilisi, so we had to adapt to what was available. I am passionate about finding old things and giving them a new life. This apartment is full of these small treasures, and each one has given me the great pleasure of being perfect for their own small place.
What is your favorite room and why? I really can't choose my favorite place. All of them have been created with so much love and care, and each has a good story behind it and lots of good memories around it. I like the living room space, with its original lamp, turntable, and mango wood cabinet. I love the entrance hall with Pablo's photo gallery and the stylish black mirror. I adore the brick wall of the secondary room, discovered, uncovered, and restored during renovation work. I enjoy the dazzling white of the kitchen only broken by the blue floor tiles.
Describe your home's style in 5 words or less: Haussmann with retro-modern blend
What's the last thing you bought (or found!) for your home? The very last thing is an old suitcase that I found in the garbage just outside of the apartment as if someone had just left it there for me!
Any advice for creating a home you love? If you want to create a home you love, try to love every piece of it by creating a nice memory around pieces that put a smile on your face every time you look at them.
This submission's responses and photos were edited for length/size and clarity.