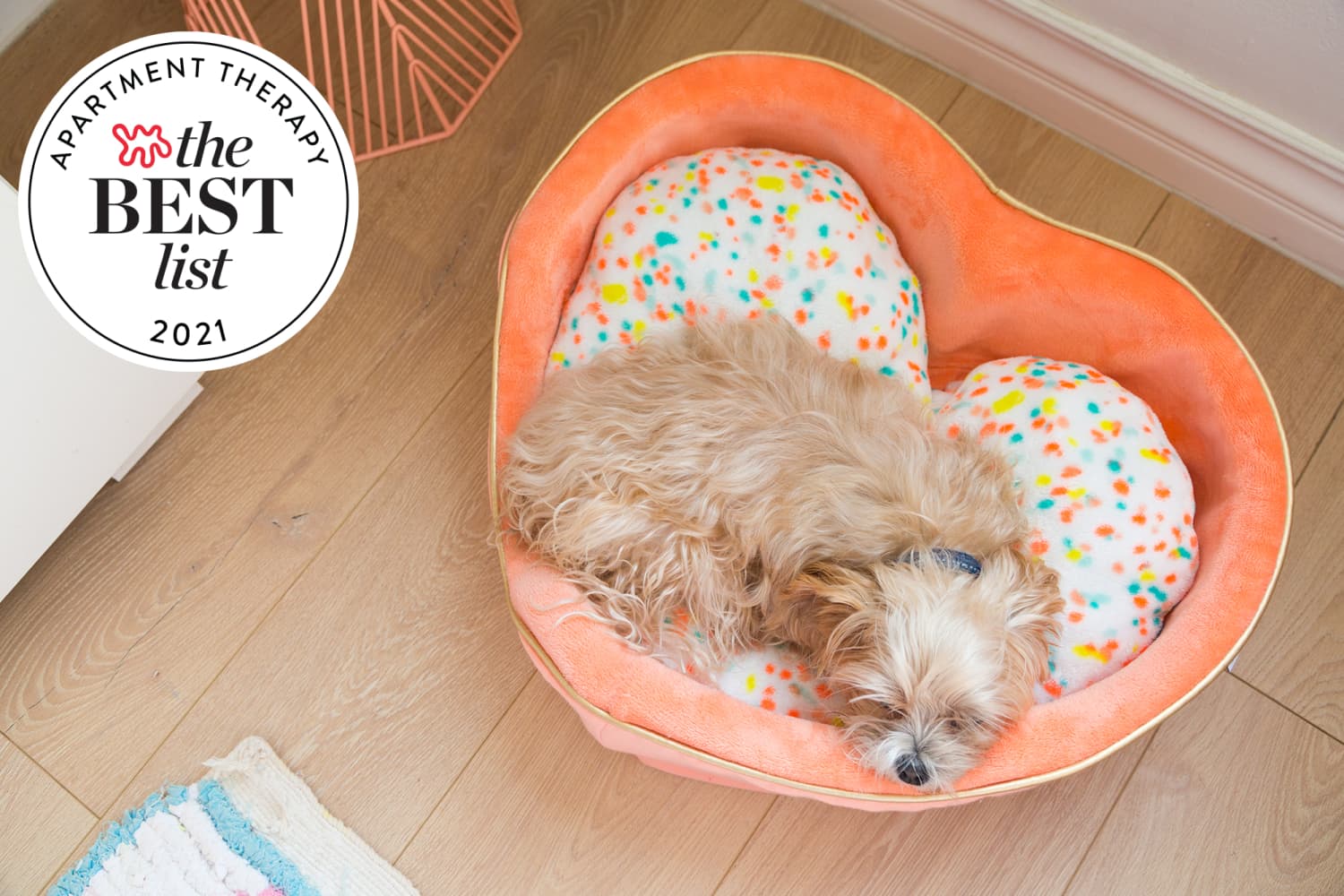 We independently select these products—if you buy from one of our links, we may earn a commission.
While the world of pet accessories has come a long way in the past few years, it can sometimes take a little work to find a dog bed that's worthy of your canine companion and your home. Traditionally, most dog beds tend to have a similar look, one many of us, especially Apartment Therapy readers, don't necessarily want to show off. Fortunately, there's an increasingly wide variety of super-stylish beds out there that don't look like a lumpy brown cushion taking up space in the corner of the room. Feast your eyes on these adorable dog beds in a variety of styles, colors, and shapes that will fit your home's design scheme, both indoors and out, and keep your dog as cozy and comfortable as possible.
What to Consider When Buying a Dog Bed
No one knows your furry friend like you do, so take a good, long look at their sleep patterns, positions, and habits when picking their new sleep situation. There are a lot of dog bed options out there, and just because one is trendier than another or has "calming" in the name doesn't mean it's right for your pup. Of course, you also want to consider your space, since pet supplies have a way of really cluttering it up, throwing off a room's feng shui at the very least. Our list has many attractive options we're proud to display and includes dog beds our pups love as well. This is truly a list of win-wins.
The best dog bed size is truly dependent upon your dog's sleep patterns, possibly even more than their size. Small dogs who prefer centering themselves in the middle of your Queen mattress might appreciate a medium or even large dog bed. Large dogs who think they're still puppy sized and curl up in armchairs could really love a medium-sized dog bed. While you shouldn't go too far off from their actual size — your Great Dane probably won't get much use out of a small dog bed — it's important to consider their habits and preferences, so keep an eye on where they usually sleep and in what positions when picking the size of their bed.
In the case of pet beds, polyester is your friend. It's one of the softest materials out there and won't sacrifice your canine's comfort, plus it excels when it comes to longevity, durability, and washability. Materials like nylon, canvas, and cotton are also good options that are easily cleanable, comfortable (depending on the weave), and natural, in the case of the latter two. If your dog has thin or short hairs or has sensitive skin, opt for a natural or less chemically treated material. Most water-resistant or waterproof materials have a coating, so keep this in mind when shopping for sensitive pets.
You'll want a dog bed that's easily washable, but especially for the specific types of messes your pet tends to make. Beds that are wholly machine washable are the easiest to keep clean, as they can just be tossed into the washer and dryer with minimal contact. On our list, you'll find a variety of memory foam or other high-quality material options with removable, washable covers. These require a few seconds more of handling but are usually the ones that stay attractive, comfortable, and intact longer.
What We Look For in a Dog Bed
Our pups tested a range of different dog beds, judging them on the following criteria:
Our best overall dog bed has to work for both pets and their owners. It has to be inviting, comfortable, and durable, and serve a wide range of dog sizes, breeds, and ages. While we're already big fans of Tuft & Needle's human beds, we went into testing this dog bed with an open mind and let our pets' reactions speak for themselves. Still, Tuft & Needle's dog bed came out on top as our best overall option. AT commerce intern Stella says her energetic pup usually won't stay on dog beds, but this one is different. "She loves to play in it, lay in it, and I can see she is comfortable," she says. "I think she loves it especially because the sides are firmer than the center, so she can rest her head higher than her body." Stella also appreciates the bed's design, which is three styles in one. "When the center pillow is in and attached (by durable sailing rope that is easy to undo but stays put), the bed becomes a soft center with a firmer outer ridge. When you remove the center, the bed becomes my pup's play den. She loves having high walls so she can slip and slide around the roomy space. Finally, the insert can be used as a bed alone — it is durable, still comfortable without the foam support beneath, and has a rubbery grip on the underside, so it won't slide. I would easily roll this up and put it in my car for road trips." Portable, popular with the pups, and pretty to look at, Tuft & Needle's dog bed is a hero for dogs and humans alike.
Who It's Best For: Dogs who like to rest their heads on elevation; dogs who prefer bolster-style beds; owners who want color options.
Good to Know: Your dog can try this bed for 100 days before you can return it risk-free.
Budget dog beds tend to fall apart in a matter of weeks, maybe months, which isn't ideal. We've been able to test this Furhaven sofa-style dog bed for longer and can attest to its durability. Because its cover is removable for washing, the foam interior stays in good condition and is able to serve your dog longer. It comes in a wide range of colors that will match any decor, and the low price — which often gets discounted further on sale — means you can get several for different rooms. This is a bed our tester pets chose up against some of the higher-priced or more luxury models that didn't make our list. Some even chose it over the floor, and we all know how picky those floor sleeper pups can be. There's a bed size available for every dog, too, so no pet gets left out, making it an excellent option for those with multiple dogs not looking to break the bank to make them all as comfy as possible.
Who It's Best For: Dogs that need an orthopedic bed; dogs that prefer bolder-style beds; owners who don't want to spend very much; owners who want something easy to clean.
Luxury dog beds are the ones that make us jealous, and our winner, the Wentworth Tufted Sofa by Frontgate, definitely hits this mark. A mini version of a stately, luxe loveseat, the Wentworth gives your pup the royal treatment. Besides being good enough to convince any pet to use their own couch, it spoils them with its furniture-grade construction and super-soft, velvety finish. It also spoils you, as its microvelvet, faux suede cover is easy to spot clean or remove and machine wash, if needed. This was the perfect bed for our pickiest pet testers. It took them right off our couches and beds and onto this one, almost as if they knew it was somehow better. The sofa has enough room for even a medium-sized dog to stretch, and with its bolstered edges, it can accommodate a number of sleep positions.
Who It's Best For: Spoiled pups; owners who want pet products that look human grade.
Good to Know: Because of its elevation, this is better suited for dogs without joint sensitivity. Your dog can also test the sofa for 90 days before you return it risk-free.
Dogs with propensities for chewing, clawing, digging, and other materially destructive behaviors need a bed that's just as tough. Our winner of the best indestructible option is the Nectar Dog Bed, which was tested for all of the above. AT talent and influencer manager Georgina's pup Frida "loves it! It took a little bit to inflate (48 hours), and then she began using it! I love the size, color, and shape. It's a nice neutral that can fit in pretty much any home, and she fits in it perfectly! Frida is a little frisky and likes to bite items that are new to her" — just things, not people, Georgina clarifies — "but this held up exceedingly well to her little bite test!" We love how impressively chew-proof this bed's environmentally friendly cotton-blend fabric is and how easy it is to keep clean. It's liquid resistant and seriously hard to stain (trust us), and effectively odor-repellant as well. The messes of even the doggiest dogs don't stand a chance.
Who It's Best For: Messy dogs; dogs who like to dig or chew; dogs who need something orthopedic; owners who want something easy to clean.
Good to Know: Your pup can try out this bed for 50 days before you return it risk-free.
There are quite a few fluffy, "calming" pet beds out there, but this one from Best Friends by Sheri is our favorite for its two-piece set, which satisfies anxious dogs' oral fixations as well as their desire to be swaddled in plush, fur-like fabric. Our dog testers love this matching set because it lets them hide beneath the blanket, move it around, travel with it, bite and chew it, etc., and we love it for its very real calming effects and adorable and decorative pillow-like appearance. We watched as anxious dogs, small and medium, took to it and found solace and deep rest, but it's available in all sizes, from extra small to extra large. There was significantly less hopping up at every minor sound, which disrupts their sleep and yours. It's made without anything harmful for your pet, like certain flame retardants, formaldehyde, and heavy metals, so your pup can use it for years and you can remain worry free. Lastly, we've washed this bad boy nearly 10 times in two months and can say there's zero clumping of the filling and the furry exterior.
Who It's Best For: Anxious dogs; dogs who have a hard time getting rest; puppies and older dogs; dogs with oral fixations.
Designed for outdoor use, this elevated dog bed from Coolaroo keeps your pup away from bugs, dirt, and moisture so they can relax in comfort…and you can enjoy clean cuddles later. It's made from breathable fabric that offers great air ventilation to keep your dog cool on hot days, and it folds flat for easy storage. Tested by a couple of pups in the Arizona heat, we could tell they appreciated the distance this bed offers from hot gravel and cement. The slight give of the stretched material, which can withstand the weight of a full-grown pitbull and still be comfortable enough for a mini Australian shepherd, springs back into place no matter how many months of regular use it endures. Its strong fibers are loosely woven, however, so it's porous, breathable, and cooling. Durable but inexpensive enough to be easily replaced if necessary, this bed offers a comfortable way to lounge outside with your furry best friend.
Who It's Best For: Dogs who live in hot locations; dogs who like to rest outside in the shade; dogs who run hot; owners who prefer their dogs to rest off the ground.
Good to Know: Return this bed within 90 days penalty-free.
The Casper dog bed is, as you can imagine, engineered to be as comfortable and supportive as your own. After all, your pet already loves your bed — why not get them a mini version? Here's what we found awesome in the Casper dog bed: memory foam, excess (and seriously durable) material on top to accommodate for dogs' natural tendency to paw at the earth, and supportive foam bolsters to create a feeling of shelter. Commerce editor Danielle and her pup Jet found "the medium size to be perfect for a 40-pound pitbull, since Jet can stretch out lengthwise on his side or belly without falling off the bed. I think he appreciates the supportive memory foam, too." It was only on the third night of testing that Jet slept the entire evening through in his new Casper. "Functionality-wise, I love that this dog bed has a low profile, is close to the ground for easy access, and has no sharp corners or metal frames that he could potentially bump into during an episode of the Zoomies." All the bed's zippers have covers, so there's no scratching your floor. "Since this dog bed is essentially a double-layer memory foam mattress with a lightweight nylon cover, it's also easy to transport for car trips or move around the apartment during cleaning. The gray color we tested actually matches my living room couch and decor perfectly and has a minimalist, modern aesthetic. It's not distracting or glaring and actually fits right in."
Who It's Best For: Dogs who like to dig or chew; dogs who need easy access to their bed; dogs who love their owners' bed but need their own; owners who care about aesthetics.
Good to Know: As with Casper mattresses for humans, doggies can test this bed for 30 days before their owners return it risk-free.
Marketed as a couch rather than a bed, this plush orthopedic pick from Frisco has the elevated sides dogs love but with a dipped entry to make it easier for older dogs to get into. Our tester pups appreciated that it's super cozy and comfortable, thanks to its memory foam core and machine-washable cover. Plus, that plush center looks straight-up luxurious. The bed comes in medium, large, and extra-large sizes, so your dog has plenty of space to get comfortable, whether for a splayed-out nap or curled-up night's sleep. Our older pups found this bed delightfully easy to crawl on, and we watched as it kept them comfortable with less tossing and turning to find their next comfortable position. Waking from naps involved less joint sensitivity for older dogs and more deep, well-rested stretching.
Who It's Best For: Older dogs; dogs with joint issues; dogs who prefer bolder-style beds.
Good to Know: This one's a better option for less active dogs, as it's not intended to be chew resistant.
When it comes to dog beds that look as good to you as they do to your furry friend, this 3-in-1 Sherpa option from Pottery Barn takes the cake. With its removable bolster and faux sherpa covers, it can stay in tip-top shape for your space and is ultra-cozy and customizable for your pet. The covers are easily removable for detailed spot cleaning but also for laying on the couch, floor, or even your bed to protect the surface and keep it cozy and familiar for your dog. We love the versatility of this bed, and so do our pets. They feel even more included in movie nights when we use the cover to cloak the couch or armchair. It can be a comfy foam bed at night and a soft floor covering when the sherpa is removed during the day. It truly is a 3-in-1 style, but what we love most is the decorative sherpa shell and cloud couch-like design. We're a bit jealous, to be honest, but our dogs deserve it.
Who It's Best For: Dogs who love plush, soft surfaces; dogs who appreciate a bolster; owners who want a bed with a removable cover to go on and protect other surfaces.
Good to Know: This bed can be monogrammed with your pet's name, which is not only adorable but helpful if you're buying matching beds for multiple pets.