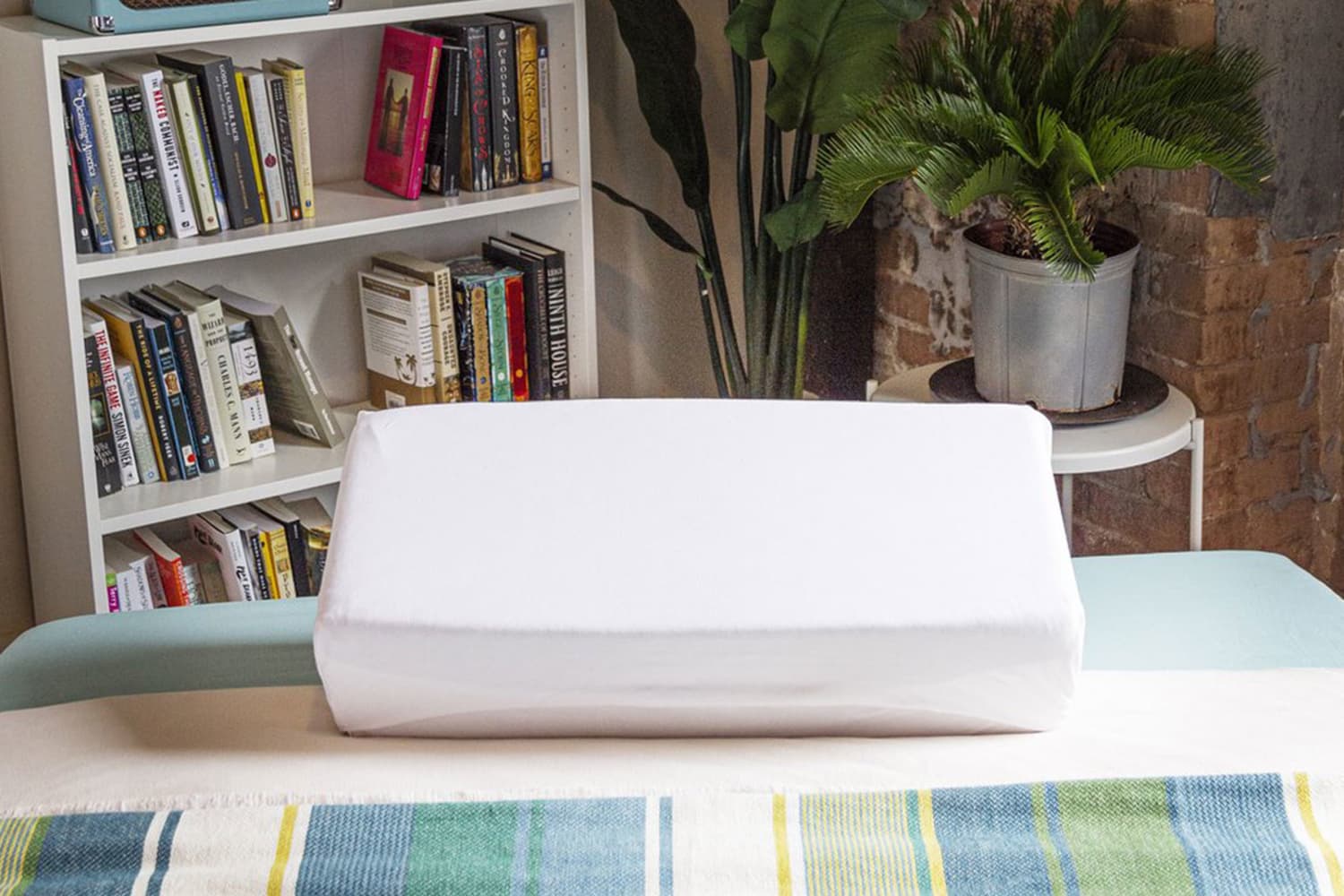 We independently select these products—if you buy from one of our links, we may earn a commission.
I've never been picky about my pillow. If it's firm, cheap, and even cheaper on sale, I'll take it. It never became an issue until a little over a year ago, when I picked up a pair of pillows (from a very respectable brand) on major markdown. I typically sleep with two pillows stacked on top of each other, but these two felt like too much, and one just wasn't enough. I thought I'd get used to them, or they'd flatten over time, but ultimately they caused me many restless nights as well as a stiff neck and sore shoulders. The lack of sleep combined with the stressful months of the pandemic left me constantly exhausted, irritable, and on edge. Something had to change, starting with those pillows.
Working at Apartment Therapy, we are constantly introduced to new products, and one of them, the Pillow Cube Pro, sounded like it could offer a solution to my sleep problem. Designed especially for side sleepers (it me!), the pillow is exactly what it sounds like: a block of memory foam with four corners. A longer version of the original Pillow Cube, it comes in 4-, 5-, and 6-inch options, all meant to support your head and shoulders at the right angle while you sleep. The 6-inch pillow is suited for people with big heads (it me again!) and broad shoulders (it not me!), while the 4- and 5-inchers are for those with narrower shoulders. I went with the 5 and vowed to start working out again starting tomorrow.
The Pillow Cube Pro arrived flat in a vacuum-sealed bag. After opening up the package, I watched the pillow expand and come to life. Though the instructions mentioned letting the pillow air out a bit to eliminate the odor often associated with memory foam, I didn't notice any off-putting smell. After covering the cube with the included quilted pillow cover and pillowcase, I counted down the hours until I could give the Pro a go.
I have to admit that initially, this pillow did feel a little weird. You're basically resting your head on a giant rectangle-shaped slab. At first I worried that the 5-inch model was too high. Shouldn't my head be closer to the mattress? And what about my arms? Can I slip an arm under the pillow or do I have to keep my arms below it so I don't throw off the alignment? I know this pillow is designed for side sleepers, but what if I turn over on my back while I'm sleeping? Before I could find out the answer to any of these questions, it was the next morning. I had fallen into the most sound, blissful sleep without any interruptions.
I've been using the pillow for a little over a month now and am glad I made the switch. It's currently on major Cyber Monday sale for $87.99 (normally $109.99), which is the lowest price we've seen in quite a while. (If the Pillow Cube Pro is a bit expensive for you, the smaller Pillow Cube is on sale for $55.99.) It's also seriously comfortable, and I feel like my head is resting on a cushy cloud. Because I'm not repeatedly adjusting and readjusting my pillows throughout the night, I'm sleeping better than I have in months. I no longer arise from bed feeling sore and stiff, and I'm much more well rested (I'm still cranky, but that's just my natural disposition).
Time will tell if I'll stick with the Pillow Cube Pro for the long haul or use it as a body pillow instead (yes, it functions as one of those, too), but right now, this odd-shaped bedtime essential works like a dream.
Buy: Pillow Cube Pro, $87.99 (normally $109.99)