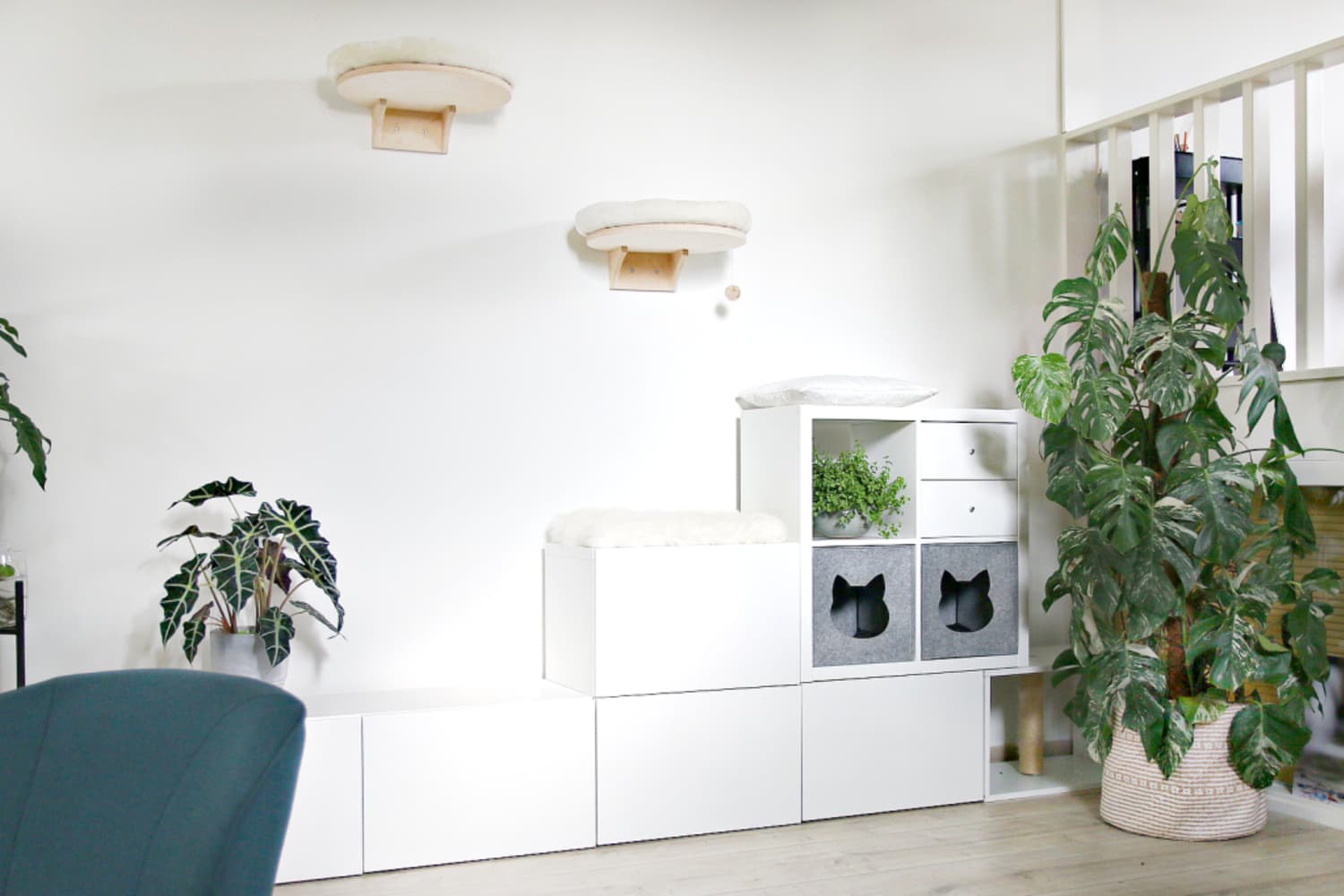 We independently select these products—if you buy from one of our links, we may earn a commission.
It took me 32 years to finally get my first pet, and I'm now officially the proud owner of not one but two kitties, Lola and Millie. This means I now have the fun challenge of incorporating cat trees, litter boxes, and scratch posts into my apartment — but in a way that's aesthetically pleasing. While there's nothing wrong with a regular cat tree sitting in your living room, if you love DIYs and want to transform a cat staple into something that meets your specific design style, you'll be happy to know it's possible. Even better, you can hack simple IKEA pieces to fit those needs!
Ahead you'll find some of the most design-conscious IKEA cat hacks to spruce up your home for both you and your furry friend(s). Read through at your leisure, and I'll be over here deciding which one (or ones!) to take on in my own apartment.
Cats love to climb and aren't afraid of heights, but I wasn't quite sure how to give Lola and Millie space to jump and climb in a small apartment. That's why I was excited to find blogger Lisa's DIY climbing post creation made using IKEA EKET cubes, which she covered with self-adhesive carpet tiles to make them more comfortable for kitty paws. She also repurposed a birch branch by wrapping it in sisal, giving her cat another way to climb to the top of this "staircase." A hidden bonus here: A project like this also gives you space for books, and you can choose a mixture of open and closed EKET cubes that suits your taste.
The food corner can be an eyesore for cat owners, but blogger Serena from Beauty Lab found a stylish solution. She bought a white tray and porcelain bowls to create a modern-looking, aesthetically-pleasing feeding area and then used IKEA KORKEN jars to house the kibble and treats. You can get a similar look by shopping for the LURVIG reversible food bowls and mason jars. What's nice about the LURVIG's design specifically is that the bowls are footed, so you don't have to prop them up to make them more accessible for your cat or cats.
If your cats love to scratch, give them ample space to do so by wrapping the side of a KALLAX cabinet with sisal, like Instagrammer ET Loves did as shown above. This not only will act as a scratching board, but the cat can also use it to climb up the side of the case and perch on top of it, if you're okay with your cat traipsing on and over this piece of furniture.
If you want to give your cat ample room to play, hide, and jump, then try taking another page out of Serena's book and create a whole cat "condo" using BESTA and KALLAX cabinets combined. She added two cat hole inserts in her configuration to create cat "caves," and you can achieve a similar, readymade look using IKEA's LURVIG cat house. To make this installation more stimulating for her kitties, Serena also added a scratching pad to the side of one of the cabinets and attached a scratching post from an old cat tree to the bottom of the unit. The little perches look pretty cozy, too, topped in what appears to be faux fur.
Concealed kitty litter box
Where to put the litter box gave me the most anxiety, especially since I don't have a big bathroom or a mudroom. Blogger Andrea from Salty Canary found a genius way to hide hers though by housing it inside an IKEA PS locker cabinet. This project is high on my personal list right now.
If you're not big on DIYing but like to repurpose furniture, then follow in Instagrammer Jenna of Meow Lifestyle's footsteps and get the GAMLEHULT ottoman with the hopes that your kitty will use it as a cat house. This piece is out of stock currently, but you can sign up to be alerted when it comes back online or in stores.
Camouflaged kitty litter station with storage
Blogger Danae from The Homebody House had the brilliant idea to use the BRUSALI cabinet to DIY a kitty litter station that not only houses her little box but also the bags of litter and cleaning tools on the higher shelves. While the BRUSALI is no longer available stateside, you can recreate something similar using another white cabinet from IKEA.
Do you think your cats would want a hammock but have no idea where to put it? In another fun and functional project, Instagrammer Jenna of Meow Lifestyle hacked the VITTSJÖ shelving unit by hanging twine hammocks where the glass shelves would go. This would be a quick and easy way to give your cats quite a bit of entertainment on the cheap.
Try some of these IKEA hacks, and watch your cats lounge, sleep, and scratch to their hearts' content. I know I plan on it!